WILLARD MORSE MITCHELL, "Canada's 20th century Master of the Miniature"
Listed Canadian Artist: (1881-1955) Montreal Architect and Painter
Sight Size: w: 3.5 in. by h. 5 in. watercolour in one of Willard's hand-carved frames
Signed: Recto lower right Mitchell
Titled: "A Moorish Mosque" Recto lower left
Encased within: Willard's hand carved gold painted frame, with back covering paper replaced
Overall Condition: Pristine original, clean and bright with absolutely no flaws

Please enquire regarding price
Click here to see a couple of very special Mitchell watercolours
Take note: There are a few of Willard's miniature watercolours that are considered to be one-of-a-kind. Willard and his wfe loved to travel abroad to places like Britain, Ireland, Spain and France and one of the places they visited was Morocco. This waterclour entitled "A Moorish Mosque" was most likely painted on location as it was known Willard did paint while on his travels. The rarely found larger 3.5" x 5" format watercolours that Willard created were produced in far fewer numbers than his smaller size paintings, which were painted in large numbers for the tourist trade back home. Both the condition of the frame and the painting shown here are important when it comes to placing a proper value on these range of his watercolours.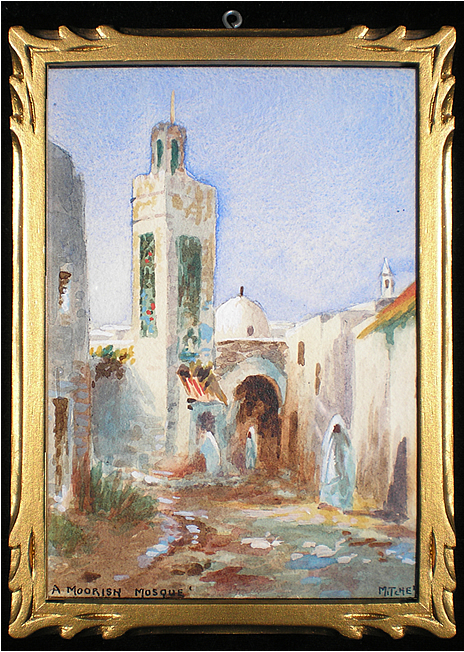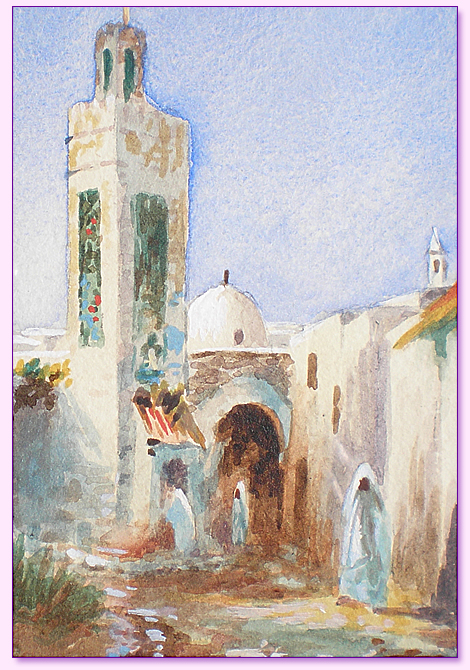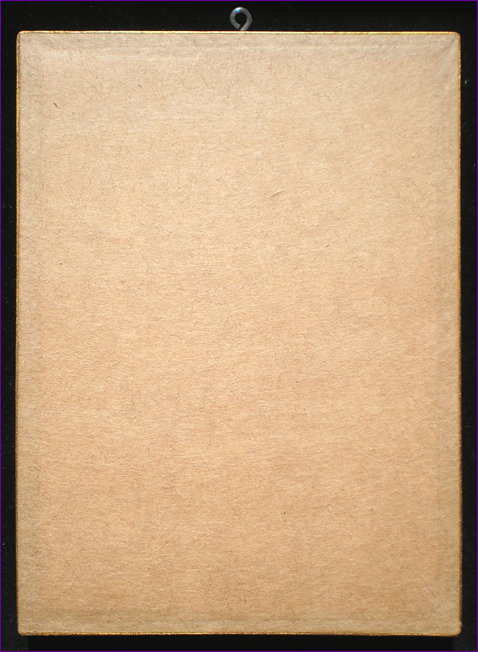 MITCHELL, Willard Morse (1881-1955)
Willard Morse Mitchell was born in 1881 in St. John, New Brunswick. He had a studio in Amherst, Nova Scotia where, at the same time, he was also the town architect. Prior to establishing himself in Montreal, Willard lived in Ontario for a brief time in 1921. After his move to Quebec, he became active in Montreal as an architect and artist.
Willard is particularly well known for his miniature watercolour landscapes of rural Quebec and his streetscapes of Montreal. He carved his own frames and placed a brief note on the backs of the framed scenes. His miniature watercolours were artistically well done and were very popular as small gifts during the time he was producing them (1928 to 1954).
Besides painting in Quebec he also painted small landscapes in Ontario, Nova Scotia, Italy, Morocco and Greece. He exhibited with the AAM in 1927 and 1928. Williard's miniature watercolours have now become quite collectible in Ontario, Quebec and the East Coast provinces.
Willard died at the age of 74 in 1955.

Painting Ref No: 3TOEX06EB-S/ROEX