WILLARD MORSE MITCHELL, Artist and Architect
Listed Canadian Artist: (1879-1955) Montréal Painter and Architect
Sight Size: w:5 in. by h. 4 in. watercolour
Frame Size:w. 9.5 by h. 8.5
Signed and Dated: Recto lower right W. M. Mitchell, dated Verso 1953
Titled Verso: 'The 20 million year old Mount Tremblant, P.Q. Canada, Not far from Montréal'
Quebec Setting: Looking in a northerly direction across Lac Tremblant from a southern position
Encased within: One of Willard's uniquely hand carved gold painted frames
New Double Mats: Newly matted with glass silicone-set and all acid-free content throughout
Condition: Absolutely mint and pristine with bright colours and no fading or flaws

Please enquire regarding price
Note of interest: This fine Willard Mitchell watercolour, that's been tucked away for many years, has an interesting background, as it comes from the collection of a gentleman in Québec who inherited this painting from his mére (mother) after her passing. The interesting part is that, this gentleman, when he just a young lad, lived along with his parents in a two storey apartment house in Montréal that had as an upstairs neighbour; a couple that the lad knew as Mr. & Mrs. Mitchell. As it turns out, it was the artist, Mr. Willard Morse Mitchell and his wife who were the couple living upstairs. Now that's a 'Miniature world', isn't it...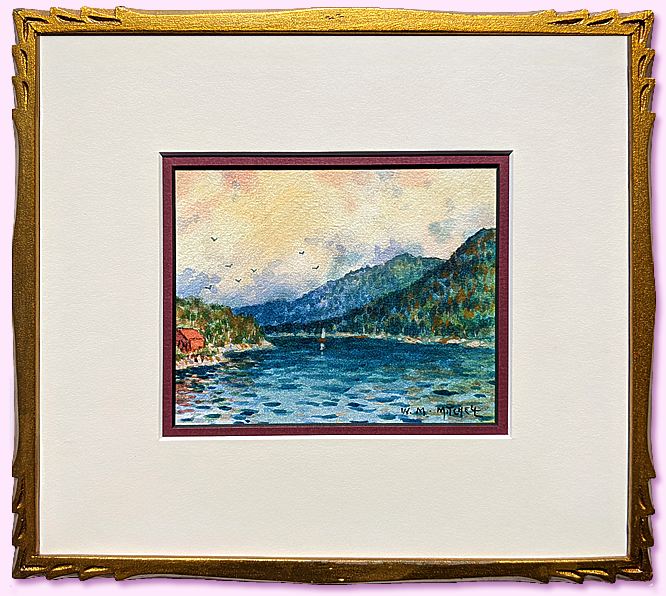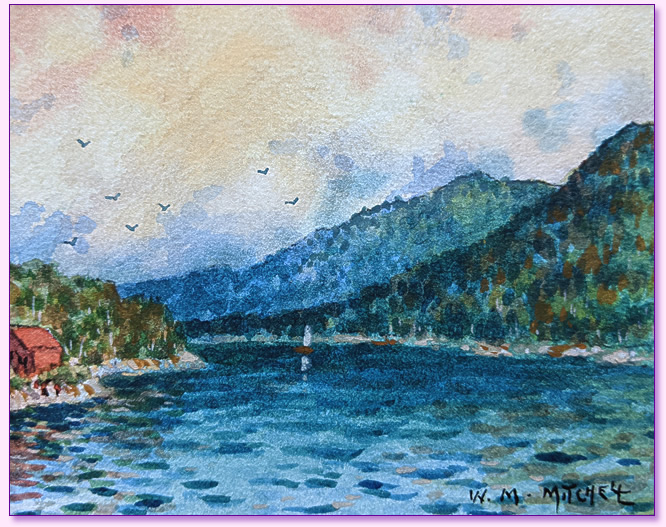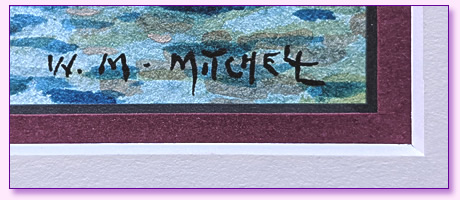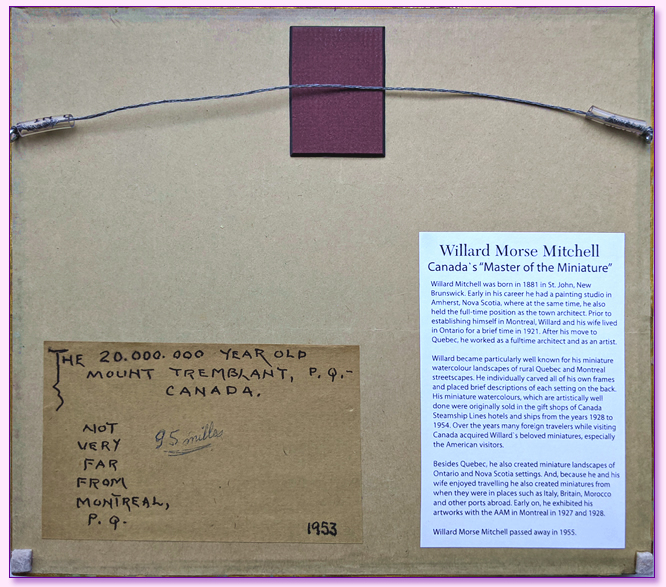 WILLARD MORSE MITCHELL (1879-1955)
Willard Morse Mitchell was born in 1879 in St. John, New Brunswick. He had a studio in Amherst, Nova Scotia where, at the same time, he was also the town architect. Prior to establishing himself in Montréal, Willard lived in Ontario for a brief time in 1921. After his move to Québec, he became active in Montréal as an architect and artist.

Willard is particularly well known for his miniature watercolour landscapes of rural Québec and his streetscapes of Montréal. He carved his own frames and placed a brief note on the backs of the framed scenes. His miniature watercolours were artistically well done and were very popular as small gifts during the time he was producing them (1928 to 1954).

Besides painting in Québec he also painted small scenes in Ontario, Nova Scotia and places out east. Willard and his wife loved to travel and while abroad he painted some notable scenes in places like Italy, Britain, Morocco and Greece. The foreign scenes are especially uncommon, difficult to find and can be expensive. He exhibited some of his artworks for a time with the AAM in Montréal in 1927 and 1928. Today, Williard's miniature watercolours have now become very collectible in both Ontario, Québec and the East Coast provinces and other countries. Their value too, depending on the quality and condition of the scene, keeps increasing all the time.

It should be noted that Willard Mitchell was the most prolific 20th century Canadian painter of miniature watercolours. From the early years, circa 1919, until near his passing in 1955, Willard was known to have created thousands of his little gem watercolours. Many of his works may have been repetative scenes, but he also produced a number of special 'one-off' settings and scenes that he always put a little extra time and energy into creating.


Willard passed away at the age of 76 in 1955.


Painting Ref No: 2TEE21PRI-S/NOEX