MAURICE HALL HAYCOCK (Dr.)

(1900 - 1988)
Oil on Wood Panel - ca. 1963
Signed by the Artist
Titled Verso: "Misty Morning, April" "Notre Dame de La Salette, Quebec"
"April 1963 with AY and RWB" (A. Y. Jackson and R. W. Burton)
h: 10.5 in. by w: 13.5 in.
SOLD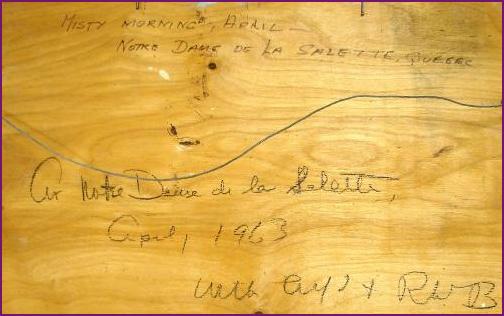 HAYCOCK, Maurice Hall (Dr.)
Maurice Haycock, born in 1900 in Wolfville, Nova Scotia, was a very well known Canadian artist. Best known for his sensitive and extensive oeuvre of Canadian Arctic work, he also painted across "southern" Canada and concentrated on the upper Ottawa Valley which was near his home in Ottawa.

He began painting in watercolours and pastels, then oils, in the Ottawa area during the mid 1930's. In 1941 he re-acquainted with A. Y. Jackson, whom he had first met on the ship Beothic, at Pangnirtung Fiord on Baffin Island in 1927. Haycock was a young geologist doing mapping at the time and Jackson was on a painting trip. After 1941 they continued to travel and paint together throughout the Ottawa Valley and across Canada, until Jackson's death in 1974.

From the late 1940's until the mid 1960's Jackson, Haycock and Ralph Burton took many sketching trips together through the Upper Ottawa Valley and Madawaska Valley. They recorded in their paintings the rugged geography and post war rural farming countrysides of Ontario and Quebec.

After 1965, when Haycock retired from his position as Mineralogist with the Geological Survey of Canada, he spent his summers painting in the Arctic. A collection of his northern art and painting experiences, "On Site with Maurice Haycock, Artist of the Arctic" was published in 2006 by his daughter Kathy.

Haycock continued to paint "up the Valley" during the early spring thaw and in the fall until his death in 1988.