ERNST NEUMANN CPE

(1907 - 1956)
Etching - signed by the Artist in pencil - also signed in the plate
Dated 1946
Titled "girl putting on stockings".
w. 4 3/4 in. by h. 6 3/4 in.
Archivally Matted and Framed

Please enquire regarding price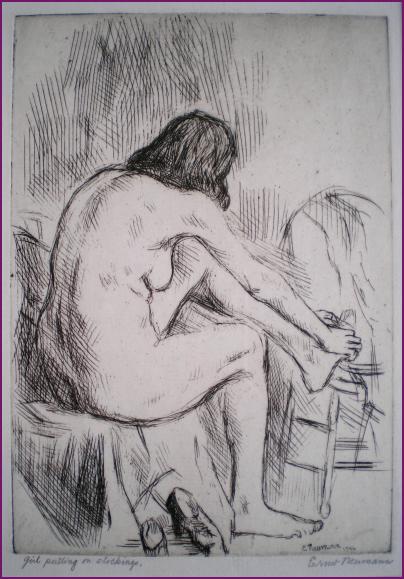 NEUMANN, Ernst CPE (1907-1956)

Ernst was born in Budapest Hungary and immigrated to Montreal, Quebec in 1912. He studied art at the l'École des Beaux-Arts, the Art Association of Montreal and was given an overseas fellowship to study art in France in 1955. He worked in oils as well as woodcuts, etchings and lithography. Neumann's subjects included landscapes, street scenes, especially in Montreal, nudes, figures and portraits presented with satire and critical comment.

He was a member of the Society of Canadian Painters, Etchers and Engravers. He exhibited at the Royal Canadian Academy and the Art Association of Montreal and memorial exhibits were held in 1958 at the Art Gallery of Hamilton and at the Montreal Museum of Fine Arts.


Ernst Neumann is represented in the National Gallery of Canada with 19 etchings, engravings and oil paintings.
Ernst passed away in his 48th year while traveling in Venice, Italy in 1956.

Print Ref No: 4UMX08EB-S/BOEX