NORMA BASSETT HALL, FOUNDING MEMBER 'THE PRAIRIE PRINTMAKERS'

Listed American Printmaking Artist: (1888-1957)
Woodcut: coloured block print signed lower right
Titled: "Oaks in Autumn" lower left
Numbered : "Edition of 100"
Image Size: w. 11" by h. 14"
Framed: Archivally matted with acid-free rag content materials



SOLD
Please Take note: This well established American printmaking artist was one of the founding members, along with Birger Sandzén, of the important Kansas artist's society known as 'the Prairie Printmakers'. This color woodcut by Norna Bassett Hall is considered to be a rarely found edition, as there are no established records of a copy of this print ever being sold at any North American art auction houses in the past twenty five years.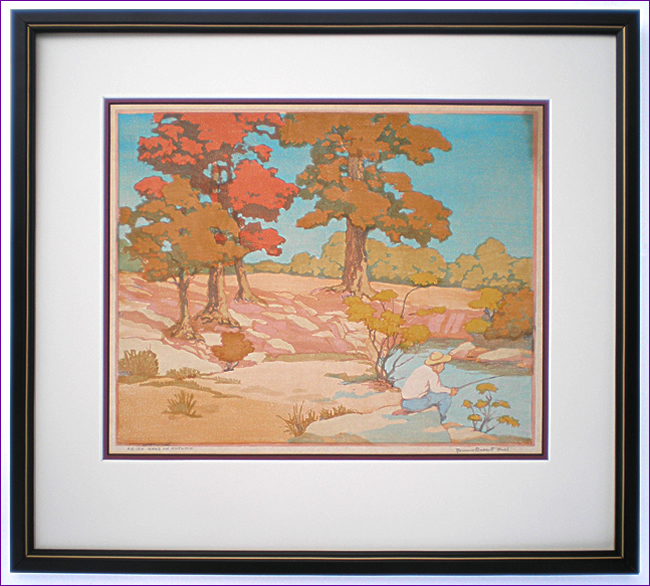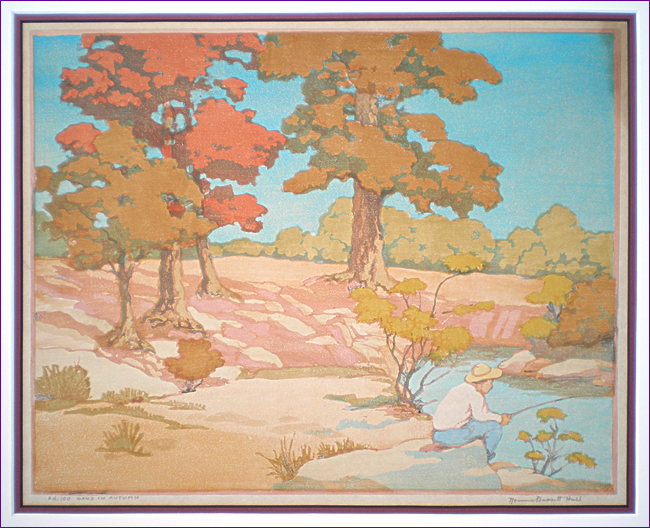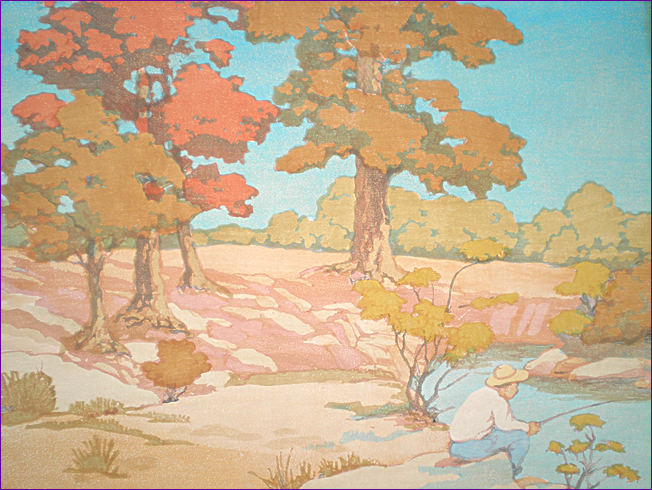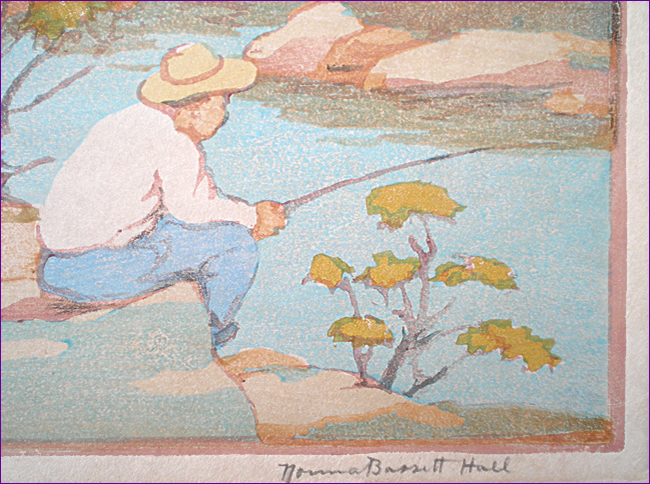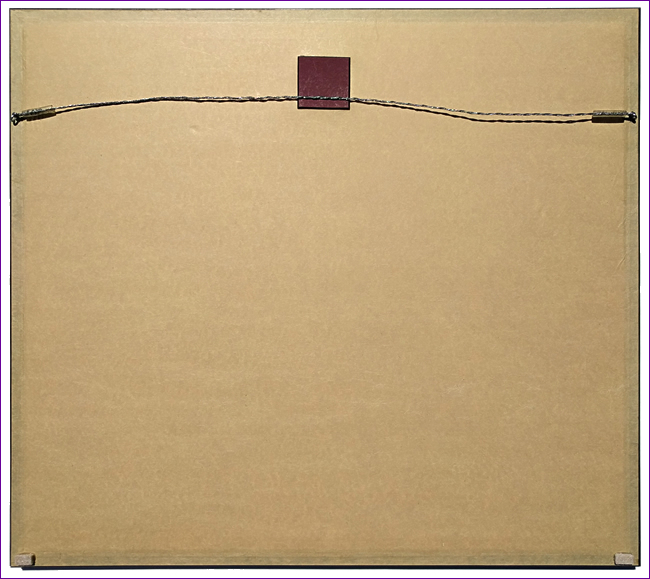 NORMA BASSETT HALL, PRAIRIE PRINTMAKERS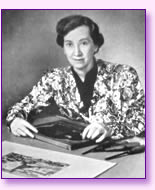 Norma Bassett Hall was born May 21, 1888 in Halsey, Oregon. In 1910, she became a member of the inaugural class of the Museum Art School (now the Pacific Northwest College of Art) in Portland, Oregon. After leaving Portland, she briefly taught in Milwaukee, Wisconsin, before continuing her education at the School of the Art Institute of Chicago from 1915-1918. She also studied privately with the noted British printmaker Mabel Royds. Norma also lived her life in a number of other places such as, Oregon, Chicago, Kansas, Virginia and New Mexico.

While studying art at the Chicago Art Institute in 1916, Norma met fellow student Arthur William Hall. The first World War then interrupted their budding romance, when Arthur served with the infantry in France. After graduation, Norma worked in the drafting office on defense projects until the end of the war, when she returned to Oregon to teach art.

During the depression, Norma was commissioned by Mrs. Wilber Stone to paint a large folding screen. House paint was used for this project instead of the standard artists oil paints, being it was the most economical paint available. This screen is now a permanent part of the Coutts Memorial Art Gallery collection in El Dorado, KS.

Norma moved to El Dorado, Kansas when she and Arthur married. Norma also taught local art classes and produced her own artwork for sale locally. They both made the decision to move to Santa Fe, New Mexico in 1942, where they were able to devote full time to their individual artistic pursuits. By then Norma's reputation was firmly established in the art world, especially for her block prints and serigraphs of the Southwest. They lived and had their art studio in a 200 year old adobe house. In 1950, they upgraded their accommodations to Rancho del Rio, an estate near Alcalde between Santa Fe and Taos on the Rio Grande. This became their grand art studio where they also added an art school to their working environmment..

After vacationing in Cannon Beach, Oregon, the Halls decided to make a souvenir book of their trip, using block print illustrations. Making 2 complete copies by hand, involving more than 30 blocks per copy, this was when Norma first saw the real possibilities of woodblock printmaking.

During a 2-year trip to England, Scotland and France, the Hall's studied in Scotland with well-known woodblock print artist Mable Royds and her husband, noted etcher E.S. Lumsden.

Norma's woodcuts are made using the relief process. The negative areas of a design are carved out of the block so that the design alone stands out. This positive area is then covered with ink to transfer the design to paper. Color woodcuts require a different block for every color used. Norma usually created up to 7 separate blocks per print, all hand-cut from cherry wood.

On Dec. 28, 1930, Arthur and Norma Hall along with Birger Sandzén became founding members of a group of artists called the Prairie Print Makers. This talented group was interested in furthering the interests of both artists and art lovers. From 1930 to 1965, this group succeeded in bringing distinctive fine art to the general public. There were probably more of their works hanging in the homes of Butler County Kansas in those years than any other form of art.

Norma Bassett Hall was the only founding woman and the only member to establish a reputation exclusively for her color prints, both woodcuts and her later silk-screened prints. She was also the designer of the Prairie Print Makers group logo.

The Prairie Print Makers grew to over 90 active (artist) members and over 150 associate members. To belong to the organization an active member paid yearly dues of $1.00. Associate members paid an annual fee of $5.00 entitling them to receive one special edition print each year. Active members submitted prints to be considered for the special edition. If his or her print was selected, the active member received $150.00. This print was typically a limited edition of 200, and then the woodcut blocks were destroyed following the production run. PPM handled the details and associated expenses of printing and distribution. Between 1931 and 1966, 34 annual gift prints were produced for publication.

The Prairie Print Makers survived the Great Depression, one of history's hardest economic times. It prospered in the years following World War II. But due to changing aesthetic tastes, the death and relocation of prominent members, and the decline in the popularity of print-making, all of these things eventually contributed to the organization's demise. The artistic legacy of this native Kansas group, however, is still enjoyed and collected by enthusiastic art lovers all across the American states.

*Please note that Norma Bassett Hall's birth year is often seen erroneously in literature as 1889. The Federal Census and family members have verified the birth year as 1888.


Print Ref No: 4ARI19GNR-S/MAEEX
Click here for a 2005 Antiques Roadshow appraisal of one of her woodcut prints.