NORMAN MILLET THOMAS
Listed American Artist: (1915-1986)
Mezzotint and Drypoint Etching: printed in soft brown ink
Signed and Titled: "Jazz Street Parade - New Orleans" ca. 1950
Image Size: h. 8 1/4 in. by w. 10 1/4 in.
Condition: Strong impression in pristine shape
Numbered: 64/130 and it is archivally Matted with acid-free materials throughtout
PRICE. . .$350. Cdn$ Approx. $265. Amer$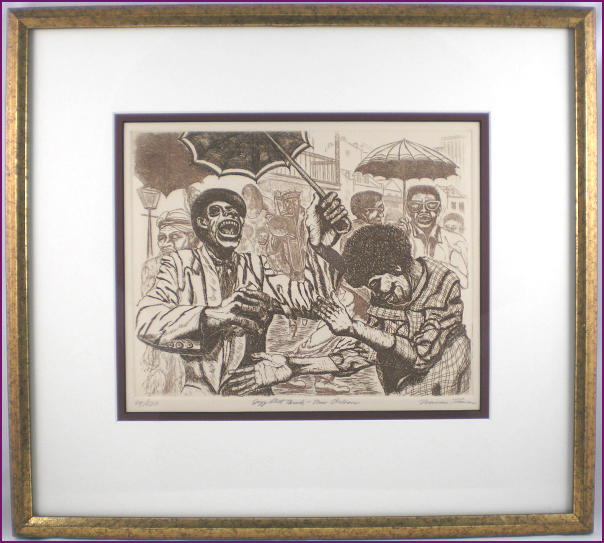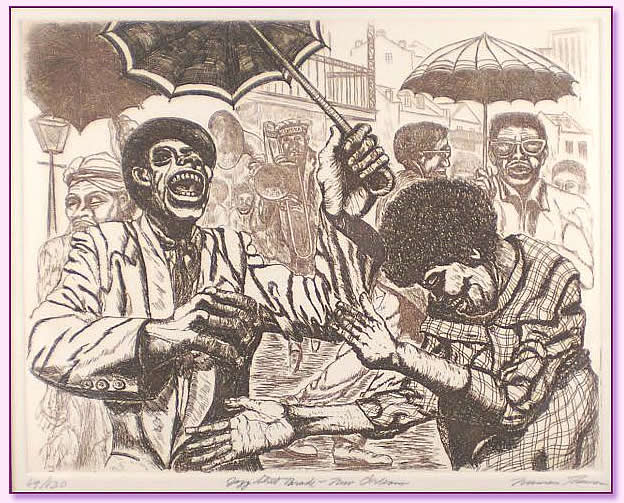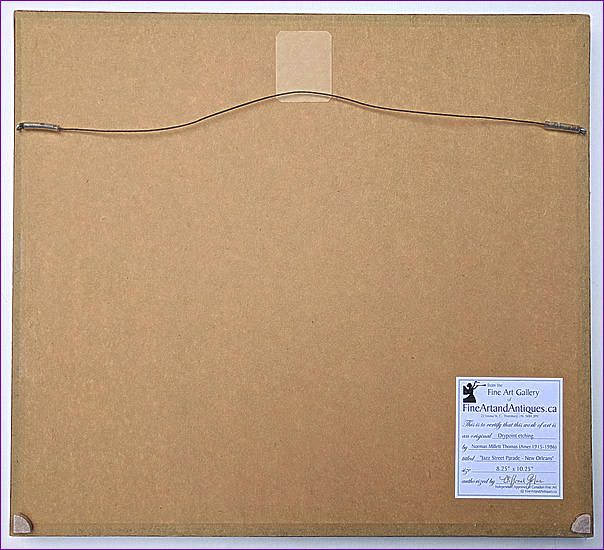 Norman Millet Thomas (American) 1915-1986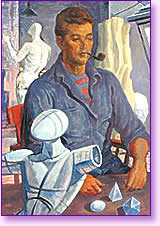 Norman Millet Thomas, was born in 1915 and grew up in Portland, Maine. He graduated from Portland High School in 1933, and studied at the Portland School of Fine Arts, the National Academy of Design in New York City, and the American Academy in Rome, Italy.

In 1938 he was awarded a Pulitzer traveling scholarship of $1,500, for a mural of lobster fisherman on the back shore of Long Island (Maine). Norman Thomas served as a combat artist for the U.S. Coast Guard during World War II. Several of his paintings of action in Greenland were published in Life magazine. He had to repaint them after the originals were lost at sea during the war. He also sketched the amphibious assaults at Leyte, Luzon, and Iwo Jima in the Pacific.

One of his Luzon sketches, of two Coast Guardsmen, supporting between them a wounded soldier, became the design for the Coast Guard War Memorial bronze statue at Battery Park in New York City, sculpted by Thomas. The design was a matter of some controversy at the time, as it was approved by Parks Commissioner Robert Moses, but not by the city's Art Commission. The design, casting, and installation of the memorial were funded by small donations from throughout the Coast Guard. The memorial was dedicated in 1955, and a replica was dedicated in Baltimore in 1959.

Thomas's later years were spent mostly in Cuernavaca, Mexico. His close circle of friends included Diego Rivera, Frida Kahlo and David Siqueiros. He was the producer of the 1961 film "El Brazo Fuerte" by Giovanni Korporaal, which was banned in Mexico because it criticized government corruption. From about 1965 to 1970 he was in Los Gatos, California, and became part of the group of artists who gathered at the nearby Studio 88 in Campbell. In the 1970s he was staying in San Jose.

Norman died at Cuernavaca on May 11, 1986 at the age of 70. His ashes were returned to the Portland area and scattered over Casco Bay, Maine.

Print Ref No: 11MMX08SIM-S/MOEX