PALMER, Herbert Sidney RCA, OSA, CSGA

(1881-1970)
Serigraph signed "H. S. PALMER" in the screen.
Titled "Repose"
Archivally Matted and Framed
w. 3.75in. by h. 3 in.

Please enquire regarding price
Take note: This H.S. Palmer serigraph is one of a series of 43 serigraphs created in 1931 for Coutts Hallmark Christmas cards. Group of Seven member A.Y.Jackson was the driving force behind this project and twenty-six of Canada's leading artist were asked to contribute to this fund raising venture for needy artists, which became known as the 'Painters of Canada' series of Chrismas cards. Due to a drastic downturn in the economy brought on by the 1929 stock market crash, this project soon dwindled and after a few years the cards were removed from the marketplace. So, no one knows what happened to the remaining unsold cards, whether they were stored away or thrown out, nor is anyone quite sure how many of these historic Christmas cards still remain in existance today.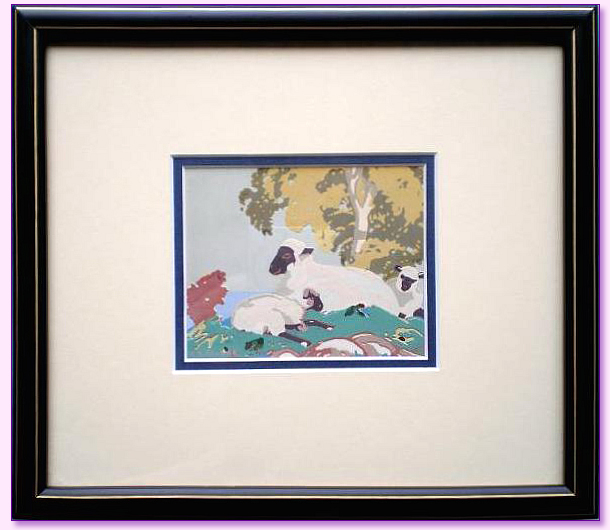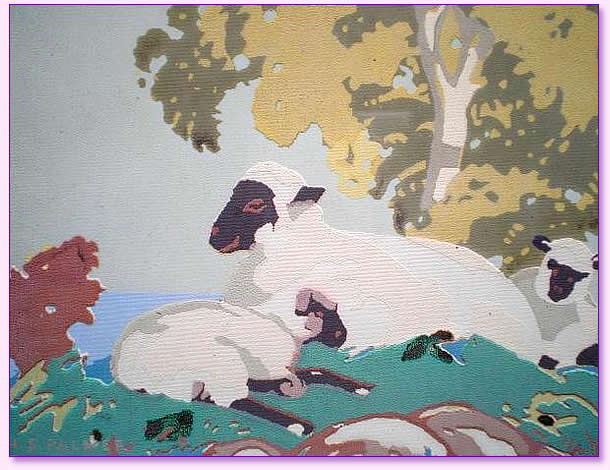 Please Note: This photo showing Palmer's signature has been
slightly enhanced so that it is easier to read on the website.
PALMER, Herbert Sidney RCA, OSA, CSGA, ALC

Herbert was born in Toronto and studied art under F. S. Challener and J. W. Beatty at the Central Ontario School of Art. He later worked for the Canadian War Memorial Fund in 1917.

Herbert Palmer is very well known for his idyllic captivating Ontario landscapes with cattle and sheep.

He held the office of Vice-President and Treasurer of the Ontario Society of Artists and was the Curator of the Fine Art Department of the Canadian National Exhibition and was a founding member of the Arts and Letters Club. He exhibited with the RCA, the AAM, as well as the OSA. His work in the collections of the Art Gallery of Ontario and the National Gallery of Canada as well as many other public galleries and private collections in Canada, the USA and Europe.

In 1960, Herbert was the first recipient of the Baxter Art Foundation Award for years of devoted effort to the work of the OSA, RCA and other professional art groups.
Herbert Sidney Palmer died in 1970.

Print Ref No: 1OEX12SIM-S/MROX