JEAN TOWNSEND CPE CSGA, POC

(1921-2006)
'Compotina' Embossed Etching with Aquatint ca. 1960
Artist's Proof - Signed by teh Artist
Titled: Hosts of the Air - "Wind Among the Reeds" - W. B. Yeats
w. 18 in. by h. 10 in.
Archivally Framed
SOLD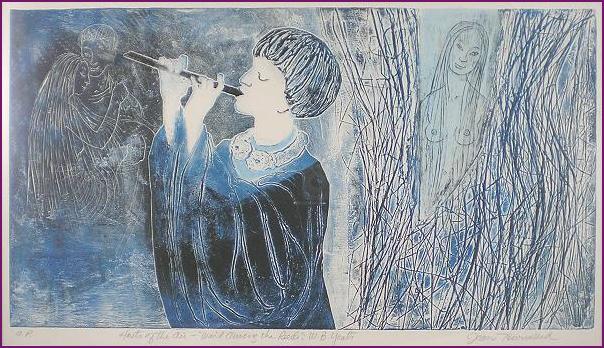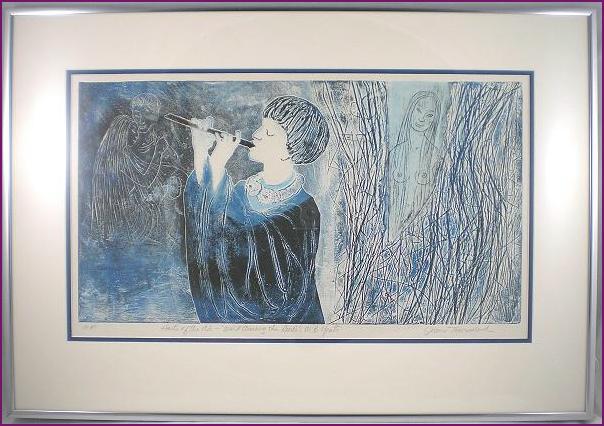 TOWNSEND, Jean, CPE, CSGA, POC

Jean was born in Toronto in 1921. Her artistic talents won her a four year scholarship to attend OCA from 1938 to 41. In 1942 Jean won the Governor General's medal. Jean also studied art with Arthur Lismer, Franklin Carmichel and Nicholas Hornyansky.

Her figurative work draws heavily on myths and legends especially those from Ireland. It is said that her work is "mysterious" and in the realm of printmaking she is known as a superb technician.

Jean was a member and officer of several art associations such as the Canadian Society of Painters, Etchers and Engravers, the Canadian Society of Graphic Art and the Ontario Society of Artists.

In 1963 Jean along with her husband, artist Saul Field, developed a non toxic printmaking process called "Compositional Plate" now called "Compotina".

Jean Townsend's artwork is in the private collections of Vincent Price, Taylor Caldwell and Marshall McLuham and many others. She has exhibited extensively across Canada and the USA and is represented in the permanent collections of the Montreal Museum of Fine Arts, the New Brunswick Museum, Queens University Gallery, the National Library in Ottawa and the University of Toronto Library.

Jean died in 2006.