TŌSHI YOSHIDA
(1911-1995)
Listed Japanese Artist
Coloured Woodcut - Signed by the Artist
Titled: "Fly" (Owl in Flight)
Numbered 5/250 - with "Lifetime Pencil Signature"
w. 23 1/4 in. by h. 10 1/2 in.
Archivally Matted and Framed
SOLD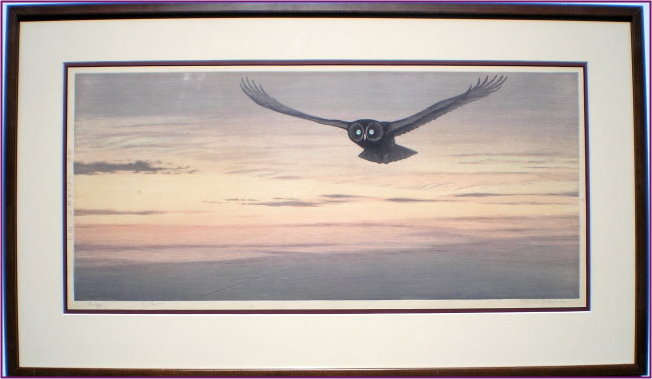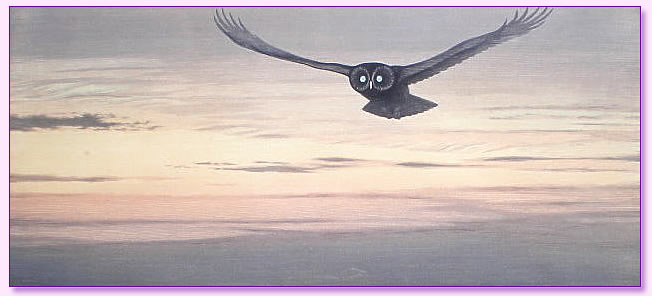 Pencil vs. Printed Signatures on Toshi's Prints
Although the Yoshida's have not yet found their way to ShinHanga.net, during a recent discussion about Toshi's pencil and block signatures with Eugene Skibbe, the author of the book Toshi Yoshida - Nature, Art and Peace. He provided me with an interesting statement from Takashi Yoshida, number 2 son of Toshi. "The fact is, that already during the lifetime of Toshi some prints got the printed signature instead of the pencil signature."

Due to hospitalization and the weakness of his hand, Toshi Yoshida (1911-1995) chose to use a hand printed signature with embossed seal during this period. However, he kept supervising all of the printing at his studio. So, you may find the following signatures for his prints:
1. Original Limited number with his pencil signature.
2. Original Limited number with printed signature with embossed seal.
3. Posthumous Limited number with printed signature without embossed seal.
4. Original Unlimited number with his pencil signature.
5. Original Unlimited number with printed signature with embossed seal.
6. Posthumous Unlimited number with printed signature without embossed seal.
Source: Shin Hanga website December 2000 anonymous posting http://shinhanga.net/flotsam2.htm

YOSHIDA, TŌSHI

Tōshi Yoshida was an artist with great breadth and vision, and is considered as one of the greatest artists of the Shin-Hanga style of woodblock makers. Though known primarily for his woodblock prints, he was also a fine painter and illustrator. His artistic style was uniquely broad, because he constantly innovated and pushed the boundaries of the woodblock medium. His works range from realistic landscapes to imaginative abstracts to detailed portraits of animals in their different environs.
Tōshi was part of the second generation of the Yoshida family to work in the woodblock medium. Both his father, Hiroshi, and his mother, Fujio, were also artists and print makers. He is said to have started drawing at the age of three. And the quality of the child's drawings astonished even his father. Tōshi first studied the art of woodblock printing in his father's studio, and the subject matter of his earlier prints is reminiscent of his father's work. However, there were distinct stylistic differences between Tōshi and his father, and this comes through in their artwork.
In 1936 Tōshi Yoshida stayed in China and Korea. After the end of World War II he traveled all over the world. Even Antarctica was not left out. Compared to Hiroshi's perfectly composed prints, his early landscapes are more down-to-earth. Tōshi was a master at depicting the charm of ordinary Japanese life. Occasionally he depicted famous landmarks, but his prints tend to focus on the human element rather than the monumental.
Tōshi reached the same level of fame as his father did. His works are in the collections of all the big named museums like the Museum of Modern Art in New York, the Boston Museum of Fine Arts and the British Museum.
Tōshi Yoshida died in 1995.