<!_ the actual size of the photo is 468 x 356px->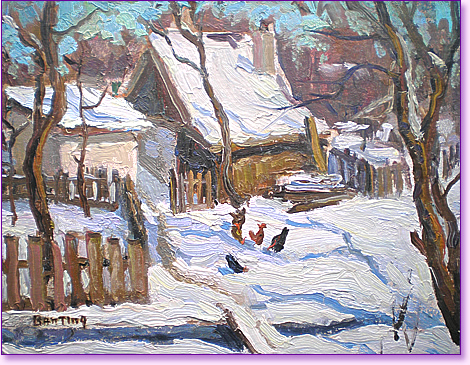 FineArtandAntiques.ca is a Canadian online fine art gallery presented by knowledgeable art professionals that specialize exclusively in providing important historical original works of art by Canadian master painters of the 20th century and their noted contemporaries. This includes well chosen oil, acrylic and watercolour paintings, plus hand-pulled etchings, aquatints, serigraphs and woodcuts. We also offer unique 'rare-find' items and objets d'art in the 'rarities' section of our gallery navbar.
You can be assured that we will always attempt do our best to find the right artworks for our client's needs. Whether you are seeking a specific style, vintage or genre of painting or hand-pulled print, you can rely on our expertice to assist you in helping to find the most appropriate works that will best suit and compliment your personal or corporate collection. Wise decisions and choices are often the result of attention to detail by a trained eye.
We perform insightful appraisals for our clients who need to know the particulars of the artworks in their collections. Have a quick glanse at a sample of one of our appraisal reports to reassure yourself that we do know what we are talking about when it comes to fine art research and the nuances of art market appraisals and valuations. We charge a non-inflated fee for the appraisal service that we provide, as we rely on 25 years of expertice in Canadian 20th century works, plus the use of relevant data bases, which results in knowledgeable and informative appraisals. You can trust that our fine art appraisals are up-to-date, accurate and insightful.
We take pride in the fine art that we carry and it's important to clarify any queries you may have concerning the paintings and hand-pulled prints or other unique artifacts that we sell. In fact, we encourage you to ask as many questions as needed before purchasing from our gallery collection. Honesty and integrity is at the core of our business and it is the foundation of our reputation as Canadian art specialists.
Quality, trust and our passion for fine art have been the major driving forces behind our online art gallery business success for the past decade. You have our word that we guarantee to refund your money if you're not delighted with your purchase.
Distinctive works of art from the 20th century have a proven track record for value endurance and rarely ever drop in price. When more recent information is brought to light about noted 'historical' artists from the past, be it through books, films, documentaries or articles, this very often results in an increase in value and/or a demand for that particular artist's works.
Acquiring quality fine art does not have to be a costly venture. With over 20 years of experience in the gallery business we are committed to offering you investment quality art with exceptional service and advice, and feel that we possess the expertise to guide you on building a distinctive collection within your available budget. At FineArtandAntiques.ca we wholeheartedly believe that purchasing quality fine art can and should be an enjoyable and financially rewarding venture. We also understand that purchasing and investing in a work of art is not always an easy thing to do and can sometimes be quite intimidating. So, we ask that you absorb all the data that you can about a work of art you are interested in, ask as many question as needed to satisfy your artistic expectations and eventually trust your instinct when it comes to making the final decision.
Here are some excellent reasons why you should consider acquiring quality historical fine art for your living space and for your investment portfolio:
Historical artworks tend to have a proven track record when it comes to valuation through the reviewing of past art auction results. Whereas contemporary 'gallery art' is often purchased on a whim with limited or no consideration for its inherent value, or without any introspection into that artist's background.



There is a distinct pride and personal status that is associated with owning an original vintage fine art painting or hand-pulled print.

You begin to hone your eye to appreciate art that has, that certain 'wow' factor appeal.


You begin to develop a strong sense of awareness that you are helping to advance the arts culture within Canada. Owning original historical art has a positive effect on the collector, and it also inspires us to look at the world in a different way, which can invariably enhance the quality of your life.


Many historical fine art paintings, hand-pulled prints and bronze sculptures have also consistently increased in value over time. And that's always a good thing. Whereas newer contemporary paintings and artworks can linger in value after purchasing and more often than not, drop in monetary worth.


Canadian fine art is a tax deductible expense for your company or business, thus it can harbour you from paying higher taxes and at the same time broaden your net worth while also diversifying your asset base. To qualify, it must be created by a Canadian artist and be valued at least $200. or more.


With overall economic value in mind, the last economic recession had us all down. Not many markets did well, but the art market surprisingly bounced back with full buoyancy much faster than expected compared to other traditional markets.


Your art collection becomes part of you and your life history, and it's not just a retail purchase. It's something that will be on display and eventually ingrain itself into your own life's story. Fine art has an inextricable link to the memories that we create within our lifetime.


You also become engaged in someone else's life stories. That being the artists who created the works that you now display on your walls and possess within your personal collection.



Click here for an informative Sept. 2018 Globe and Mail article about investing in Canadian Art.