Listed Canadian Artist: (1899-19??) Macedonian Canadian artist, author and Patriot
Sight Size: h: 22 in. by w: 28 in. Oil on canvas.
Signed: Recto lower right 'F.S. Tomev'
Titled: 'The Verdant Pool' noted on the stretcher frame verso lower right.
Encased within: a classic circa 1930's, very good condition, quality gilt frame.
Overall Condition: Clean and varnished with no surface condition issues of any kind.
Membership and Accreditation: Associate of the Ontario College of Art.

Please enquire regarding price
Note of Interest: Foto Spiro Tomev was a talented Toronto based artist who, after studying with different members of the Group of Seven and graduating from the Ontario College of Art in 1922 started painting and continued to do so up until the early to mid 1980's. Through those years he produced some fine artistic renditions of Toronto's old city-neighbourhood settings and its peoples. The consummate example of excellence shown here, is estimated to have been painted at some time in the late 1930's or into the 1940's. And, when viewed in the right light, it can be said that it has a distinct touch of the Group of Seven's, Franz Johnston influence in it; such as with the subtlety of the sunlight breaking through in the distance, its serene reflection across the verdant pool and Foto also employed the same colour palet and brush style that Franz so often used. Foto has also signed his name in red paint, just as Franz Johnston did.
Foto Spiro Tomev AOCA, Macedonian Canadian artist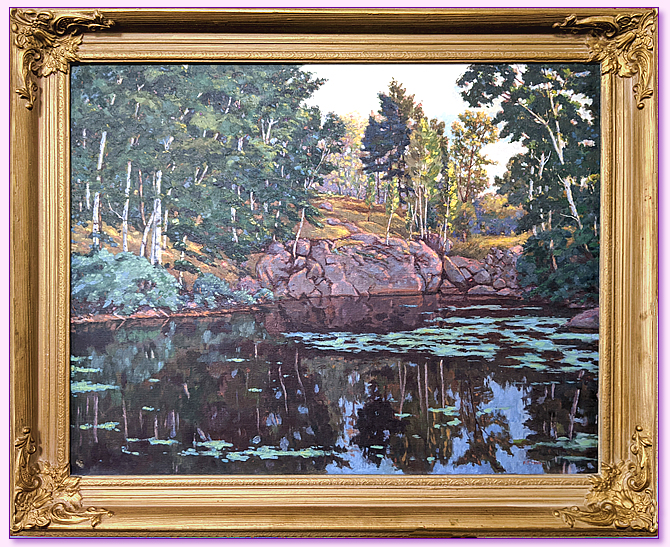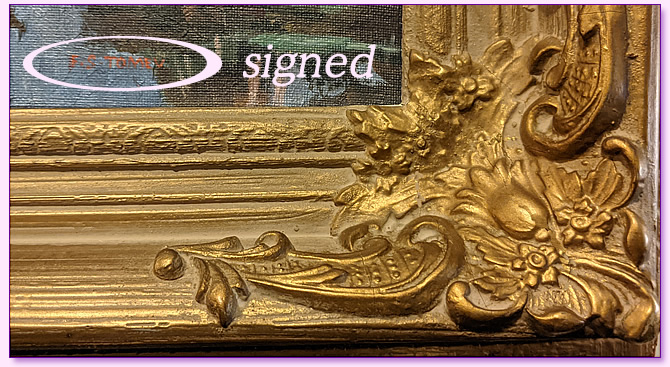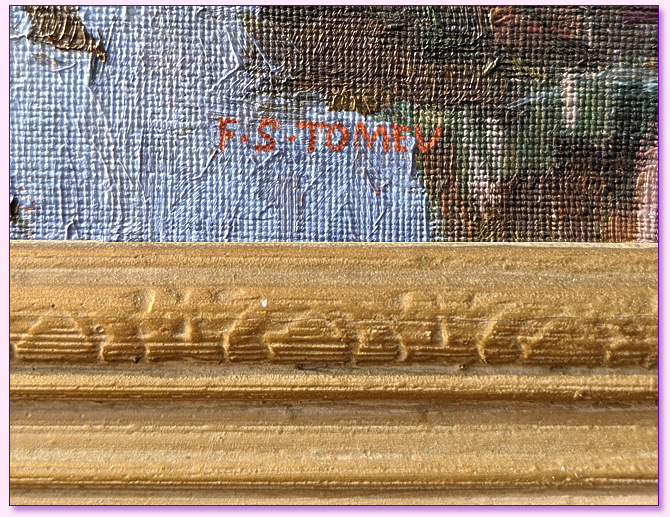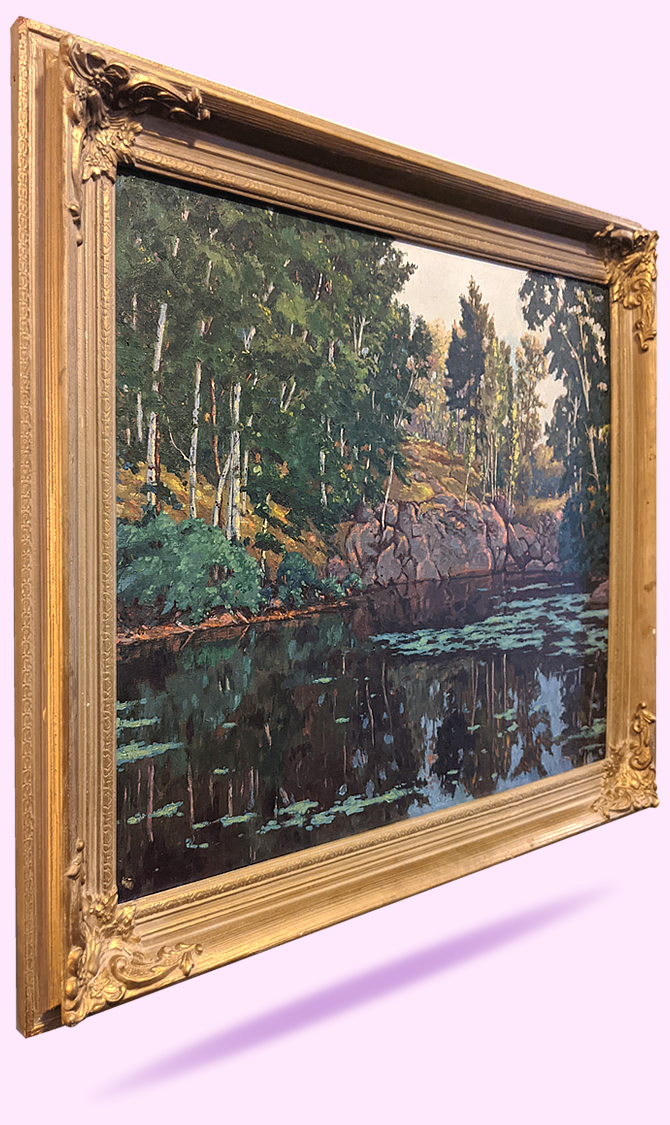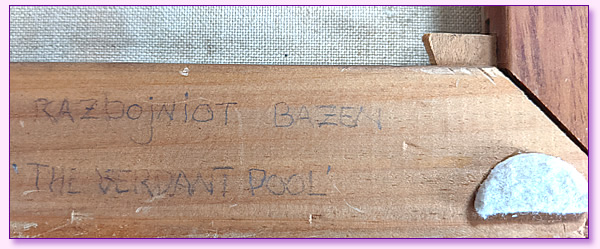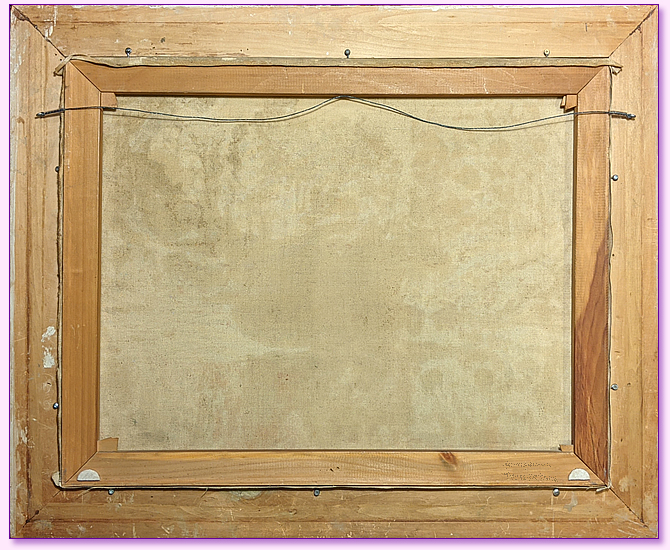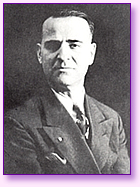 Foto Tomev, was born in the Village of Zhelevo, Macedonia in 1899. It was a troubling time in North Macedonia, so Foto, at the age of sixteen along with his family emigrated to Canada in 1915 during the First World War. After settling in Toronto, he eventually decided to follow his artistic leanings in the 1920's and enrolled in the Ontario College of Art and studied under many of the noted artists who taught there.

Foto received a number of artistic awards including the Governor General's Medal at the Ontario College of Art. Foto attained his A.O.C.A. status and he exhibited his works at the R.C.A., the C.N.E. and the Montreal Art Association. Tomev received Honours on May 7th, 1977, from the Canadian Macedonian Senior Citizens Centre Association, for Meritorious Service to the Macedonian Community in the City of Toronto. As a patriot in his Macedonian community he also authored a book entitled, 'Short History of Zhelevo Village' about what life was like in the early part of the 20th century in his North Macedonian homeland.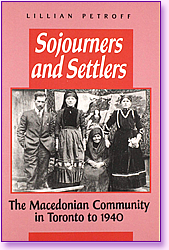 Lillian Petroff, wrote the book, 'Sojourners and Settlers' to commemorate the lives and culture of the Macedonian community in Toronto during the first half of the 20th century. The late Professor Robert F. Harney of the Department of History, University of Toronto, and Professor Harold M. Troper of the Department of History and Philosophy of Education, Ontario Institute for Studies in Education (OISE), directed her work on this book and here is a bit she wrote about her experiences with Foto Tomev and others.

''Robert F. Harney was always a student of neighbourhoods. One day, he came to my house, picked up my grandmother and me, and took us to West Toronto Junction, my grandmother's former stomping grounds, the place where she spent the first thirty years of her life in Canada. As we drove up and down the side streets, past the old homestead and slaughterhouses, Bob gently and patiently quizzed Granny about her home and the neighbourhoods. That afternoon, he in effect introduced me to my grandmother. I began to learn that the immigrant experience was both ordinary and extraordinary. My grandmother, in turn, discovered her own voice. Thus began what may prove to be the most interesting scholarly and literary venture of my life. I wish to thank the many men and women of the Macedonian community who gave unselfishly of their time and knowledge. The support, advice, and honest criticism provided by my grandmother, Gina Petroff, and artist Foto Spiro Tomev are especially worthy of note. The door was always open and the tea was always on at the Tomev household. Tomev's artistic contributions speak for themselves in this book. His oil paintings The Balkan Cafe (1981), Slaughterhouse (1981), and Boardinghouse (1982), as well as Alex K. Gigeroff's Stringing Peppers on Niagara Street, Toronto, 1936, a masterful multi-media (watercolour, pen and ink) illustration, help us to understand better the sojourner and settler experience in Toronto.''

Foto Spiro Tomev passed away in the mid 1990's; the actual date is unknown to us.

This excerpt is from the 'acknowledgment' section of the book 'Sojourners and Settlers' by Lillian Petroff (1995). Her book is available for sale by searching with this catalogue number...ISBN 0-8020-7240-2

To learn more about the life and times of Foto Spiro Tomev and other Macedonian Canadians click on this link. http://www.zhelevo.com/history.
Painting Ref No: 11TEIX20CON-S/AOEX
Foto Spiro Tomev AOCA, Macedonian Canadian artist, The Verdant Pool