Welcome to our home page


Acquiring 20th century paintings and prints does not have to be a costly and intimidating venture. We wholeheartedly believe that acquiring investment quality fine art can and should be an enjoyable and financially rewarding venture. We also understand that investing in a painting, print or other work of art is not always an easy thing to do and can sometimes be quite stressful.

One should delve into the history and background of the artist and ask as many questions as needed to satisfy your expectations concerning a particular 20th century artwork. Over time, you'll learn to trust your instincts when making a decision on whether or not to acquire that captivating painting or hand-pulled print.

The art market can be capricious and unpredictable. But, by applying a certain amount of forethought, acumen and research, you'll become intuitively drawn towards works that you perceive as having true merit. Consider investing in 20th century paintings and hand-pulled prints... as they often prove to be worthy
'fine art assets' well into the future.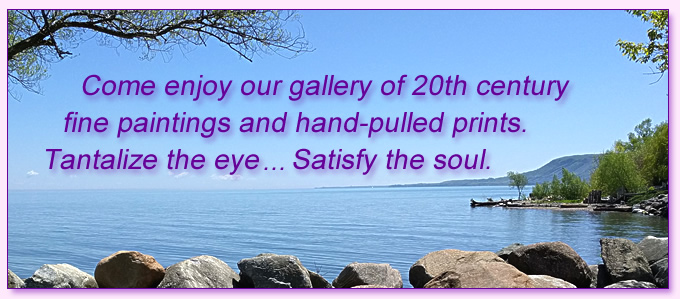 If you are seeking a well researched fine art appraisal, you can count on our many years of experience to deliver accurate and trustworthy results. We actively operate an online gallery dedicated to 20th century Canadian and American fine paintings and hand-pulled prints. And, as independent qualified appraisers with over sixty years of combined expertise specializing in 20th century fine art sales and research, we're well positioned to bring our clients consistent and insightful appraisals from a continually evolving art market for quality 20th century works.

You have the advantage of engaging knowledgeable professionals with years of direct marketing experience that can perform appraisals that are informative, reliable, accurate, and focused on your particular need for a fine art valuation.
We always endeavour to deliver authoritative results at a reasonable cost.




As of October 2018, after 32 years at our past location, we've permanently closed our bricks-and-mortar gallery in Thornbury. But we are now continuing on with our gallery and services in a daily online capacity to serve your fine art needs.

Today we are now known as FineArtandAntiques.ca, where we continue to operate our carefully vetted, Fine Paintings, Hand-pulled Prints and Rare Artifacts Gallery that we established online over fifteen years ago.

We're still located in picturesque Thornbury, Ontario for our clients who choose to come and preview items for sale, to drop off paintings or prints for restoration and conservation or for those who choose to drop by and pick-up.
A relevant note for past gallery clients
| Updated November 10, 2023 | | |
| --- | --- | --- |