Listed Canadian Artist: (1933-2007) Member of the Institute of Figurative Arts from Quebec
Sight Size: Oil on canvas, 16 x 20 in, 40.6 x 50.8 cm
Signed: LR. by the Artist
Titled & Dated: "Neige dan les collines" - "Snow in the hills", 1992
Framed: This frame is original to the painting, valued at $800 and it's flawless.

Please enquire regarding price
Special Note on Condition: This fine painting is clean, has a tight canvas and has no wear or surface condition issues. This painting was properly sealed and stored for over a quarter century and has never been hung on open display. It's now as pristine as the day it left Gaston's studio in 1993, and it's the first time it's being offered for sale in a gallery since that day.
Gaston Rebry IAF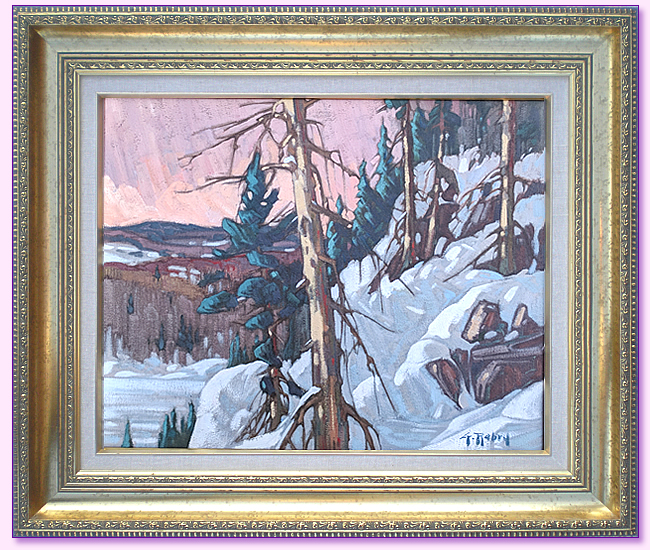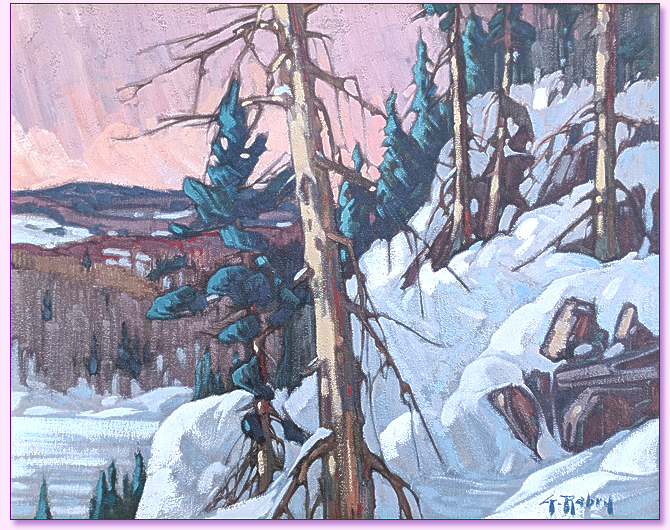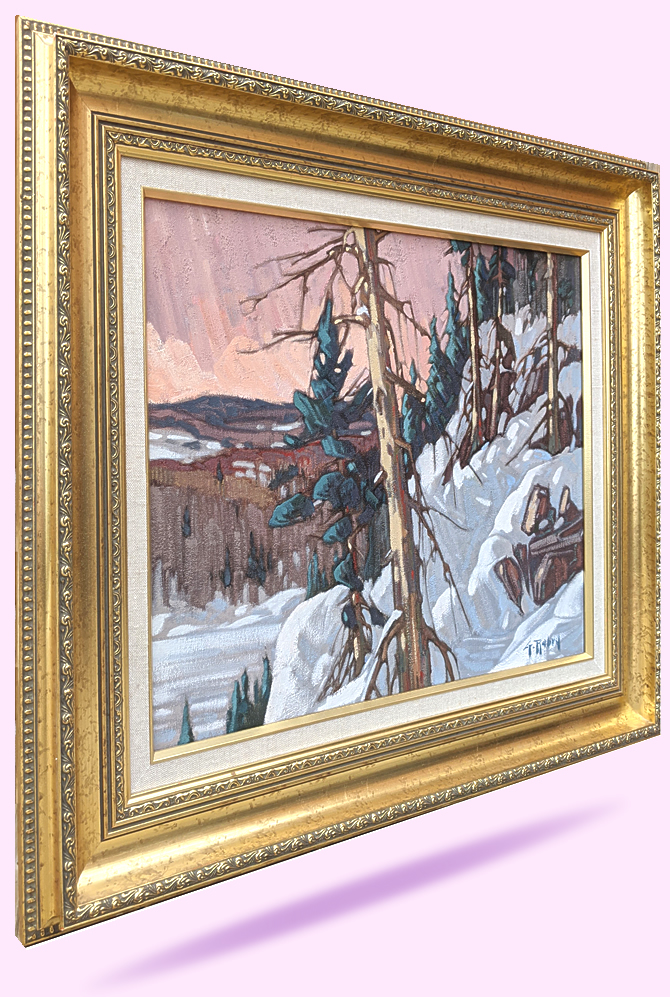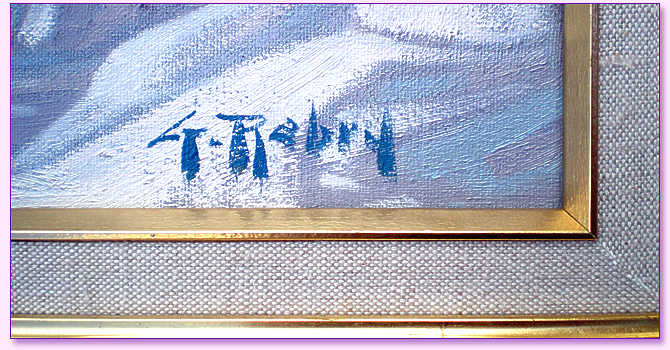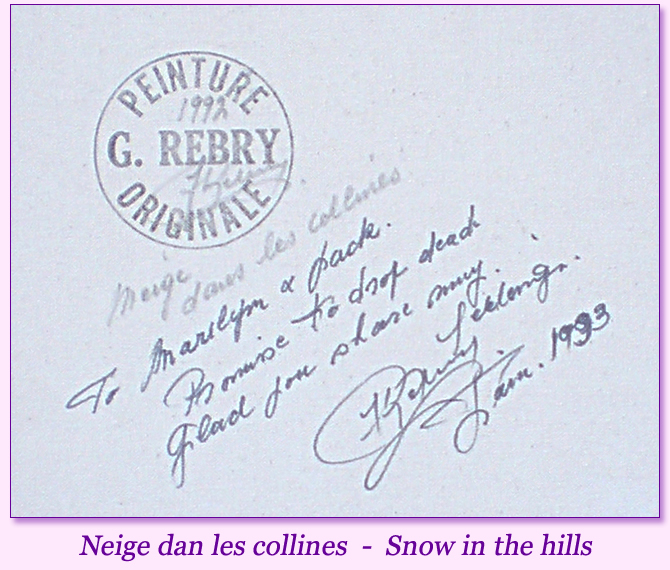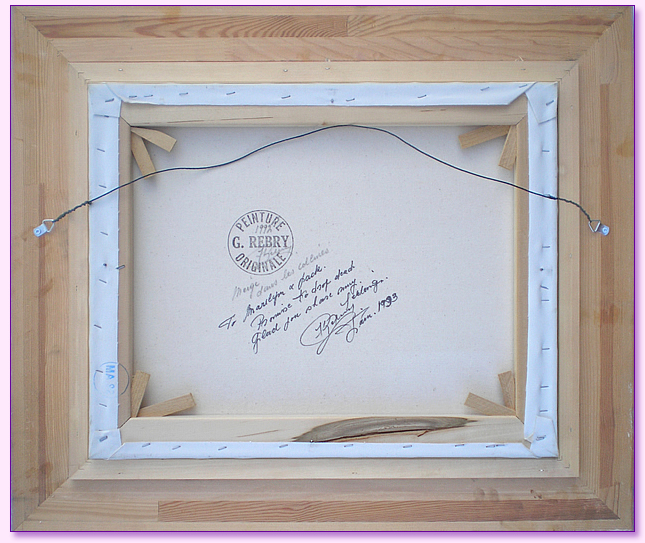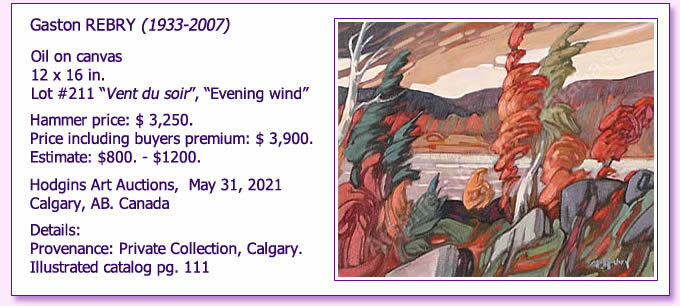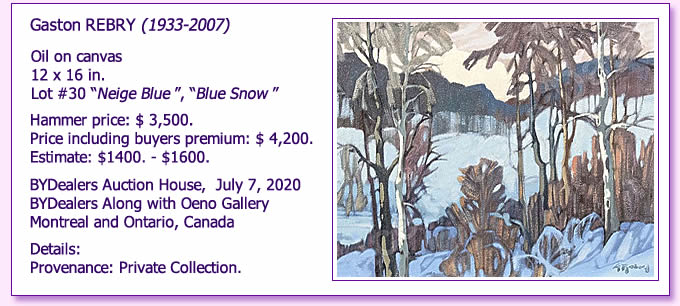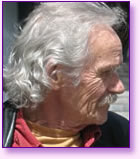 Gaston Rebry was born in Wevegem, Belgium in 1933 and came to Canada in 1954 at the age of nineteen to visit his sister in Montreal after the death of their father. Like his father, Gaston was a competitive cyclist, and had been quite successful in the sport. But his love of art and painting was just too strong and he soon abandoned the sport of cycling to study art and drawing at the Menen Academy in Belgium. When Gaston moved to Canada in 1955, he brought his passion for art with him.

<!-Use this code for apostrophy... '-> He studied at the École des Beaux-Arts in Montreal and was influenced by the of Group of Seven which can be seen in Gaston's work, but it eventually took him ten years before he became established enough to devote himself full-time to painting. Gaston loved and lived with the many aspects of nature, and loved to paint nature itself. In his early days, he painted houses and villages and even portraits, but for over twenty years he was devoted to painting nothing but landscapes. Like his canvases, the painter had become one with nature. He chose to paint it the way it was before the first settlers arrived and before the migration of native peoples. A lush green paradise where the sky, the forest and water reigns supreme, where nature was unaffected by its animal denizens.

Gaston was always energized by nature but never intended to copy it. He tended to reconstruct it, making it more complete and made no attempt to portray nature exactly as he saw it. He was always fascinated by light, observing it's every nuance in the sky, on the water and even on the leaves hanging from the trees as he walked through the forest. On canvas he would turn it into something unique and captivating.

When asked how long it took to complete a painting, Gaston would amusingly answer by saying...at least 40 years. I see each painting as the culmination of my experience as an artist and the expression of my life so far and each canvas reflects nearly fifty years of a close relationship with nature. A lifetime of work where all the hopes and dreams of the artist are set in a bounteous landscape.

As a sign of respect for his favourite artist from Shawinigan, the former Prime Minister of Canada, Jean Chrétien, a.k.a. The Little Guy From Shawinigan, often presented paintings by Gaston Rebry as friendship gifts to foreign dignitaries. It may be obvious to someone with a good eye for landscapes that Gaston was able to express on canvas the beauty and solitude that he admired so much in his adopted home of Canada.

Gaston Rebry passed away in January 2007.
Painting Ref No: 12TUOA18MAC-S/BOEEX
Gaston Rebry IAF, Snow in the hills 1992