Listed Canadian Artist: (1881-1955) Montréal Artist and Architect
Sight Size: w:5 in. by h. 4 in. watercolour in one of Willard's uniquely hand-carved frames
Signed: Recto lower left W.M. Mitchell
Titled Verso: "Logging, from the painting by the late F.S. Coburn"
Encased within: One of his fully hand carved gold painted frames
Overall Condition: Pristine original, clean and bright with absolutely no flaws
Willard Morse Mitchell, 20th Century Canadian Miniaturist
Click here to see a couple of very special Mitchell watercolours
Please Take note: This scene is a very uncommon painting by Willard and we have always endeavoured over the years to acquire his best and most unusual works. To honour some of his fellow Canadian artists, Willard created pastiche watercolours of well known and important artist's paintings of his day, such as works by F.S.Coburn, Paul Caron and Clarence Gagnon to name a few. The rarely found larger 4" x 5" format watercolours that Willard created were produced in far fewer numbers than his smaller size paintings. Both the condition of the frame and the painting shown here are important when it comes to placing a proper value on these range of his watercolours.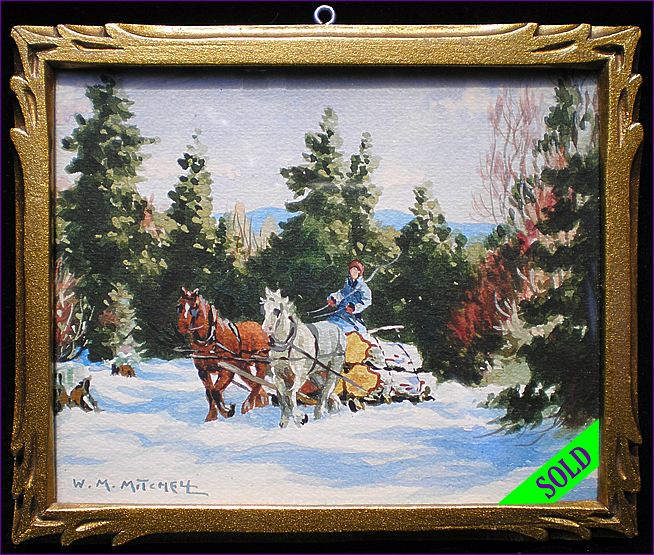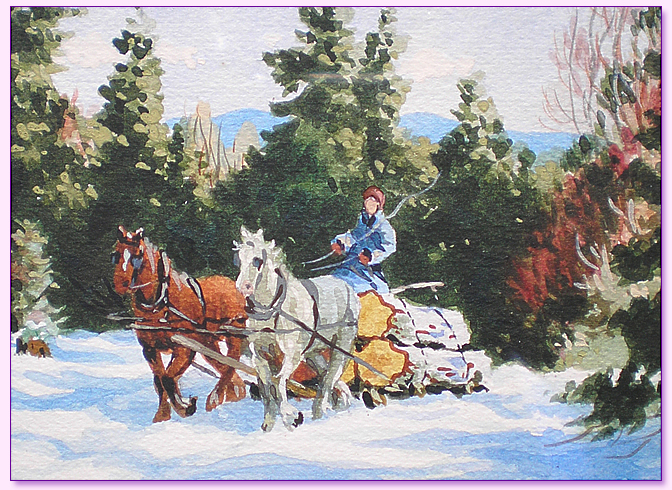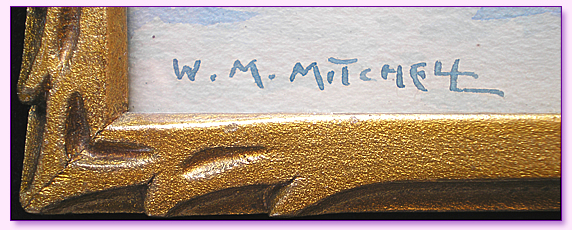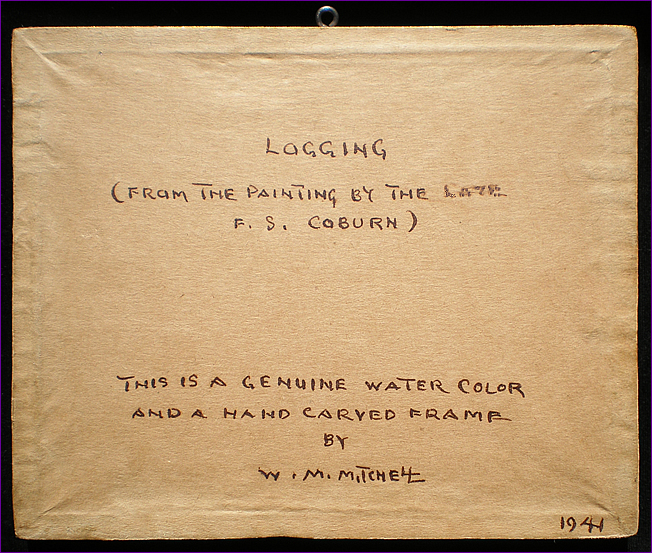 Willard Morse Mitchell was born in 1879 in St. John, New Brunswick. He had a studio in Amherst, Nova Scotia where, at the same time, he was also the town architect. Prior to establishing himself in Montréal, Willard lived in Ontario for a brief time in 1921. After his move to Québec, he became active in Montréal as an architect and artist.

Willard is particularly well known for his miniature watercolour landscapes of rural Québec and his streetscapes of Montréal settings. He alone carved all of his own frames and placed a brief note on the backs of the framed scenes. His miniature watercolours were artistically well done and were also quite popular as small gifts during the time he was producing them from around 1919 to 1954.


Over that period of time Willard was lucky to have been able to sell his little gem waterclours through his main proponent, the Canada Steamship Lines. They offered Willard's miniature watercolour paintings on their steamship lines gift shops that sailed the Great Lakes and the St. Lawrence seaway and also through the gift shops in their Canada Steamship Lines glamourous hotels. The tourists loved them as a souvenir from their visit to Canada.

Besides painting in Québec he also painted small scenes in Ontario, Nova Scotia and places out east. Willard and his wife loved to travel and while abroad he painted some notable scenes in places like Italy, Britain, Morocco and Greece. The foreign scenes are especially uncommon, difficult to find and can tend to be expensive. He exhibited some of his artworks for a time with the AAM in Montréal in 1927 and 1928. Today, Williard's miniature watercolours have now become very collectible in both Ontario, Québec and the East Coast provinces and other countries. Their value too, depending on the quality and condition of the scene, keeps increasing all the time.

It should be noted that Willard Mitchell was the most prolific 20th century Canadian painter of miniature watercolours. From the early years, circa 1919, until near his passing in 1955, Willard was known to have created thousands of his little gem watercolours. Many of his works may have been repetative scenes, but he also produced a number of special 'one-off' settings and scenes that he always put a little extra time and energy into creating.


Willard passed away at the age of 76 on June 15, 1955 and he was known to have been still painting up until his passing.

Painting Ref No: 3TOEX06EB-S/TTEX
Willard Mitchell, Canada's 20th Century Master of the Miniature