Listed Canadian Artist: 1920-2000, Member of the Ontario Institute of Painters
Sight Size: h: 14 in. by w: 18 in. Acrylic on Masonite.
Signed: Recto lower right 'Tom Mathews'
Titled: Verso 'Landscape Motif'.
Encased within: a ca. 1980's, good condition, quality gilt frame with smooth painted slip frame.
Overall Condition: Clean and varnished with no surface condition issues of any kind.
Date of Creation: Circa 1985

A Note of Interest: Tom Mathews was a popular and dedicated Brampton, Ontario artist who created many fine paintings for nearly forty years. Over that time Tom mainly created a broad range of paintings of his favourite subject matter, the Canadian rural landscape. Later on in his career he also developed his own unique style of pointillist brush work, very similar to the famous 19th century French post impressionist painter, Georges Seurat. This particular painting by him represents what we believe to be the 'best of its genre' from this mid 20th century artist, who, not very often ventured into the realm of abstract impressionism, but in this case he triumphed.
Tom Mathews OIP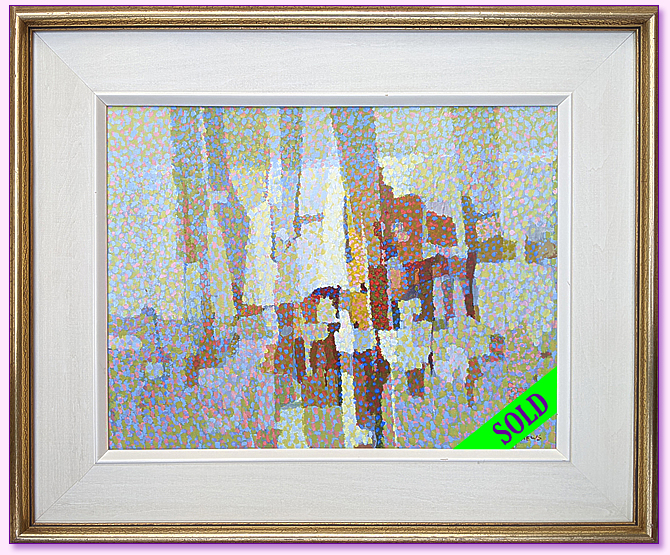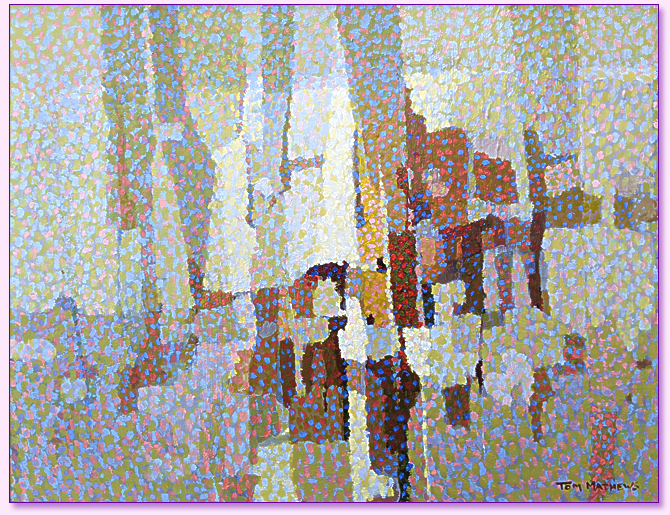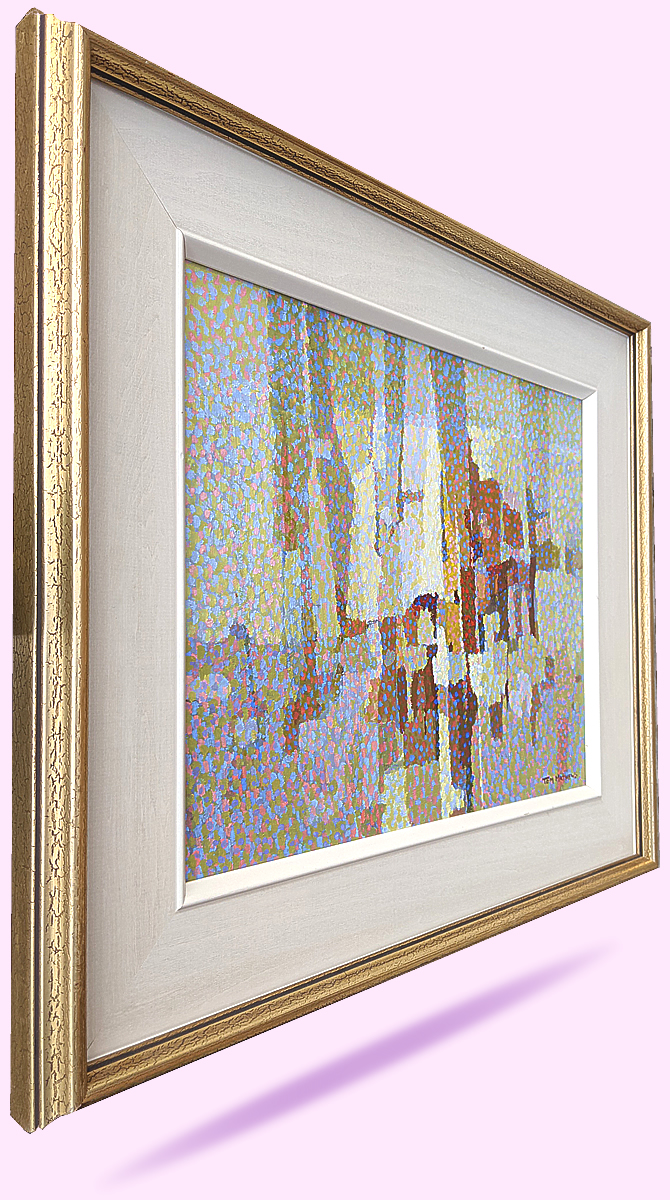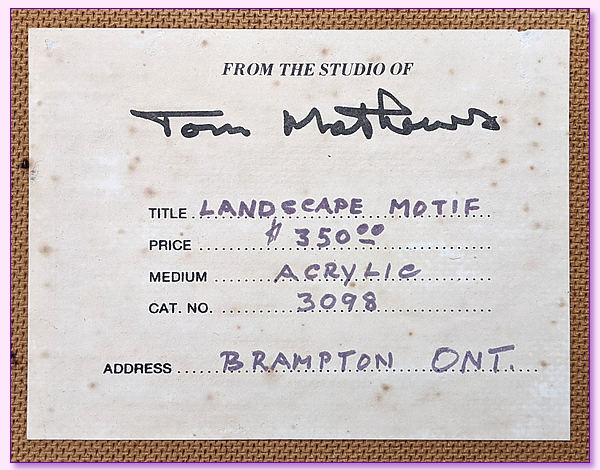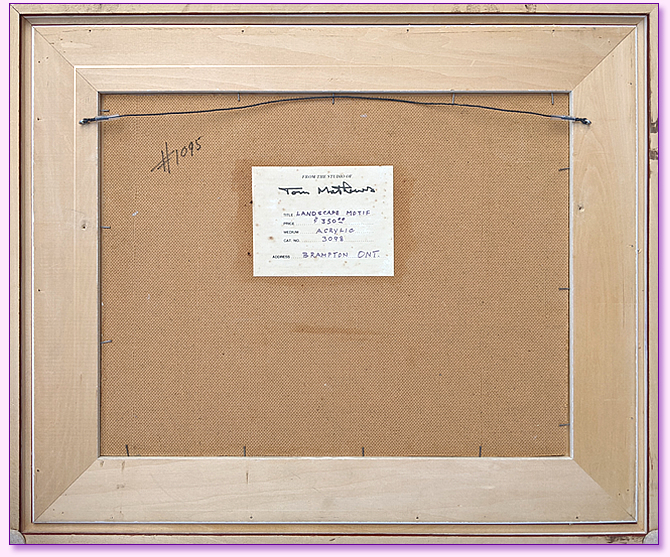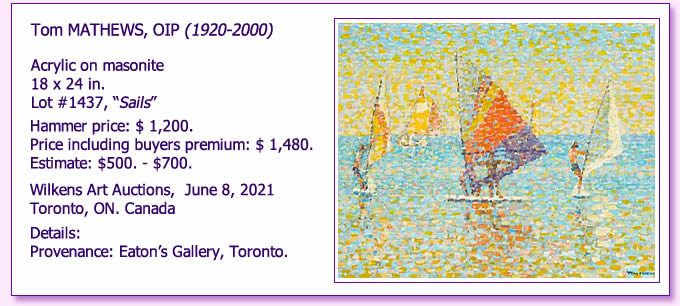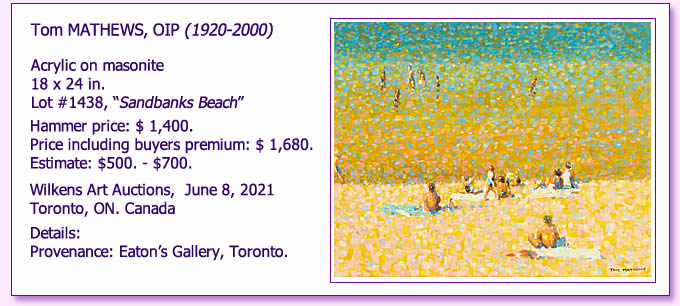 Born in Montreal, Tom Mathews moved to Peel County in the mid 20th century, taking up residence in Brampton, Ontario. He began his art studies in 1936-39 at the renowned Ecole des Beaux Arts and the Museum of Fine Arts in Montreal, his home city at the time. Tom also took private art studies under several other art masters from there. The last noted artist he worked under was Montreal artist Jacques de Tonnacour, RCA.

Over the years Tom worked as a newspaper illustrator, a designer of displays and as a fine art lithographer, and in his own creative art realm he was noted as a very accomplished painter in oils, acrylics and watercolours.

While being employed in the graphic arts industry, Tom's first love was painting. During his career he taught art for seven years, but found it encroached on the valuable time that he needed to paint the things he wanted to paint, so he discontinued his teaching and took up painting full time. Tom was elected as a member of the OIP, the Ontario Institute of Painters in 1959, but eight years later in 1967, for reasons unknown, he resigned his continuing membership in that association.

Over time, Tom's paintings had been exhibited and sold at the Port Credit Gallery, Oakville Ontario and for many years were also displayed and sold at Eaton's Fine Art Galleries, in Toronto. Tom also exhibited over the years at the Port Credit Art Loan Society; the Four Winds Gallery, Oakville; the Peel County Museum and Art Gallery, Brampton in the 1970's and periodically with the OSA, the Ontario Society of Artists. A Tom Matthews painting was selected to be displayed in Ontario House, London, England, and the subject Tom chose was one of his very favourite Canadian subject matter, the Peel County maple sugar bush.

Tom Mathews passed away in Brampton, Ontario in the year 2000.
Painting Ref No: 11ROX20LIB-S/TMOEX
Tom Mathews, Noted Brampton Painter