Listed Canadian Artist: (1907–1983)
Sight Size: h: 9 in. by w: 12 in. Oil on Canvas.
Signed: Recto lower left 'de Garthe'
Titled: 'Schooner at dock in Peggy's Cove', (our title).
Encased within: a ca. 1970's, good condition frame, original to the painting.
Overall Condition: Tight canvas, clean and varnished with no surface condition issues.
Date of Creation: Ca. 1970
William Edward DeGarthe NSSA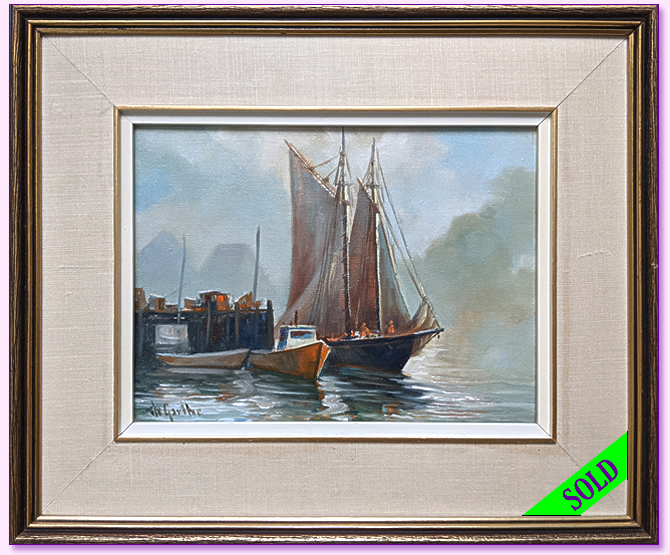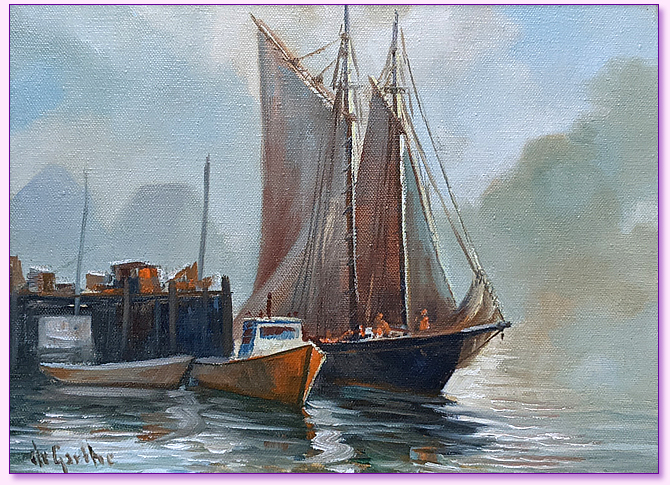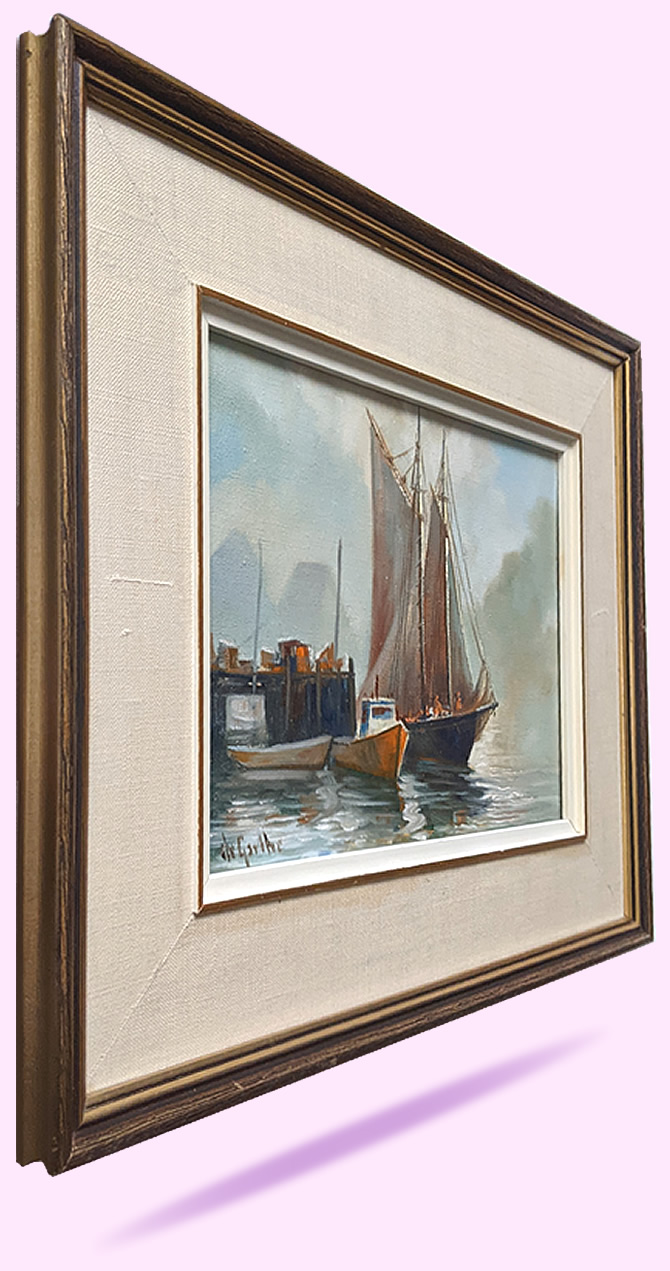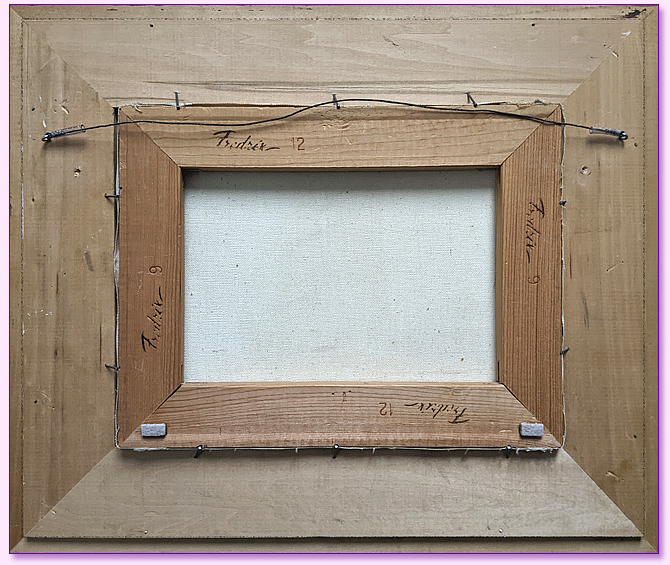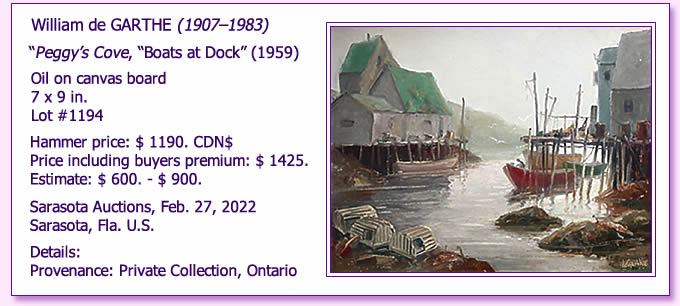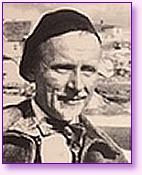 William de Garthe was born Birger Edward Degerstedt in 1907 in Kaskinen, Finland. He was the son of Edward Degerstedt, a Swedish-speaking school principal and artist. The third-oldest in a family of five brothers, de Garthe was competitive and athletic and demonstrated an early aptitude for art. After graduating from high school with his strongest marks in art and drawing, deGarthe studied art in Helsinki while awaiting his call-up for active duty in the Finnish military.

Declaring he was on a quest to find "the most beautiful spot on earth", in 1930 deGarthe quit his job in Montreal with the goal of sailing to Brazil to join an aunt there. He traveled by rail to Halifax to board a ship bound for South America but on disembarking he was struck by the similarity between Nova Scotia and the rugged seacoast of his native Finland. He soon after declared, "I didn't have to travel any farther."

Shortly after his arrival in Nova Scotia, de Garthe was introduced to Frank Wallace, a prominent Halifax marketing executive who immediately offered him a job as a commercial illustrator. De Garthe would continue to work for Wallace Advertising for the next 15 years before launching his own advertising company, de Garthe Advertising Art, in 1945; however, it was the onset of World War II that rekindled his passion for fine art.

Around 1940 he began painting under the tutelage of artist and printmaker Leonard Brooks. Over the next few years deGarthe would study oil painting under Stanley Royle at Mount Allison University in Sackville, New Brunswick. De Garthe later studied marine painting in Rockport and East Gloucester, Massachusetts under Stanley Woodward and Emile Gruppe and also with George Groz at the Art Students League in New York City. He also spent many winters studying in Europe at the Academie de la Grand Chaumiere in Paris as well as Académie Julian in Paris and the Accademie di Belle Arti in Rome.



Throughout his career Bill de Garthe worked in many art mediums; however he is best known for his atmospheric oil paintings depicting scenes of life on and around the rugged Nova Scotia coast. He also completed works in charcoal, pen and ink, lithography and fresco and, in later life, sculpture. De Garthe was a member of the International Institute of Arts and Letters, Zurich, Switzerland; the Nova Scotia Society of Artists; the Montreal Independent Art Society; and the Maritime Art Association. He is also represented in the Nova Scotia Museum of Fine Arts and lived throughout his artistic career at Peggy's Cove, Nova Scotia.

Bill de Garthe and his wife were seasoned travelers, spending winters in the Caribbean and Florida, and visiting Spain, Portugal, Italy, Africa, and the Galapagos Islands among other places. In 1975, 35 years after he first embarked for Brazil, he finally reached Rio de Janeiro where the sight of the statue of Christ the Redeemer inspired him to create his own monument in stone, at Peggy's Cove, shown above.

Health problems in the later years of his life slowed Bill's progress and he eventually suffered a heart attack in 1979, he was later diagnosed with cancer in 1982. William Edward de Garthe passed away on February 13, 1983.

Painting Ref No: 11OOX20LIB-S/TTOEX
William Edward DeGarthe NSSA, Noted Peggy's Cove Artist