Listed Turkish/Canadian Artist: (1948-)
Sight Size: h: 12 in. by w: 16 in. Oil on Canvas Board.
Signed: Recto lower right.
Titled and Dated Verso: "Kensington Market" (Toronto) "1981".
Encased: within a quality frame with linen slip liner.
Overall Condition: Clean and varnished with no surface condition issues.
Arto Yuzbasiyan Canadian Artist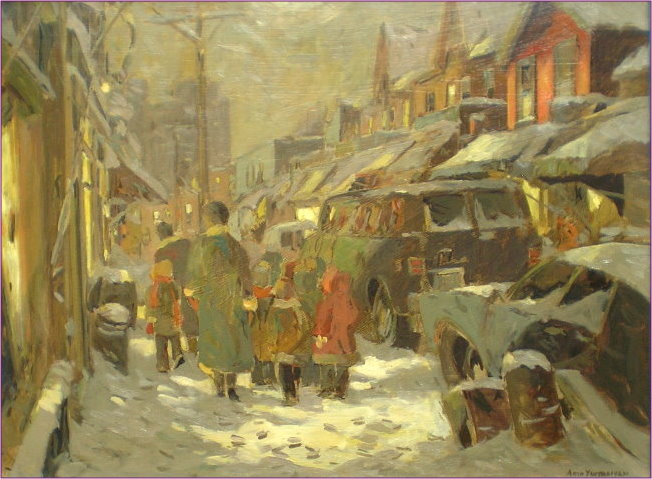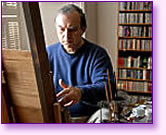 Arto Yuzbasiyan was born in 1948 in Istanbul, Turkey to a talented, pianist mother, and a father who was a textile manufacturer. Though he did not play a musical instrument like the rest of his mother's talented family, he was interested in drawing and painting and so at the age of eight, he started taking lessons from a religious painter by the name of Ojeni Telyan. He was profoundly influenced by her traditional, classical style. Later on, he studied under Bedri Rahmi Eyuboglu for a brief period of time and Mustafa Pilevneli. Nonetheless, Arto claims that his main influence was Telyan's teachings.

In 1972 he worked in Paris and in a small town in the Netherlands repairing Oriental tribal carpets, another passion of his besides painting.

Arto immigrated to Canada in 1973 to reunite with his childhood love and marry. There his career as an artist emerged. What makes his work special and meaningful is its focus on the out of the way. Quiet downtown corners where life is carried on harmoniously, with little or no effort, have become the focus of his art. The inhabitants go about their business unaware, hurrying home in a winter storm or waiting for one of Arto's ever-present streetcars to arrive.

Arto Yuzbasiyan's paintings are in quality galleries and collections all over the world.

Photo courtesy of Arto Yuzbasiyan.

Arto Yuzbasiyan Noted Toronto Artist