Canadian Listed Artist: 1872-1951
Oil on Board
Signed by the Artist and dated '43
Titled Verso: "The Enchanted Pool - Upper Don, Toronto"
h: 7 in. by w: 8 3/4 in.
James Jerris Blomfield, OSA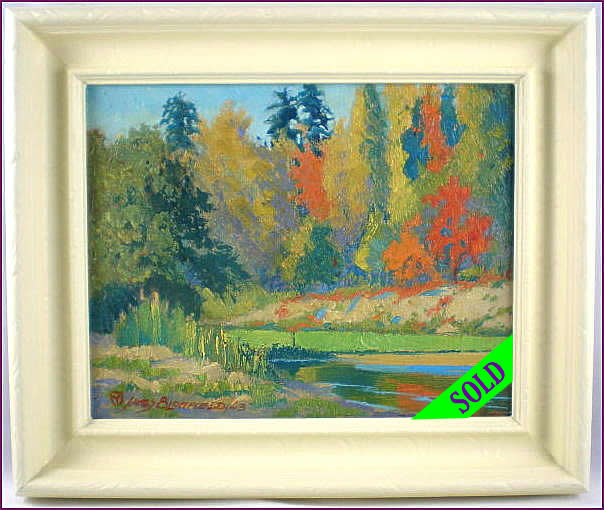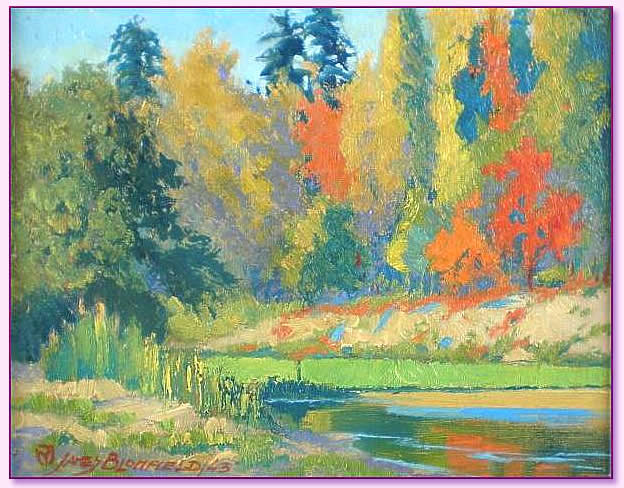 James was born a deaf-mute in England in 1872 and was the son of British stained glass artist Henry Blomfield. He immigrated with his family to New Westminster, British Columbia in 1887.

James pursued his art education in England, Belgium, Chicago and at the Art Students' League in New York City; and became Professor of Design at the Chicago Academy of Fine Art. In British Columbia James was commissioned to paint a series of murals for Government House in Victoria. It was this design that became the coat-of-arms for Vancouver.

He settled in Toronto in 1920 where he concentrated on Toronto's streetscapes and U of T buildings. James was well known for his accuracy in architectural detail. He was a lover of brilliant colour and found many glowing spots to paint in the Toronto area.

James exhibited in all the major galleries in Toronto and Vancouver. A quote from the Toronto Star in 1933 "there are few more pleasant corners in Toronto than that where the Blomfield pictures shed light and warmth."

James Jerris Blomfield, who was hearing impaired, passed away in 1951 after an accident where he was struck by an automobile in Toronto while crossing a street.
James Jerris Blomfield OSA, Enchanted Pool 1943