Listed Canadian Artist: 1862-1936
Sight Size: h. 7.5" by w. 10.5", Oil on Canvas laid on Masonite.
Painting Created: Ca. 1920's while Carl was living in Galt, Ontario.
Signed: by the artist lower left.
Overall Condition: Clean, with 2 earlier stable spots of restoration (top centre).
Art Accreditation: Member: Ontario Society of Artists and an associate of the RCA.

Please enquire regarding price
Note of Interest: Painted at the height of his artistic career, this impressionist oil by Carl von Ahrens can be considered a significant small work by this early 20th century Canadian artist. Carl rarely, if ever, included people or domesticated grazing animals in any of his oils. So, the paintings of his that do include figures are in a small minority of his works.
Carl von Ahrens ARCA, OSA oil on Board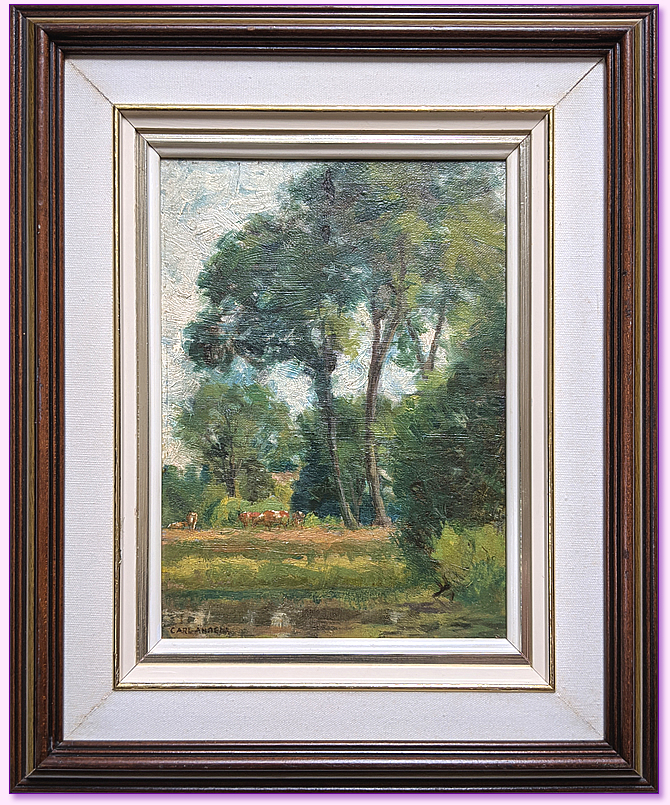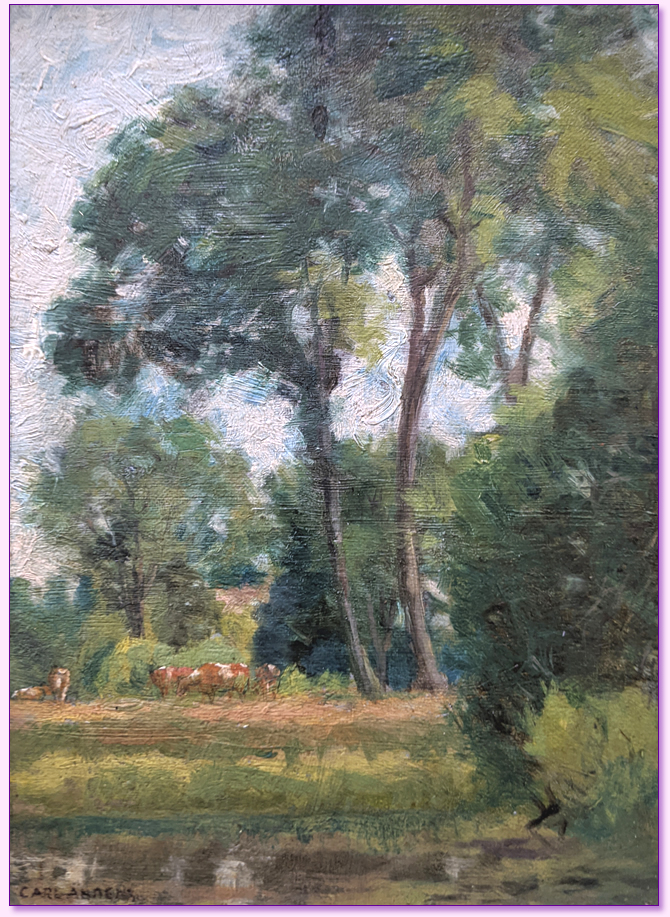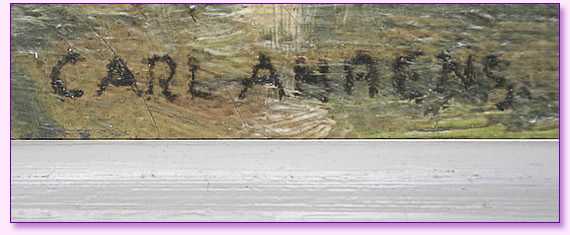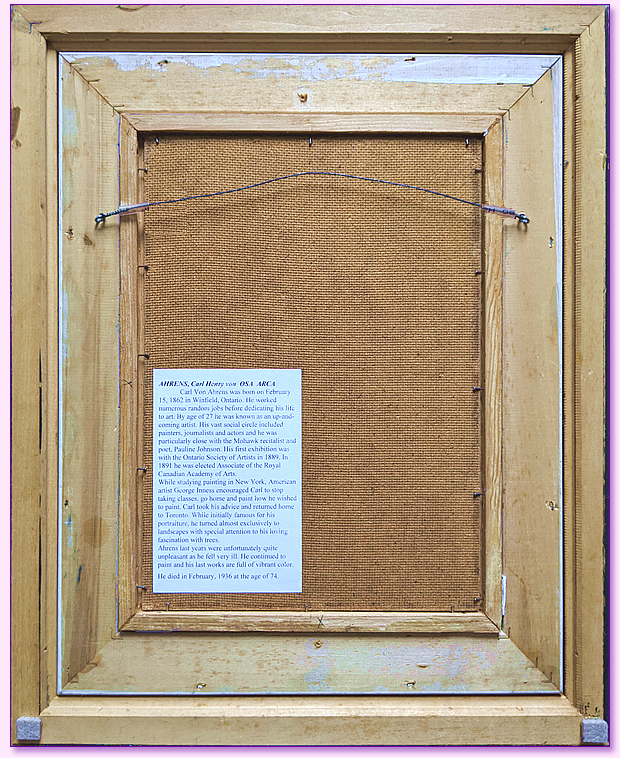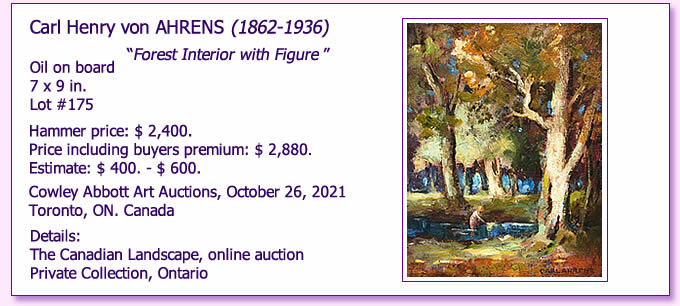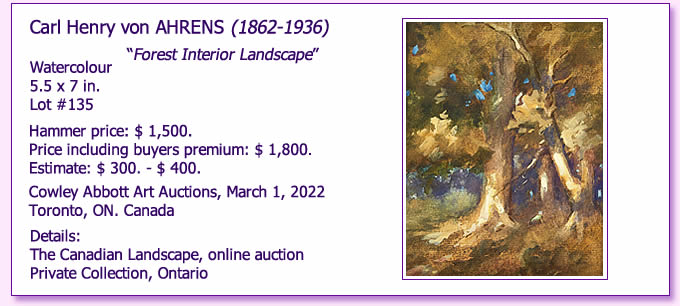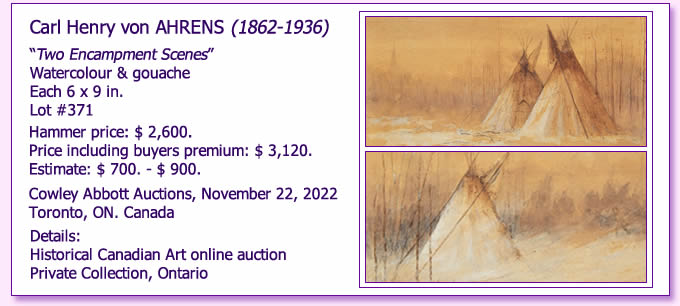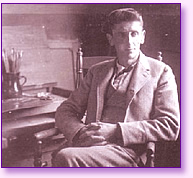 Carl Ahrens was born in Winfield, Ontario, of Danish and German extraction on his father's side, and Scottish on his mother's. Shortly after his birth his family moved to Waterloo where he later attended school. Carl's home was near an Ojibway Indian reserve where he became friends with poetess Pauline Johnson, daughter of a Six Nations Indian Chief. They often paddled together and he spoke highly of her skills in a canoe.

An adventurous youth, he made himself a pair of wings in an attempt to fly. Jumping from a neighborhood rooftop he plunged to the ground injuring himself for life and permanently affecting his ability to walk with ease. It curtailed his boyhood activity and he soon became a loner spending much of his time in the woods. His parents eventually steered him into a business career. During this period he held minor positions in the manufacturing and trade industries. He made a trip to Western Canada spending three years in the areas of Fort Macleod and Edmonton where he lived among the Indians there and through them became more acutely aware of our natural surroundings. On his return to Ontario then aged 24, he made his first attempt at painting a picture. He realized he needed training so he enrolled in classes in Toronto with G.A. Reid and J.W.L. Forster and on the advice of one of his teachers went to New York for further study under William Chase, the famous landscape painter; and the study of form under sculptor F. Edwin Elwell. He visited the home of another artist George Innes, considered one of America's greatest landscape painters. When asked by Innes to show him his work, Ahrens reluctantly took out his paintings. Seeing them, Innes told him to stop further classes or he could lose his very special touch, and advised him to "go home and paint". Ahrens took his advice and was greatly influenced by him especially in achieving fine atmospheric effects. The two painters became good friends in the years that followed.

By 1900 Carl had won such a good reputation as a painter that he was invited to open an art school at East Aurora, N.Y., by Elbert Hubbard, founder of the Roycroft Studios. There for next six years he taught painting and founded the Roycroft Pottery Department as well he continued to paint in his free time. In 1906 he met and married one of his art students, Madonna Niles, who was also a talented singer. With his bride, he travelled to California, with a commission to paint the old Spanish missions. Two years later they returned to Toronto (1908) and he opened a new studio at Meadowvale. This same year he was commissioned to paint thirty canvases for the American Major General Malcolm S. Mercer, which took three years for Ahrens to complete the commission. During 1921 and 1922 Carl lived and painted in the noted artists' colonies at Woodstock, N.Y., and Rockport, Massachusetts. Returning to Canada he moved to Galt, Ontario, to an old stone house off the Gore Road he named "Big Trees". There among the pines, considered then to be one of the best woodlands in Ontario, he painted his beloved trees for which he became famous beyond Canada's borders.

For the next twelve years Ahrens lived there with his wife and children. Finally they moved to Toronto. In 1935 he went to England but found that the climate did not agree with him. Once more he returned to Toronto where he died February 27, 1936. He was a member: O.S.A. (1899), A.R.C.A (1891-99). Today, Carl Henry von Ahrens is most deservedly remembered for capturing the essence of the mighty and beautiful trees and forests that he so lovingly admired over his artistic career as a talented painter.

Carl wrote and lectured on the History of Art, Art in Everyday Life and on technical aspects of art and also taught painting, composition, design and drawing. A memorial exhibition of his work was held under the auspices of the Ontario Society of Artists at the Art Gallery of Ontario in Jan., 1955 and a retrospective show at Hart House, University of Toronto Jan. 29 to Feb. 16, 1974. Over the years he held one-man shows at the Laing Fine Art Gallery and at the Board Room of McLaren Advertising. After his death a show of his work was presented by the Park Gallery, Toronto.


This is an excerpt from 'A Dictionary of Canadian artists', Colin MacDonald, volume 1.

Painting Ref No: 6MNBX18MCL-S/ABOE

Carl Henry von Ahrens OSA, ARCA, Cattle Grazing Forest Edge 1920