Listed Canadian Artist: (1920-1994)
Sight Size: h: 8 in. by w: 10 in. Oil on Canvas Board
Signed: Recto lower right
Titled: Verso on artist's stamp "Rail Fence, Winter" (near Dwight, Muskoka)
Encased: within a 1980's farme
Overall Condition: Clean and varnished with no surface condition issues
It should be noted: That Robert Emerson Everett was affectionately known as the 'Dean of Muskoka artists'. As he was so dedicated to preserving the rugged nature of this region of Ontario and because he also loved to encourage other artists to see what they had around them. Robert enjoyed assisting young artists in captivating that imagery through the creation of their own artistic endeavours. He gave them a gift that he believed would keep on giving.
Robert Emerson Everett OIP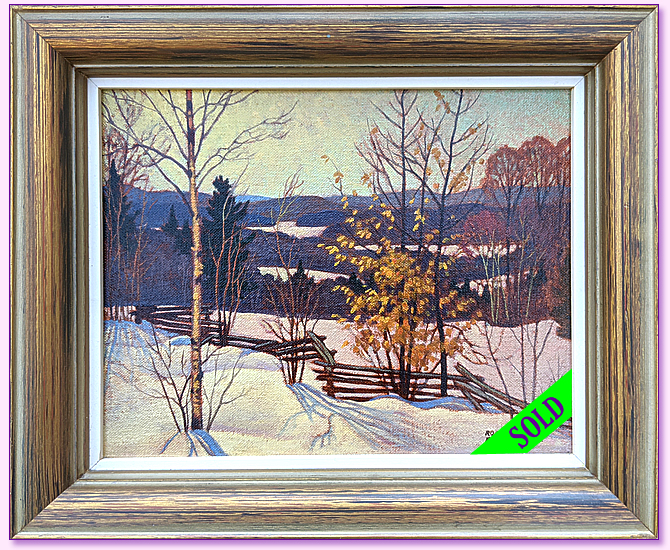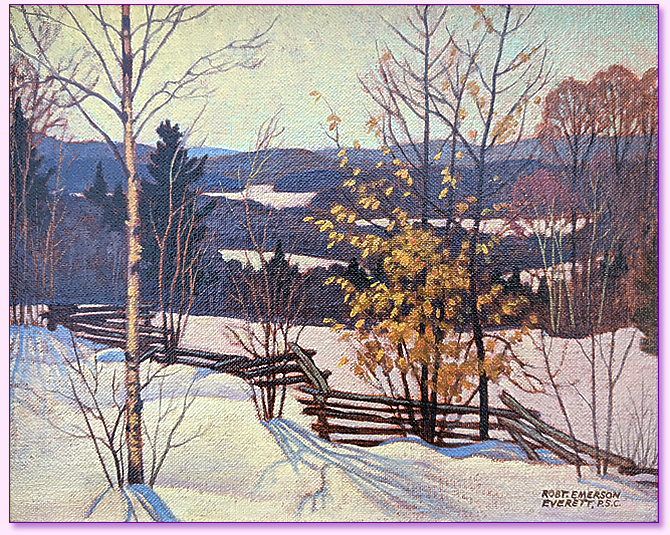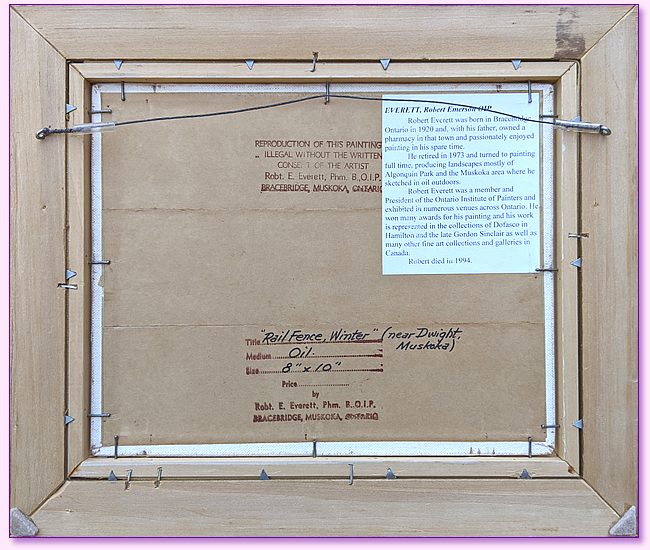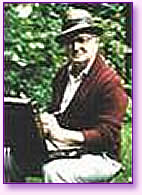 Robert was born in Bracebridge, Ontario in 1920 and, with his father, owned and a pharmacy in that town for many years but also passionately enjoyed painting in his spare time. By 1973 he retired and turned to his passion of painting full time, producing landscapes mostly of Algonquin Park and the Muskoka area where he sketched in oil outdoors on small 8" x 10" panels. He is known for having painted many well-known Muskoka landscapes and frequently drew his inspiration from the Algonquin Park wilderness that was so familiar to the Group of Seven artists.

Robert Everett was a member and President of the Ontario Institute of Painters and exhibited in numerous venues across Ontario. Bob won many awards for his painting and his work is represented in the collections of Dofasco in Hamilton and the late Gordon Sinclair as well as many other fine art collections and galleries in Canada.
Robert Emerson Everett passed away in 1994.
Painting Ref No: 4MBBX17WK-S/TAEX
Robert Emerson Everett, Rail Fence, Winter"