Canadian Listed Artist: 1908 - 1989
Acrylic and fine pen on linen covered masonite
Signed by the Artist and dated '81
Titled: "Mrs. Mechlowski and her 8 kids coming from shopping in N.Batterford, Sask."
h: 16 in. by w: 20 in.
Ann Harbuz Folk Art Painter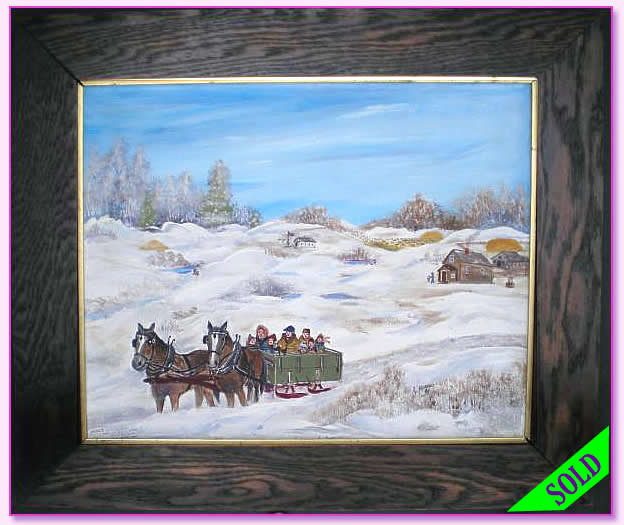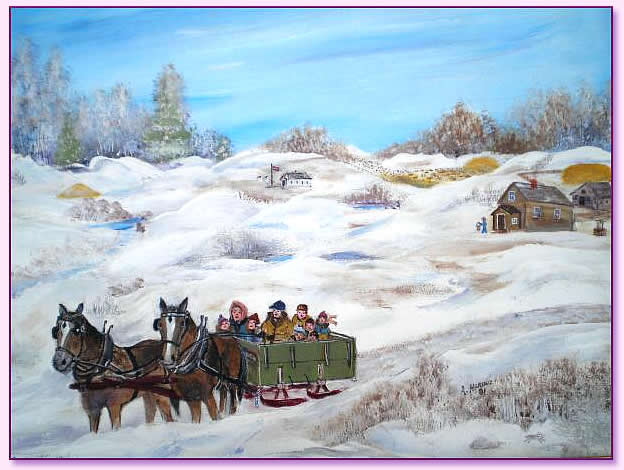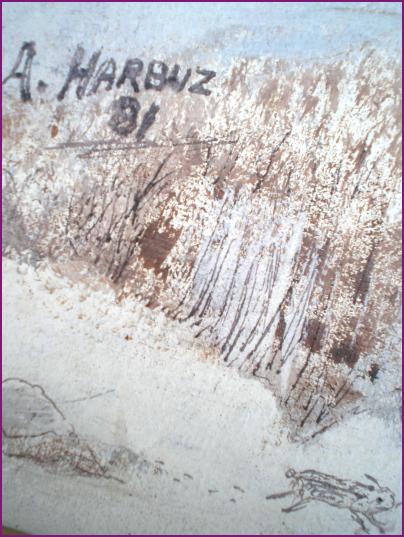 Ann Harbuz was born in Winnipeg Manitoba of Ukrainian descent in 1908. She lived most of her life in Saskatchewan and settled with her husband in North Battleford.
Ann's painting career was initiated in 1967 after seeing the works of her neighbour: "Mike Peryewizniak's work was beautiful. I forgot my head and right there decided I wanted to paint more than anything. I told him, "you paint and I'll watch."
Ann is a painter who tells stories, recording on canvas images of the early years of her life in rural Saskatchewan. Her paintings have minute details giving her works a narrative quality. Ann's paintings present her vision of the roll of community, she painted what she lived and what she observed as an active participant in the life of her community. These pieces refer to her Ukrainian heritage as well as capturing elements of the experience of all Prairie pioneers.
Her work is complex, with elaborate over-painting and perspective. Among subjects treated are local farms and homesteads, village business establishments, scenes from everyday pioneer life, dances, ritual activities and country chores.
Ann held a solo show at the Southern Alberta Art Gallery in Lethbridge in 1982. Her work was featured at the Canadian Museum of Civilization in an exhibition June, 1997 together with the work of Maud Lewis.
Ann Harbuz is well known as Western Canada's Maud Lewis with several pieces of artwork in the Canadian Museum of Civilization, the Mendel Art Gallery in Saskatoon, the Saskatchewan Arts Board in Regina as well as important public and private folk art collections across Canada. She has also been featured in several prominent Canadian folk art books.
Ann Harbuz passed away in 1989.
Ann Harbuz, Sleigh and Kids, Saskatchewan Folk Artist