(1905-1989)
Oil on Panel
Signed, Dated and Titled Verso: "Red Maple and Black Spruce - Kerr '73 - to Dorothy Panzer"
h: 4 1/8 in. by w: 5 1/2 in.

Illingworth Holey Kerr RCA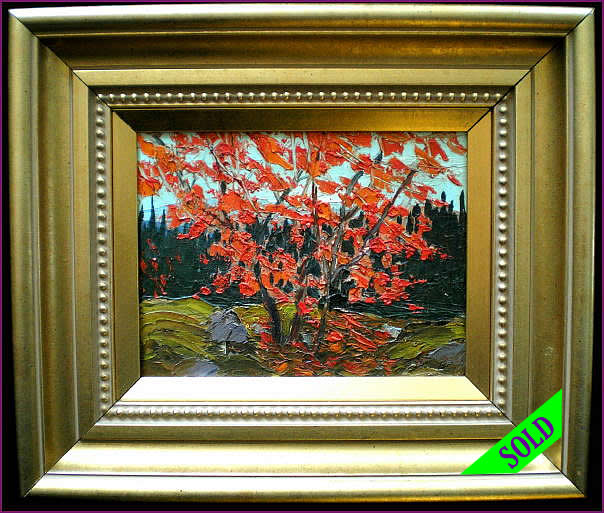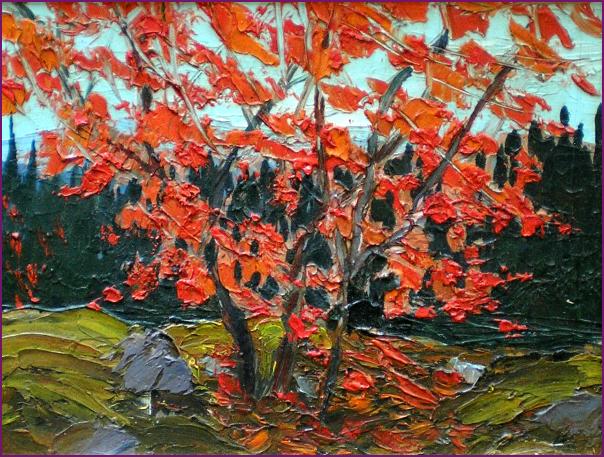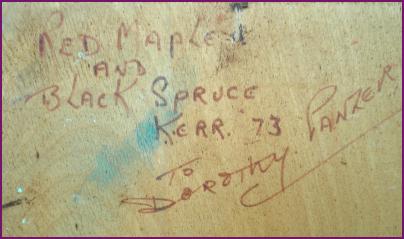 Illingworth Kerr was born in Saskatchewan in 1905 and studied art at the Central Technical School and the Ontario College of Art under Arthur Lismer, J. E. H. MacDonald, Frederick Varley and J. W. Beatty. He attended the Westminster School of Art in London England and also studied art in Provincetown, Massachusetts.

Kerr painted mainly in Canada's Western provinces but did travel and paint for an extended period in the Georgian Bay area as well as in England and France. His subjects include native life, urban views, wildlife and the Prairie and Ontario landscapes in oil, acrylic, watercolour, charcoal and ink. He is also known for the woodblock and silkscreen prints. He signs his paintings with a monogram.

Illingworth taught at the Vancouver School of Art and was Head of the Alberta College of Art. He was President of the Alberta Society of Artists. In 1973 he was awarded an honorary doctorate from the University of Calgary. Kerr was a member of the Royal Canadian Academy and the British Columbia Society of Artists.

Kerr's artwork is represented in all the major art galleries of Canada and many more around the world.
Illingworth Kerr passed away in 1989.
ILLINGWORTH (BUCK) HOLEY KERR RCA, ASA, BCSA