Canadian Listed Artist: 1935 - 2007
Oil on Board - ca. 1970
Signed by the Artist
Titled Verso: "Village Sous La Neige"
h: 6 in. by w: 18 in.
Jean Paul LaPointe IAF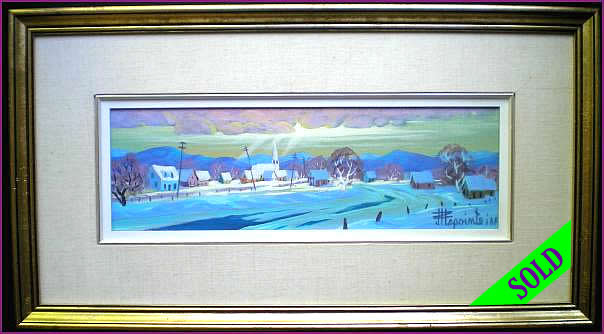 Jean-Paul was born in Saint-Charles-de-Borromée, Quebec in 1935. He was a self-taught artist who painted full time from 1973 until his death in 2007.

Working in oil, acrylic and gouache, he painted traditional Quebec landscapes in a representational style but used bold colours such a purple, green and yellow. LaPointe also worked in serigraphy and lithography.

Up until his recent death he was still actively painting in Arvida, Quebec. His work can be found in the collection of the Chicoutimi Museum and in numerous other private collections across Canada.
Jean-Paul LaPointe passed away in 2007.
Jean Paul LaPointe IAF