Montreal Artist, Member of the Art Assoc. of Montreal, 1881-1960
Oil on Board - ca. 1935
Signed by the Artist
H: 10 in. by W: 14 in.

Jane Corbus Luke AAM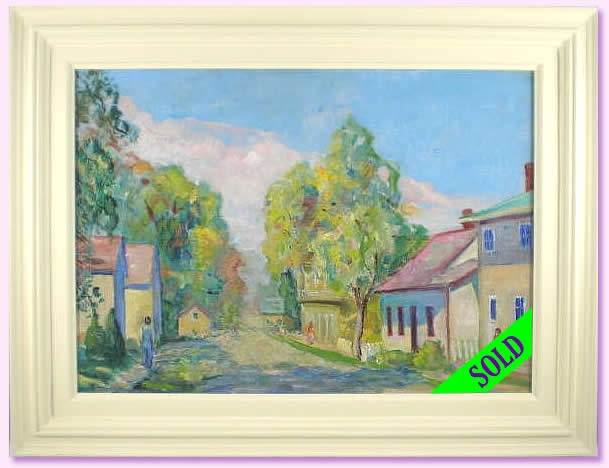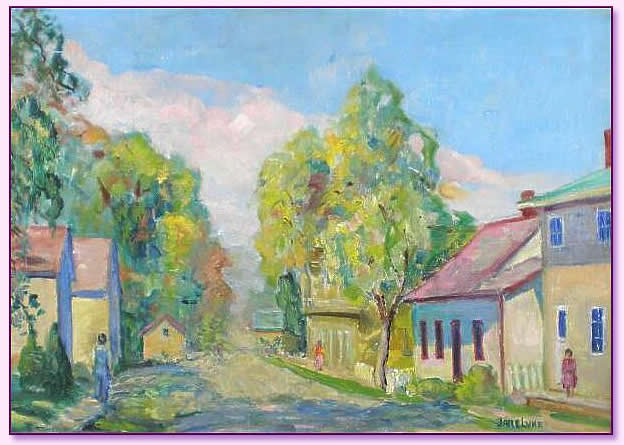 Jane was born in Chicago, Illinois in 1881. She came to Canada in 1904 at the time of her marriage. She studied art at the Art Association of Montreal under the tutelage of George Horne-Russell, William Brymner and Berthe des Clayes. Jane was also a friend and fellow painter of Henrietta Mabel May, the important Montreal artist and member of the Beaver Hall Group and the Canadian Group of Painters.

Jane worked in oils and became known for her Montreal and small village streetscapes. A Montreal newspaper, the Montreal Daily Star art critic noted: "Two studies in oil of old French-Canadian cottages are outstanding. Mrs. Luke uses a firm vigorous brush stroke and applies her colours raw and boldly, allowing them to combine in the eye of the spectator with the result that she achieves a dazzling light in the manner of the Impressionist School. Her pictures are also imbued with much charm in virtue of their subject and setting."

Jane Corbus Luke became a member of the Montreal Art Association in 1926 and was active in Montreal from 1922 to 1944. Jane also exhibited with the Royal Canadian Academy and with the Art Association of Montreal. Jane also held membership in the Montreal American Women's Club, the Montreal West Women's Club and the Women's Art Society of Montreal.

Jane and her husband had three sons, Joe, Morley and Allison. Joe became a noted doctor in his own right, and here is some information about him.

Joe Corbus Luke, born on 18 April 1907, was the son of Edward Barker Luke, a nurseryman in Ottawa, and artist Jane Corbus Luke, the daughter of J.R. Corbus, a doctor in Chicago. Joe was educated at Montreal West High School and entered McGill University in 1924. After qualifying in 1931, he did a number of junior jobs, including serving as a demonstrator in anatomy and then in surgery, before completing his surgical training at the Royal Victoria Hospital, Montreal. This included a year when he visited England to take the FRCS. During WW2 he joined the RCAMC in 1940, rising to the rank of Lieutenant Colonel. Joe was awarded the MBE on 23 December 1944 for "gallant and distinguished services in North West Europe". After the war, he returned to McGill, rising to Associate Professor of Surgery in 1961 and then to senior surgeon. Josephus Corbus Luke is today remembered for having performed Canada's first kidney transplant operation. He was also a prolific author, contributing three chapters to H. F. Moseley's Textbook of surgery (London, Henry Kimpton, 1952) and more than 50 articles. Joe passed away in 1982.

His artist mother, Jane Corbus Luke, passed away at the age of 79 in Montreal on the 18th of March, 1960.
Jane Corbus Luke