Canadian Listed Artist:1882-1965
Oil on Board - Signed by the Artistl
Tugboats in Toronto Harbour - ca.1930
Size: H: 10 1/2 in. by W: 13 in.
Peter Clapham Sheppard RCA, OSA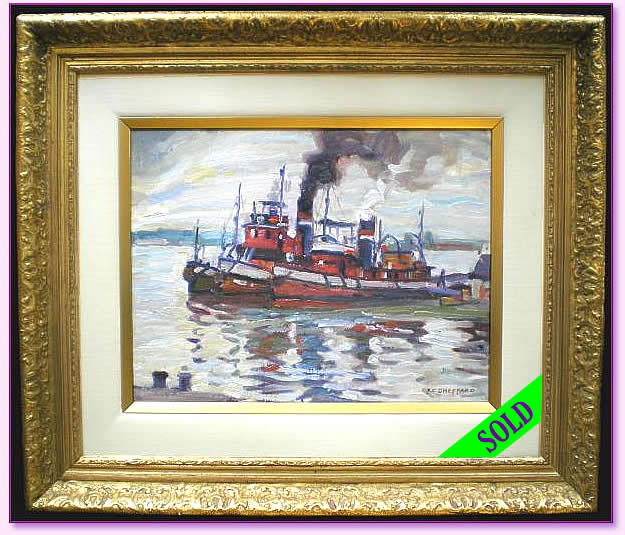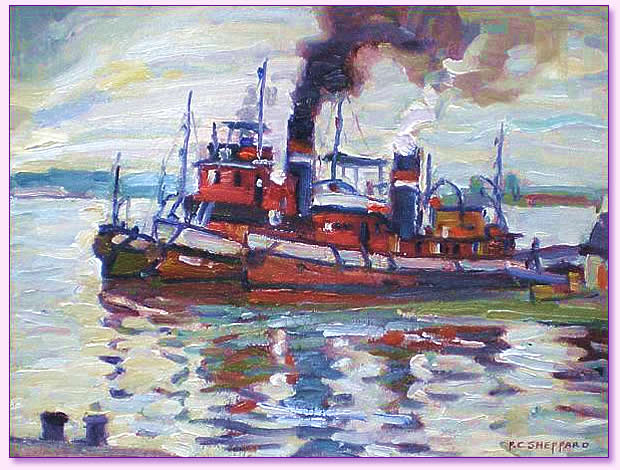 Peter was born in Toronto in 1882 and studied art at the Central Ontario School of Art under George Reid, J. W. Beatty and also under Wm. Cruikshank at the Ontario College of Art.

Sheppard worked in oil, watercolour and pencil and his subjects included Toronto and Ontario landscapes, especially rivers and lakes, streetscapes and figures. He also painted in Quebec, New Brunswick and Nova Scotia.

Peter was a member of the Royal Canadian Academy and the Ontario Society of Artists. Peter Clapham Sheppard's paintings are today highly valued and his works are found in the collections of the Art Gallery of Ontario and the National Gallery in Ottawa as well as in many private and public collections in Canada, the United States and Europe.

Peter Sheppard passed away in 1965 in Newmarket, Ontario.
Peter Clapham Sheppard noted Toronto Artist