Canadian Listed Artist: 1937 -
Nihonga Oil Painting - dated 1973
Signed by the Artist
Titled Verso: "Sur la Patinoire" - "On the Skating Rink"
h: 5 3/4 in. by w: 6 1/2 in.
Miyuki Tanobe RCA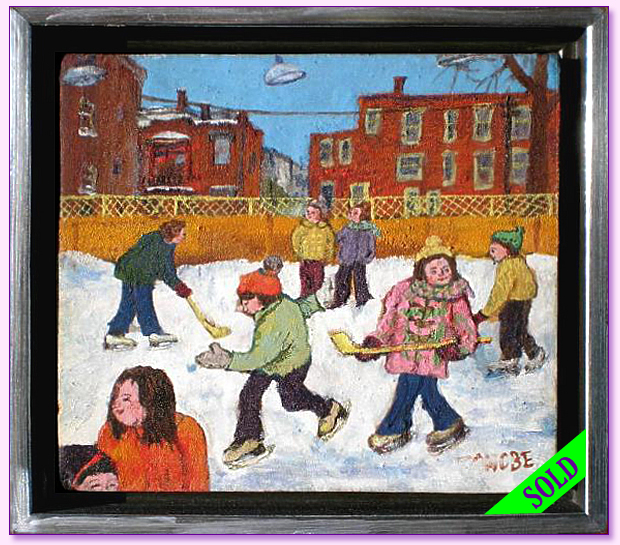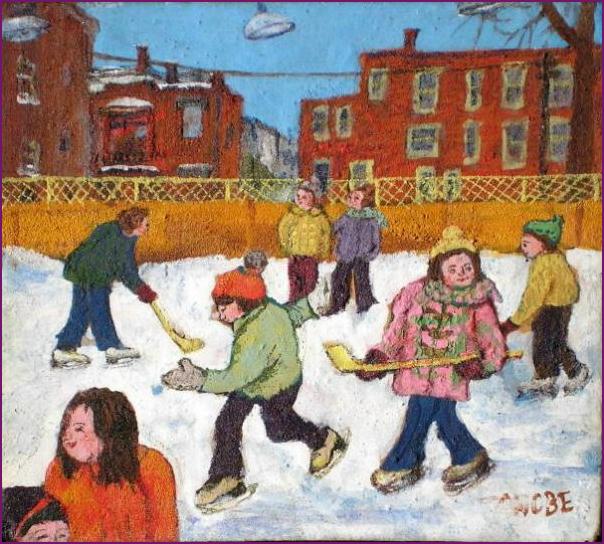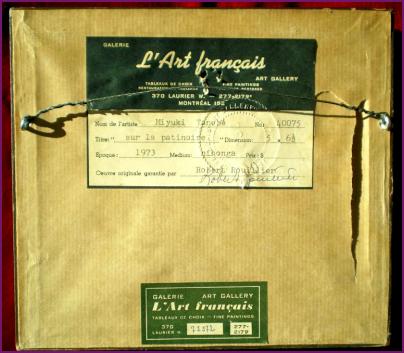 Miyuki Tanobe was born in Japan in 1937 and studied art at the Gedai Univerity where she learned to paint in Nihonga. Literally, Nihonga translates as "Japan painting" a technique which involves the use of crushed stone mixed with paint.

She went on to study art in France and Europe. Miyuki married a Canadian in 1972 and immigrated to Quebec where she now lives and paints scenes of Montreal's residental back streets as well as the farming life in rural St. Antoine. She is very well known for both her paintings in Nihonga as well as her multi-coloured serigraphs some of which have been published as book illustrations.

Miyuki has exhibited in Montreal, Toronto, New York and Tokyo. Her work is in many important collections such as the Montreal Museum of Fine Art, Imperial Tobacco Collection, Sadiye Bronfman Museum, Quebec Museum, Joliette Museum, the Bronfman Collection, etc. Miyuka resides today in St. Antoine, Quebec.

Although some elements of primitivism can be found in her anecdotal and sometimes humourous works, you will also find they show a strong influence of graphic design and a powerful sense of colour.
Miyuki Tanobe RCA, Montreal Artist