Canadian Listed Artist: 1878-1940
Coloured Linocut
Signed by the Artist in pencil
Titled: "Nocturne"
Size: h. 2 3/4 in. by w. 4 in.
Framed in a hand carved W. M. Mitchell style frame.
Archivally encased using acid-free, rag content throughtout.

Herbert Valentine Fanshaw CPE, CSGA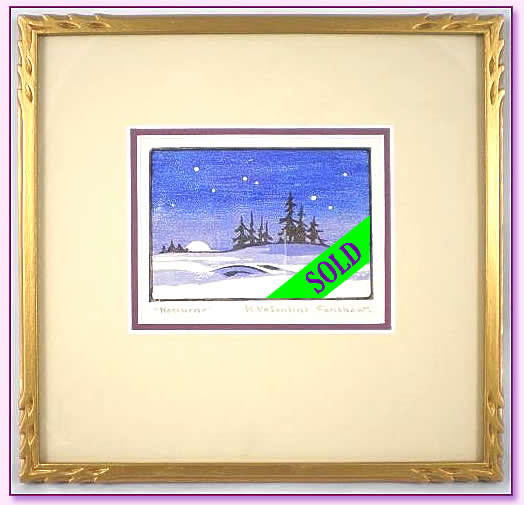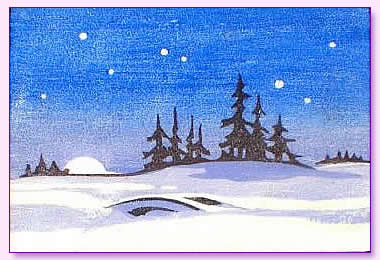 Hubert Valentine Fanshaw was born in Sheffield, England in 1878 and studied at the Sheffield School of Art, at the Royal College of Art in London and at the Académie Royale des Beaux-Arts in Antwerp. He arrived in Winnipeg, Manitoba in 1912 and became the art director/teacher at the Kelvin High School in Winnipeg where he remained working until his death in 1940.

He regularly exhibited his artwork and was primarily a landscape painter and graphic artist with a speciality in woodcut and lino-cut scenes of Western Canadian as well as painting in Southern California. For a while he was a resident of Los Angeles and painted there during 1923-24 while there to install a mural along with noted American artist and architect James Dolena.

As well as being a member of the CPE, CSGA and MSA in Canada he was also a member of the Painters and Sculptors Club of Los Angeles, California.

Valentine's artwork is in the permanent collection of the National Gallery in Ottawa as well as in many private and corporate collections across Canada and the USA.
Valentine Fanshaw passed away in 1940.
Valentine Fanshaw RCA, OSA, Canadian Artist & Printmaker