Canadian Listed Artist: 1905-1984
Etching signed in pencil by the Artist
Titled: "Riviere au Renard, Gaspesie"
Numbered - 9/50
h. 7 in. by w. 10 in.
Archivally Matted and Framed
Simone Marie Hudon CSGA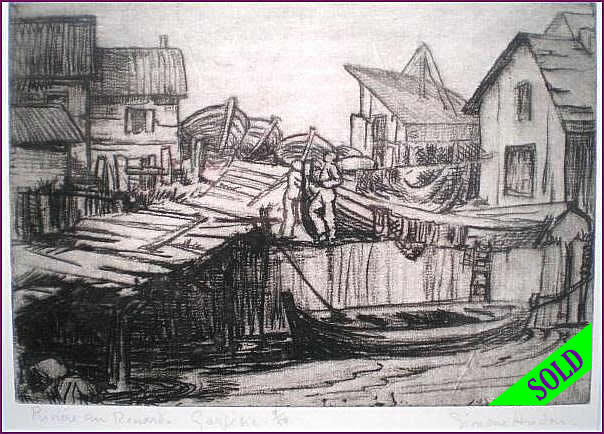 Simone was born in Quebec City in 1905 and studied art at the Ecole des Beaux-Arts during which time she won many prizes and medals for her etchings, linocuts and drawings. Over the years her work has been exhibited many cities in the USA, Britain and Canada.
She also exhibited with the AAM. In 1967, under the auspices of the Québec provincial government in collaboration with the Centennial Commission, Simone produced an album of 36 etchings, with poetic text, entitled Au fil des Côtes due Québec. Her works are represented in the collection of the National Gallery of Canada.
Simone passed away in 1984.
Simone Marie Hudon CSGA, Canadian Artist Printmaker