Listed Canadian Artist: 1927-1977
Colour Photo-Lithograph
Signed by the Artist in Pencil and Initialled in the screen
"Atelier William Kurelek" blind stamped
Numbered 46/225
Titled "The Slam" from the Sports Series
w. 9 3/4 in. by h. 11 3/4 in.
Archivally Matted and Framed
William Kurelek RCA, OSA, OC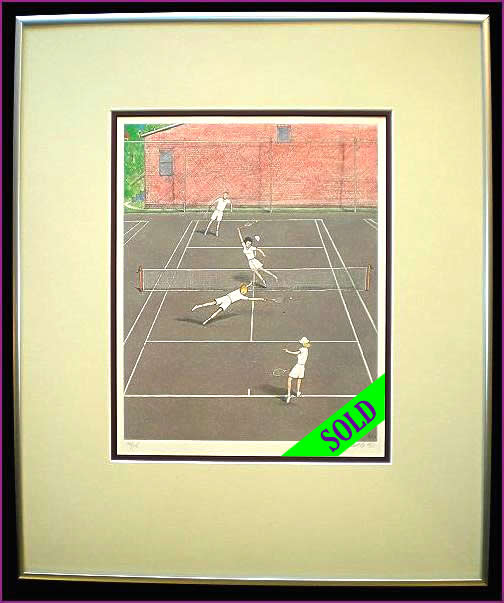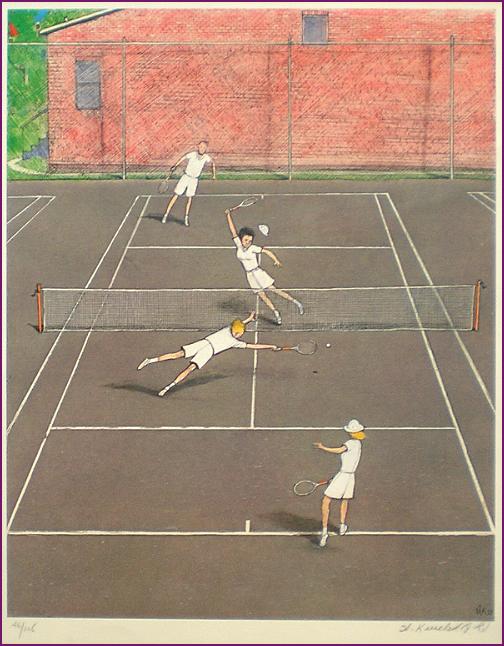 William was born near Whitford, Alberta and studied at the University of Manitoba: under Fred Hagan and Carl Schaefer at the Ontario College of Art: Instituto Allende, Mexico and studied picture framing in England. However William is considered basically self-taught, and was influenced by the work of Van Gogh, Brueghel and Bosch.

Kurelek's subject matter is drawn from his own childhood in Alberta and Manitoba as well as the Polish and Jewish life of other families and he worked in oil, watercolour and mixed media such as lacquer, graphite, coloured pencil and pen. He painted Prairie rural farm scenes with families at work and at play, together with many genre paintings from all across Canada. His narrative genre and biblical subjects reflect his Ukrainian heritage and he also produced prints such as woodblocks and colour photo-lithographs.

William worked as a picture framer in Toronto in the 1960's and carved or painted his own frames based on the traditional Ukrainian decorative style. Kurelek also travelled and painted in the North West Territories, India, South Africa, Hong Kong and Ukraine.

Kurelek received a Canada Council award in 1969 and an honorary doctorate from the University of Windsor in 1976. He exhibited with most of the major galleries across Canada and is represented in numerous corporate private and public collections including: the National Gallery of Canada, the Art Gallery of Ontario, Montreal Museum of Fine Art, Philadelphia Museum of Art, Museum of Modern Art in New York City, etc.

After many years of waiting for a visa Kurelek finally took a trip to Ukraine. Though quite ill by this time he completed dozens of drawings and watercolours of village life and implements for a proposed book. Returning to Canada his health took a turn for the worst.

He spent the last few months of his life finishing his autobiography: Entitled "Someone With Me". In November 1977 William Kurelek passed away..

William Kurelek RCA, OSA, OC, Canadian Artist Printmaker