Listed Canadian Artist: 1907-1956
Etching - signed by the Artist in pencil
Titled "Old Fashioned Caleche, Quebec City"
w. 7 in. by h. 6 in.
Archivally Matted and Framed
Ernst Neumann CPE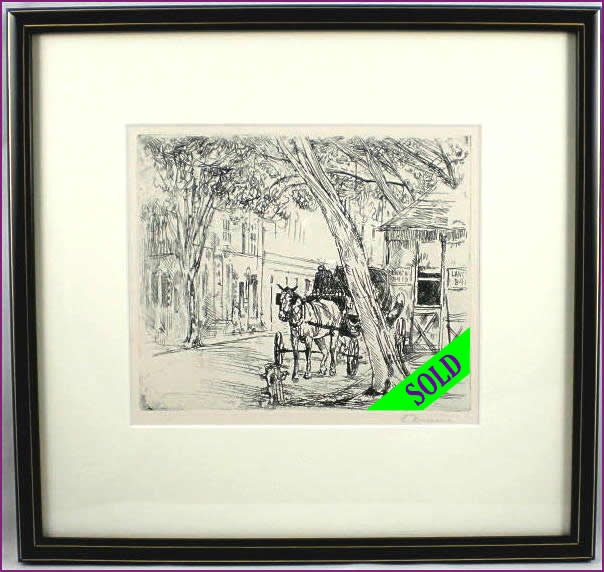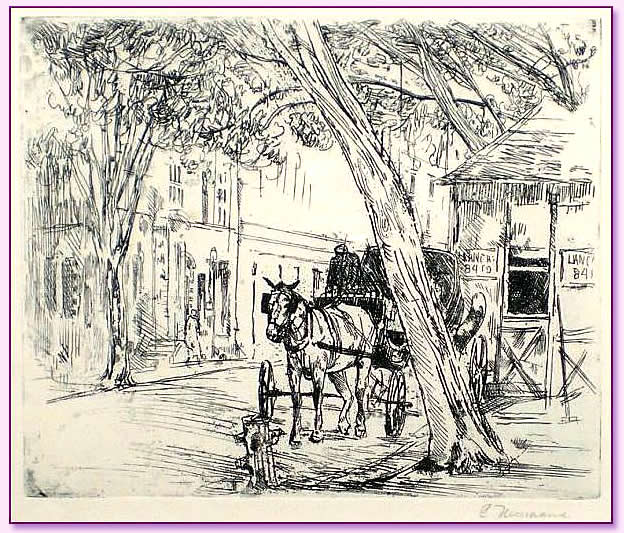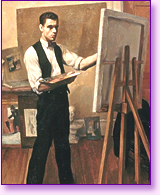 Ernst was born in Budapest, Hungary and immigrated to Montreal, Quebec in 1912. He studied art at the École des Beaux-Arts, the Art Association of Montreal and was given an overseas fellowship to study art in France in 1955. He worked in oils as well as woodcuts, etchings and lithography. Early in his career Ernst became known for his etchings, lithographs and woodcuts and his subjects included landscapes, street scenes of Montreal, nudes, figures and portraits presented with satire and critical comment.

Viewing his artworks in 1939 the Montreal Standard noted, "His etchings, lithos and woodcuts in the Art Association print room make it clear that Ernst Neumann is a thoroughly metropolitan artist. He gets his pictures from the city streets and alleys, and in the studio - nudes and painters and onlookers in the studio, down-and-outs on park benches, lawyers gathered outside the courts, beggers on the pavement, urchins playing in the back lanes - this is the stuff that appeals to his sharp eye, for registration by a skilled hand. He is at his best in relaying the detail of his characters."

In the fall of 1936 he shared a studio with Goodridge Roberts and together they founded the Roberts-Neumann School of Art. Years earlier, around 1924, they had both been students at the École des Beaux-Arts.

Ernst was a member of the Society of Canadian Painters, Etchers and Engravers. He exhibited at the Royal Canadian Academy and the Art Association of Montreal and after his death, memorial exhibits were held in 1958 at the Art Gallery of Hamilton and at the Montreal Museum of Fine Arts.


Ernst Neumann is represented in the National Gallery of Canada with 19 etchings, engravings and oil paintings.
Ernst was awarded a government overseas fellowship by the Royal Society of Canada in 1955 to study in France and unfortunately, during that time while in Venice he died of a heart attack in his 48th year in 1956. .
Ernst Neumann CPE, Canadian Artist Printmaker