Canadian Listed Artist: 1921-1995
Coloured Woodcut - Signed by the artist and dated 1963
Titled: "Sun on Waterlilies"
Numbered - 2/25
h. 7 in. by w. 9.5 in.
Archivally Framed and Matted
Claire Pratt CPE, Canadian Printmaker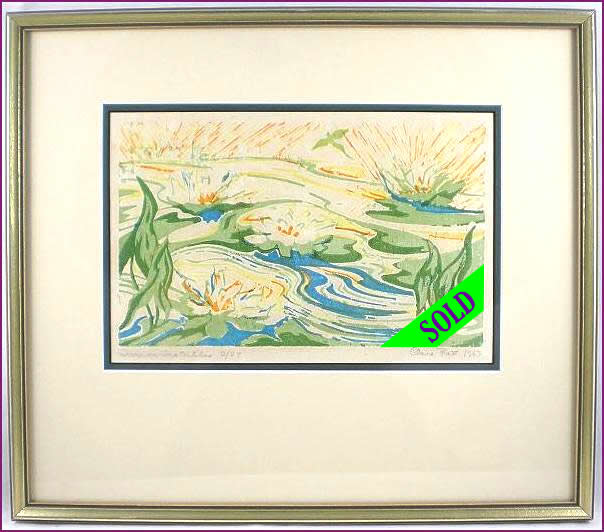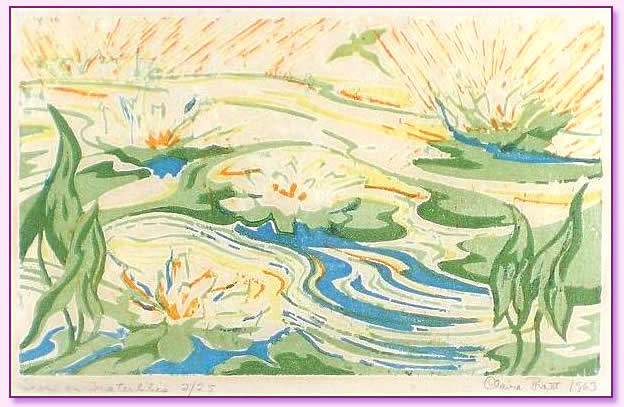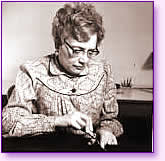 Claire was born in Toronto in 1921. She studied art with Gordon Payne at the Payne School of Fine Art and at the Boston Museum of Fine Arts School with Richard Bartlett.

As an artist, Claire preferred to create woodcut prints. Her graphic art was exhibited in shows across Canada, in the United States and in Europe. Her work is in collections worldwide.

Her interest in Japanese graphics led her to the Japanese poetic form haiku, and her work was published in various poetry magazines and books. Claire often illustrated her haiku.
Claire's work was also stimulated by her father's poetry. Many of her Christmas cards featured excerpts from his poems, while other works explored the themes and imagery of her father, E.J. Pratt's literary works.

As member of the Society of Canadian Paint-Etchers and Engravers, she served as its secretary ca. 1963.

Claire Pratt passed away in 1995.
Claire Mildred Pratt CPE, Canadian Artist Printmaker