Listed Canadian/American artist: 1914-1988- listed in Who's Who in American Art
Wood Engraving on tissue: - signed by the Artist in pencil
Titled: "Spring" ca. 1939
Wood Engraving from the personal collection of the late Carl Schaefer RCA, OSA
Size: w. 4.5 in. by h. 5 in.
Archivally encased using acid-free, rag content materials throughtout.
Samuel Reindorf, American Canadian Printmaker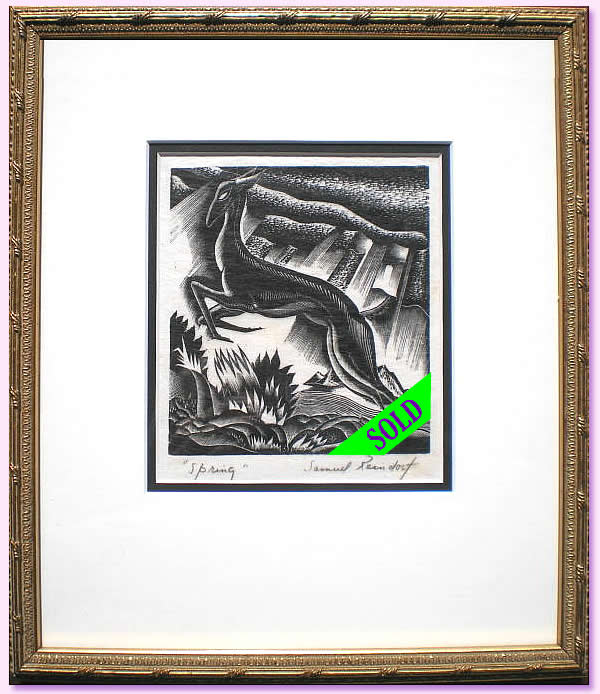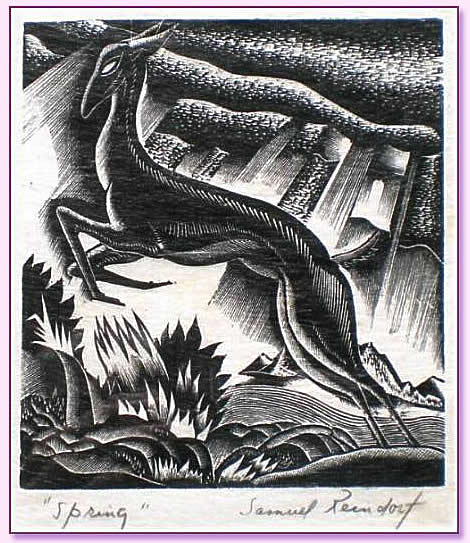 Samuel was born in 1914 in Warsaw, Poland and emigrated with his family to Canada in 1924. He was one of five Canadian artists to win a scholarship to the American Artists School in New York City.

Samuel is a member of the Art League of America as well as the Canadian Society of Graphic Arts. He exhibited at the World's Fair in New York City in 1939, the Art Gallery of Ontario from 1935 to 1939, the Canadian National Exhibition, etc. Samuel is listed in: Who's Who in American Art, Mallett's Index of Artists, Colin MacDonald's Dictionary of Canadian Artists, Davenport's Art Reference Guide, etc. He is known for his oil paintings, watercolours and wood engravings as well as book illustrations.

This wood engravings came from the estate collection of one of Canada's important artists, Carl Schaefer RCA, OSA who was one of Reindorf's mentors in his early years at Central Technical Art School in Toronto, Ontario. Samuel Reindorf was a friend of important Canadian wood engraver Laurence Hyde, both who studied under Carl Schaefer, RCA.

Samuel Reindorf's art work is owned by many prominent Americans and Canadians as well as being in private collections world wide.

Sam Reindorf passed away in 1988.
Samuel Reindorf, American Canadian Printmaker