* Original Painted Surface: Has an early varnish on its painted surface.
* Wood material: Tail, body and head carved two pieces of laminated pine.
* Size: Length 11.5", by 9.5" in height by 3" wide, base size 2.75" by 6.25" .
* Sits on Perch: Dove is able to pivot on its perch.
* Known Origin: Comes from the Sault Ste. Marie area of Ontario, carver unknown.
* Condition: Excellent, with small suface crack on neck, but in no danger.
* Time Line: The perch mounting bolt is quite early in date, circa 1930's or 40's.
Please enquire regarding price
Folk Art Carved Dove
Please take note: We have been buying, collecting and selling folk art artifacts for over thirty years and we guarantee that this folk art carved dove is old and vintage and just what we say it is and is not in any way a form of modern day reproduced or 'faked-vintage' folk art.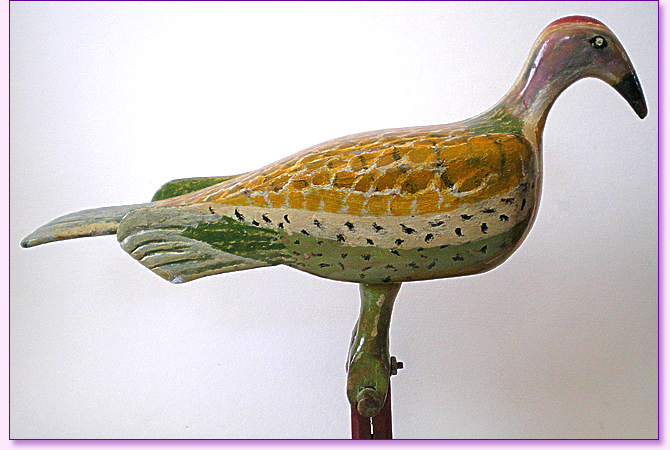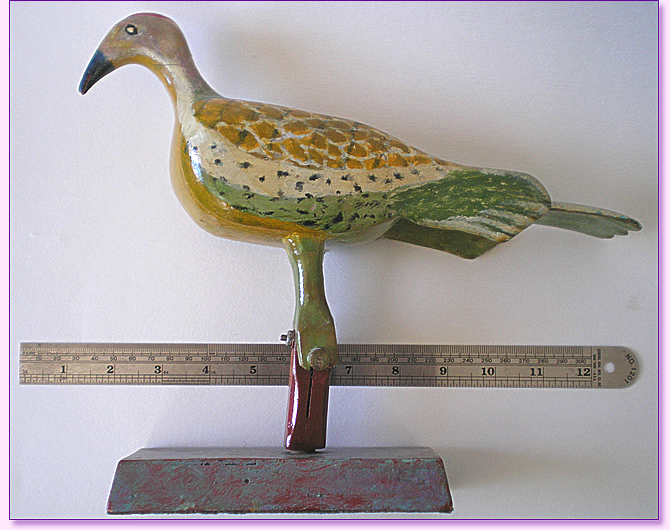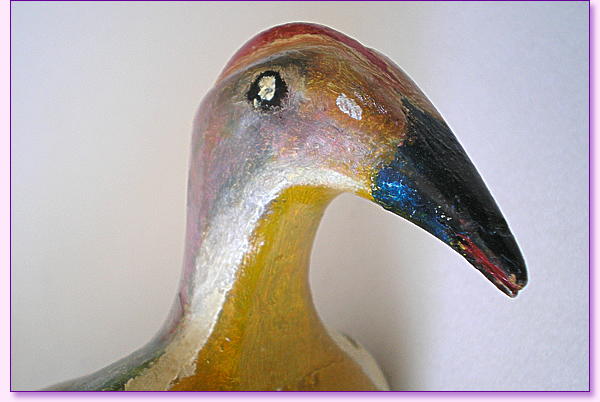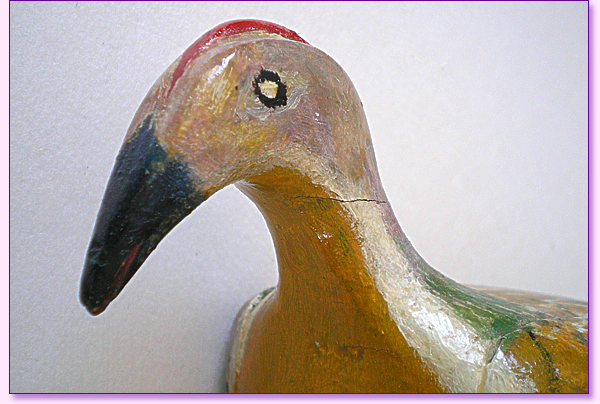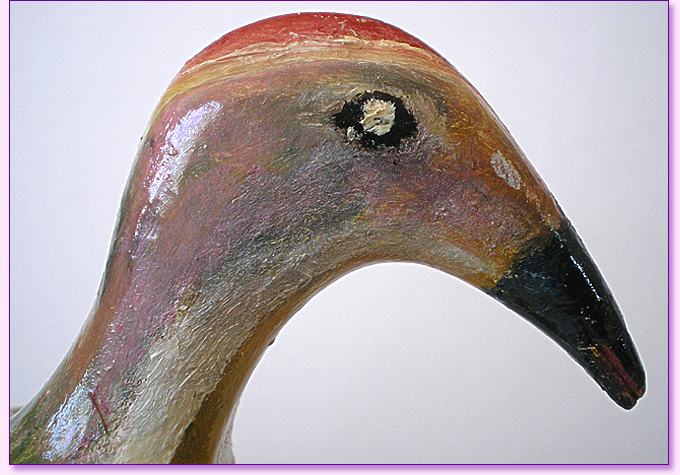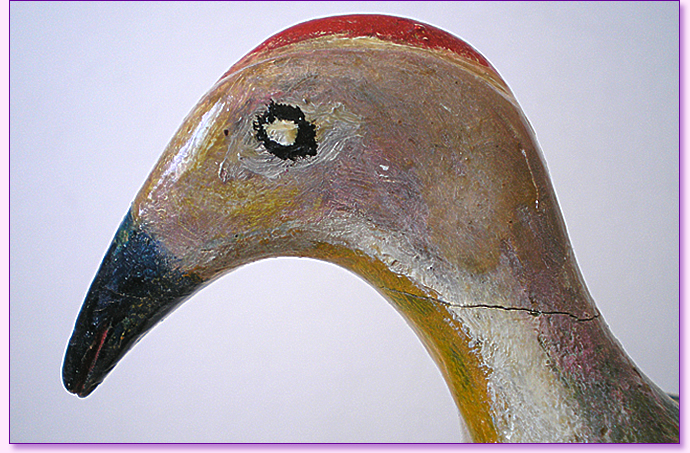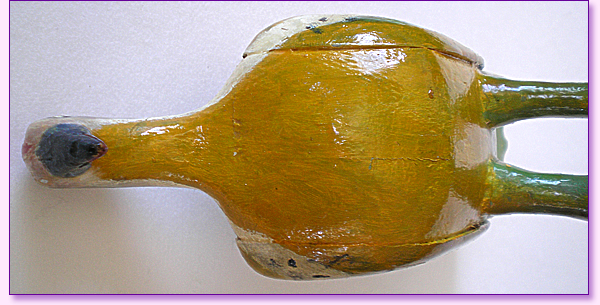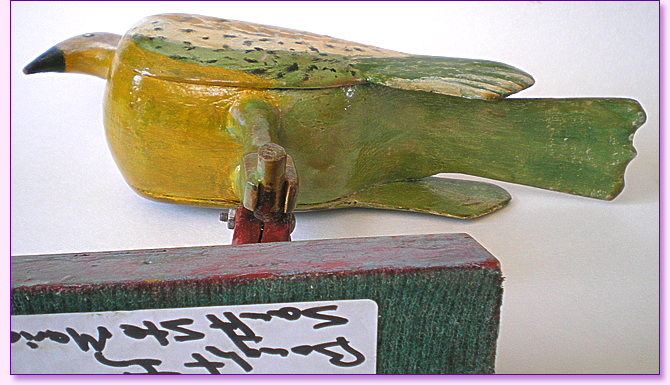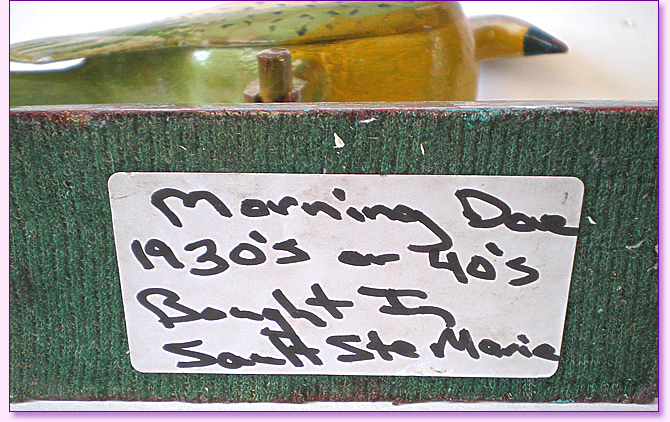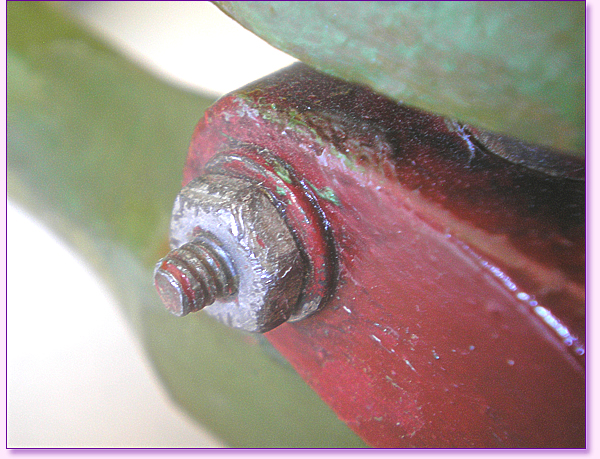 This one-of-a-kind hand carved 'Morning Dove' was acquired in the Sault Ste. Marie region of Ontario, by someone who was kind enough to label the bottom of this carved figure, so that it can have some timely reference of origin, but it is obviously not signed by the maker.

If you note, the mounting bolt and nut used on this particular folk art piece, is a distinct give-away of its true age and authenticity and gives it the credability of being from the 1930' or 40's era. As well, when you closely observe the tight little nooks and crannies over this piece it also gives you the reassurance that it is not a 'new' or a 'faked-old' piece of early 20th century folk art.

As mentioned at the top, the body of this folk art dove consists of two laminated pieces of pine. The lamination line can be seen in the yellow breast photo shown above (7th from the top).

Consider this food for thought... actual authentic quality folk art carvings from the past are quite rare now when you think of it, compared to the abundance of recently made folk art that can be found in shops, marketplaces and auctions just about everywhere. <!-Use this code for apostrophy... '->


Rare Artifacts Ref No: 7TEE15SYD-S/ANOX
Folk Art Pine Painted Carved Dove