• Original Surface: Retains its authentic original shellac or varnished sufrace.
• Wood material: Carved from one piece of very dense burl fruitwood.
• Overall Size: Base 2" by 2 7/8", max. height 1 7/8", max. length 3 1/8".
• Known Origin: Comes from the collection of an unknown Ontario gentleman.
• Condition: No breaks or cracks, only a consistantly smooth worn surface.
• Age: Its old surface and wear puts this carving at beyond 150 years of age and it possesses a somewhat pearlescent glow due to its curling burl fibers.

Please enquire regarding price
Early Folk Art Carved Toad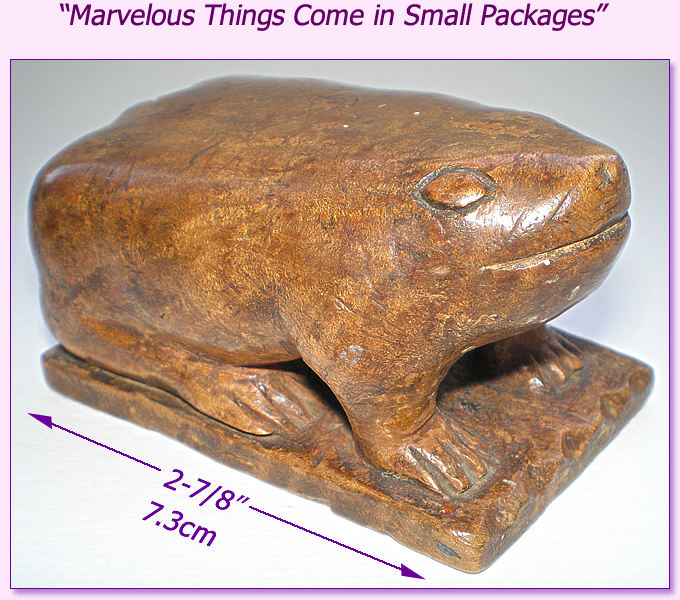 Note of Interest: We have been purchasing, collecting and selling folk art artifacts for over thirty years and we guarantee that this flame-figured burlwood folk art carved effigy is old, vintage and just what we say it is, and what it is not, is any form of modern day reproduced or 'faked-vintage' folk art. The figured burlwood material that it is carved from is a very hard and dense wood and not prone to cracking, chipping or splitting. So, the edge wear exhibited in these photos has been caused by many years of existance and handling. One would have to admit that this folk art carving is absolutely unique and rare and you are probably never going to see another one just like it or even similar.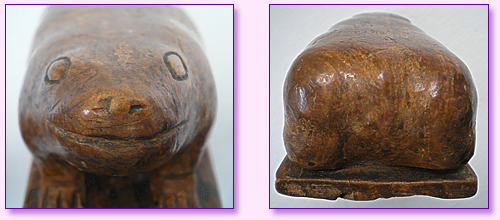 This one-of-a-kind sculpted effigy was acquired in the Creemore region of southern Ontario from the estate of a gentleman who passed away and no one in the family had any idea from where he had acquired this artifact. It is obviously not signed by the maker as it was not as important to sign a piece folk art back in the 19th century as it would be today.

If you note, the patinated colour and the smoothly worn edges on this burlwood folk art piece are a distinct give-away to its true age and authenticity and certainly gives it the credability of being from the 19th century or earlier. As well, when you closely observe the tight little nooks and crannies over this piece it also gives you the reassurance that it is not a 'new' or a 'faked-old' piece of 20th century folk art. Because burlwood is an extremely dense grain of wood, it takes a long time to wear the edges of an object like this one, which again gives credence to its age.

Because it is a small folk art effigy and has such smoothly worn edges, it may very well have been an important personal item that someone carried with them in a pouch or pocket, such as an Indigenous Native person or a mariner seaman many long years ago. In fact, wouldn't you agree that, it is quite reasonably the type of unique museum quality artifact that you might find displayed in a place like the Canadian Museum of History in Ottawa.
Rare Artifacts Ref No: 9MEA13SIM-S/TAEX
Early Folk Art Carved Toad 150 years old