* Original Bronze with brown patinated Surface - great condition with no wear.
* Base, 2." x 2" x 1.5" green striated marble.
* Overall Size: Full length 5.25".
* Bronze Bust Size: 2.5" x 3" x 3.5".
* Known Title: Bahamian man.
A Note of Interest: The bronze sculpture listed here, known to be titled 'Bahamian Man' by Harold Sampson Pfeiffer is a finely cast limited-edition miniature bronze bust, showing a fine brown patina overall and mounted on a raised striated green marble base. This bronze is signed on reverse and is not numbered, although it is known that he produced a numbered series of this same bronze which were numbered 1/6 to 6/6. This bronze was most likely an artist's proof meant to be kept by the sculptor in his persoal collection and therefore would have not been numbered.
Harold Sampson Pfeiifer Bronze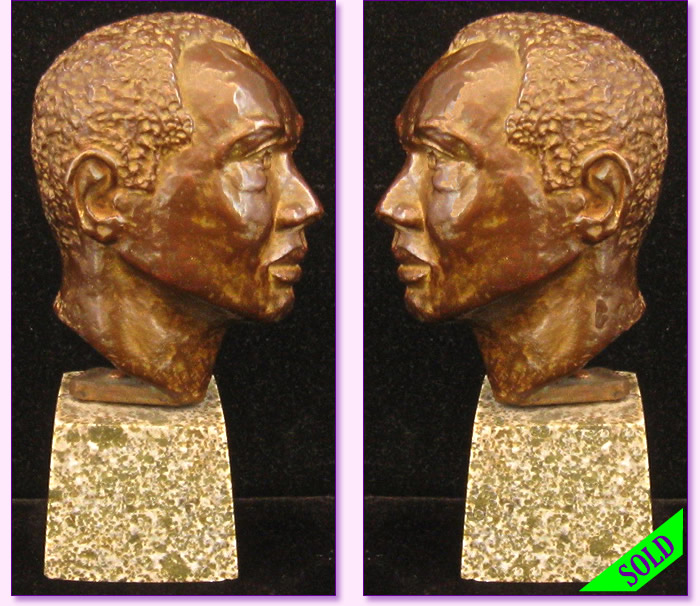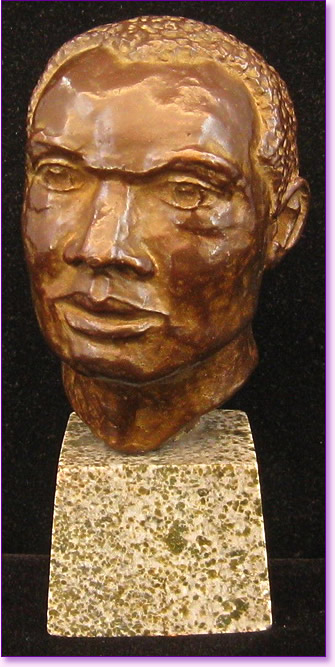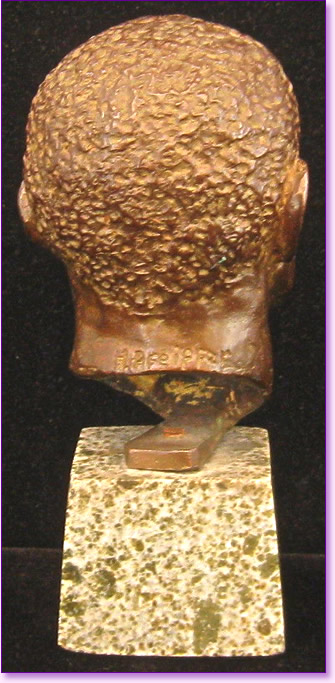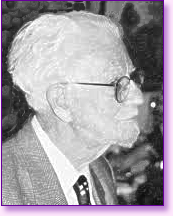 Harold was born in 1908 in Quebec City, Quebec, the son of Adolphus Edward Pfeiffer and Lillian Braithwaite Wright. He and his brothers, Gordon and Walter were all painters. Being the youngest of the family he was a little overwhelmed by all the painting talent in his household and during his summer holidays he turned to a different medium, clay. At a young age he decided to study at the Ecole des Beaux-Arts in Quebec where he attended night classes in modelling under Professor Jan Bailleul and later under Sylvia D'Aoust with intervals of study under Orson Wheeler of Montreal. While at the Beaux-Arts (1925-1927) he met Marius Barbeau of the National Museum. It was Barbeau who persuaded him to research arts and crafts in remote parts of Quebec. During those early years he worked for various employers to pay for his studies. He next entered the Central Technical School in Toronto where he took pottery under Bobs Cogill Haworth RCA. He received further studies at the New York School of Interior Decoration for design and handicrafts and made theatrical and decorative masks. In 1930 he spent six months in London, England, where he studied the antique sculptures in the British Museum, Victoria and Albert Museums, The Tate Galleries and he also lived a year in Paris where he visited and studied the treasures of the Louvre and the work of artists in galleries and workshops. He saw the original sculptures of Eric Gill, Jacob Epstein, Auguste Rodin and other famous sculptors. Returning to Canada he did experimental work with native clays for the Quebec Provincial Government. For twelve years he practiced interior decorating in Montreal and Toronto while he did sculptural portraits of prominent Canadians with excellent likenesses of his sitters. He himself feels much of the personality of people is revealed through their eyes. He became highly esteemed as a portrait sculptor and in later years was given the singular honour of having his bronzes accepted and shown at the Royal Academy and the National Portrait Society in London, England.


<!-Use this code for apostrophy... '-> While in Toronto he lived and worked at his sculpture in Lawren Harris's Studio Building on Severn Street. When first in the city Pfeiffer met the two well-known sculptors Frances Loring and Florence Wyle who encouraged him to do more sculpting. He became friendly with the great Swedish sculptor, Carl Milles, and Dr. Richmond Barthé of New York, who both gave him much encouragement. Because of his talent in many arts and crafts, Selective Service seconded him as a Crafts Specialist to organize Hobby Shops and teach at Army and Air Force camps. While a Flight Lieutenant at the R.C.A.F. Station in Moncton, in his free time he organized many concerts, one of which was by the contralto, Portia White, whose portrait sculpture he did while she was in Moncton.

After the war, he joined the staff of MacDonald College (McGill Univ.), 1945-49, where he taught Arts and Crafts and Interior Decoration. He made three trips to the High Arctic as an assistant to a team of doctors making X-ray surveys and providing clinics for the Inuit. In 1955 he did rehabilitation work with Inuit for Northern Affairs Educational Department at Port Harrison and Povungnituk and spent one year at Frobisher Bay, Baffin Island. For the first time he began to sculpt Inuit peoples in the Eastern Arctic. He was drawn to the pure-blooded Inuit whose features were more defined, weather beaten, character revealing, and he also realized their type would soon vanish forever. He beleived students of anthropology and history will have his true-life portraits of native Canadians to study when all other tangible traces of these people are gone.

He was awarded a grant from the Riveredge Foundation in 1968 to travel into the central and western Canadian Arctic to record some of the faces of the Inuit (Eskimos) and was given three months leave from the Museum to complete the commission. He worked up to sixteen hours a day to finish eleven heads and busts of the Inuit. During his treks he had to contend with climate and logistical problems and designed and made strong but light armatures, on which he built his portraits. As he was the first sculptor to have organized such a trip to the Arctic he had no precedent to guide him and had to improvise and invent ways to complete his task. He brought the necessary chemicals to manufacture styrofoam molds so that he would have light forms upon which to place his clay, saving the weight of the usual solid forms that had to be transported by air. He also used styrofoam molds into which he placed his finished work which eliminated heavy crates and packing materials. Details of his trip were published in North Magazine issue of March-April, 1970. Over the years he has completed 44 bronzes of native peoples for the Glenbow-Alberta Institute in Calgary and also 47 bronzes for the Government of the N.W.T. for the new Prince of Wales Heritage Centre in Yellowknife, N.W.T. By 1980 he had completed over 200 bronze busts. including life-size portraits.

His sculpture is in many permanent collections including: Montreal Museum of Fine Arts; GlenbowAlberta Inst., Calgary, Alta.; The J.B. Speed Museum, Louisville, Kentucky; Alberta House, London, England; Prince of Wales Heritage Centre, Yellowknife, N.W.T., Eskimo Museum, Churchill, Manitoba and the R. Angus Co., Edmonton, Alta. He has sculpted over 125 portrait heads of Indians and Inuit as well as 7 Greenlandic Eskimos. This is a heritage of extraordinary importance. His solo shows include: Mtl. Mus. of Fine Arts (1953); Robertson Galleries, Ott., Ont. (1966); Univ. Ottawa, Ont. (1967); Calgary Galleries, Calg., Alta. (1972, 1978); Royal Ontario Museum, Tor., Ont. (1972); Brock Univ. Gallery, St. Catharines, Ont. (1973); Centennial Art Gallery, Halifax, N.S. (1975); Sherbrooke Village, N.S. (1975); Municipal Gallery, Ste. Foy, P.Q. (1976); First Canadian Place, Tor. (most major exhibition of native people, 1978) entitled "The Survivors"; Wells Gallery, Ott. (1979). He has exhibited with his brothers Gordon and Dr. Walter Pfeiffer several times as well. He has done many portrait sculptures in England, Greenland, Denmark, Switzerland, the U.S.A., Bermuda and Barbados. Until his death he lived in Ottawa.

Harold Sampson Pfeiffer passed away in 1997.

This biography is a partial excerpt from Colin MacDonald's 'Dictionary of Canadian Artists'

Rare Artifacts Ref No: 2NU15 EB-S/UOEX
Harold Sampson Pfeiifer Canadian Sculptor