Uniquely crafted - not from a known pattern
Silk Stocking Hooked Rug - unsigned, maker unknown
Created ca. 1930's or 1940's
Excellent Pristine Condition, colours are bright and it is odor free
Apparently never used as a floor rug, but maybe rolled up in storage for years.
Size: 28 in. by 38 in.

Please enquire regarding price
Native American Vintage Hooked Rug
A Note of Interest: A fabulous antique pictorial hooked rug made from dyed fine silk stocking strips (the same materials as used in the making of Grenfell Rugs). This rug's outer border is made of black braided silk strips and the rug itself is in very good condition with no apparent or obvious visual flaws or any signs of earlier restoration.

Vintage Aboriginal Native American motif hooked rugs, such as this one, are not commonly found, and a top condition specimen in outstanding colour and condition should then be considered a genuine folk art rarity from the earlier part of the North American 20th century.
When Storing Hooked Rugs: It's always best to store any older vintage hooked rugs in a rolled up configuration. Laying flat with the top side facing up, you then roll up your rug, so that you end up with the back side facing outward. Don't roll too tight, it's better to have it a bit loose. At this stage it can then be stored inside of a few old clean pillow cases. Don't use any plastic bags, as it's good to let the rolled up rug breathe along with the surrounding atmospheric changes.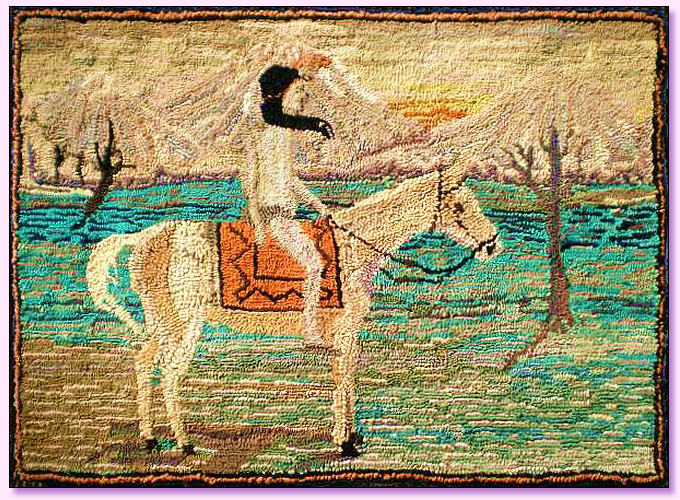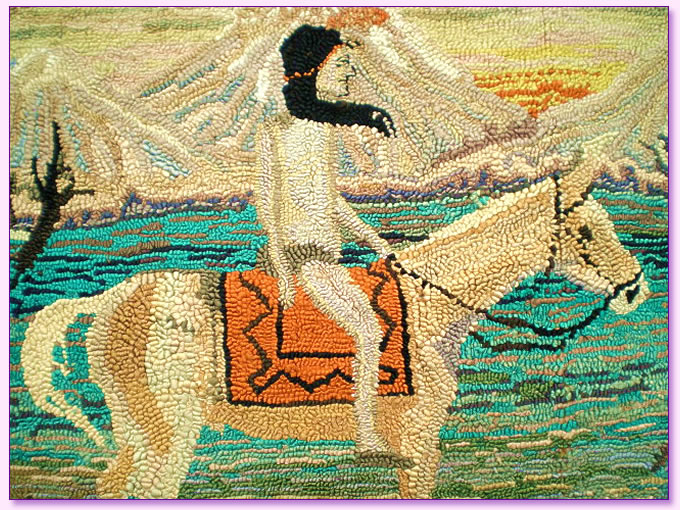 Hooked rug Ref No:5ABA11EB-S/NOEX
Native American Vintage Hand Hooked Rug 1940