JAMES HENDERSON OSA | Saskatchewan's Premier First-Generation Artist
(1871-1951)
Oil on Canvas laid on Masonite
Signed by the Artist - ca. 1930
Cattle Grazing in the Qu'Appelle Valley
Saskatchewan
h: 12 in. by w: 14 in.
SOLD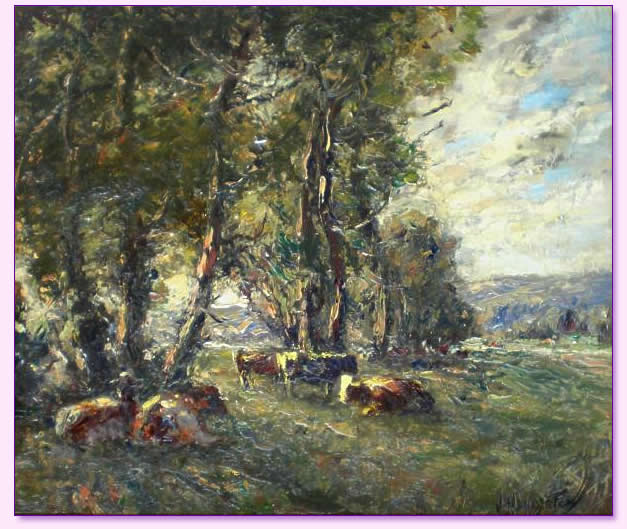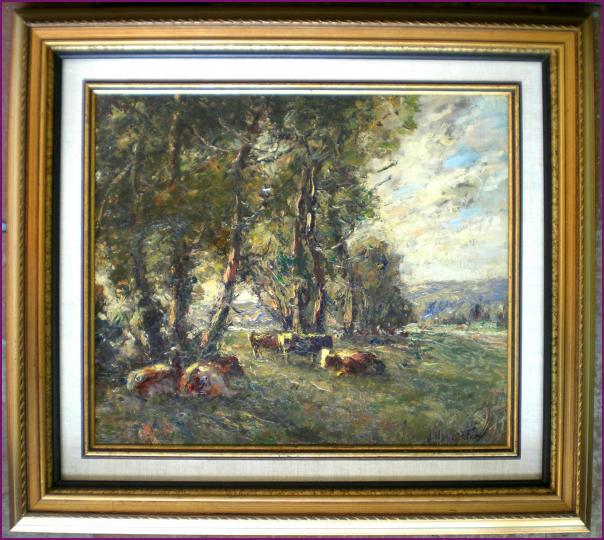 HENDERSON, James OSA
James was born in Scotland in 1871, and immigrated to Canada in 1909 after working as a lithographer and engraver in London, England.

He found a home in Fort Qu'Appelle, Saskatchewan in 1916, being drawn there by the artistic appeal of the Qu'Appelle Valley. His landscape paintings, which depicted all seasons, most often featured the Valley but also included scenery from British Columbia, Alberta, and the Muskoka Lakes region of Ontario.

Henderson was also widely known for his First Nations portraits representing the solemn dignity of what he, like other painters of his age, considered to be a vanishing race. The Sioux at Fort Qu'Appelle's Standing Buffalo Reserve recognized him by naming him an honourary chief, giving him the name Wicite Owapi Wicasa or "Man Who Paints Old Men".
Today, James Henderson is recognized as Saskatchewan's pre-eminent first generation artist.

James died in 1951.