Listed Canadian Artist and Printmaker: (1946- )
Print Description: Hand Pulled Aquatint Etching.
Signed in Pencil: "Allen Smutylo".
Titled: "Northern Grounds #4".
Edition Number: #1 of 10, (I/X), of this 'Artist's proof' edition.
Date of Creation: Ca. 1985
Sight size: w: 24 in. x h: 12 in.
Print Condition: Pristine with no fading or condition issues.
Framed & Matted: With archival acid-free, rag-content materials throughout.

Please enquire regarding price
A Note of Interest: It's believed that this etching, was created by Allen sometime in the 1980's and it's a marvelous example of his proficiency within the aquatint etching process. Though the full standard edition number is not noted on this artist's proof etching, Allen did produce editions from 35 to 75 copies each for other aquatints in his 'Northern Grounds' series.
Allen Harry Smutylo, Canadian Artist & Printmaker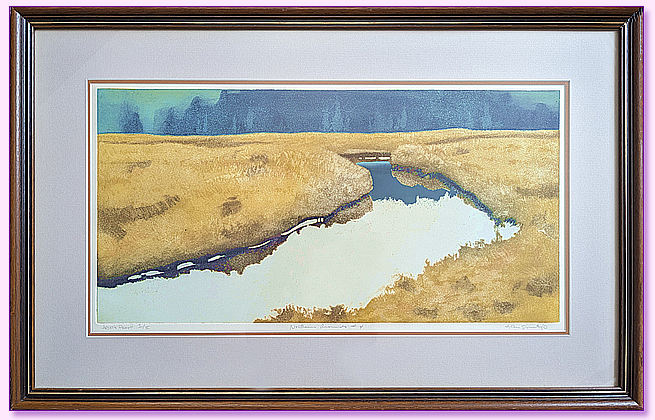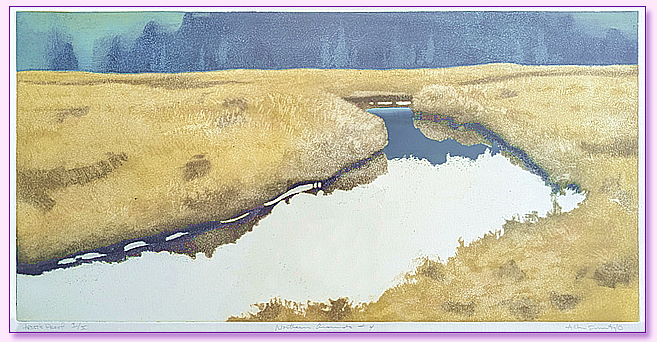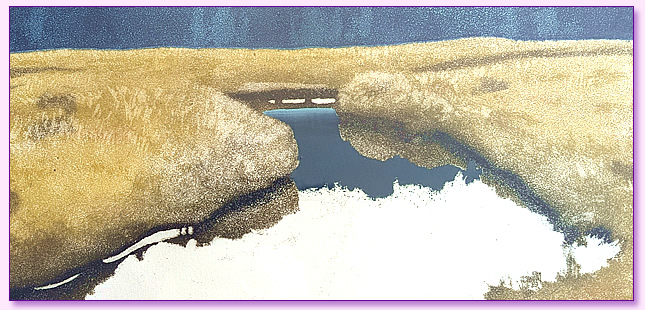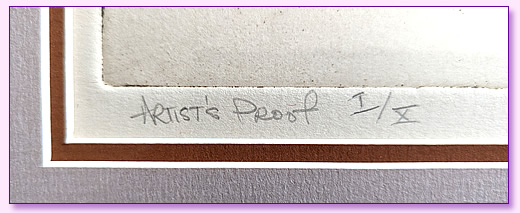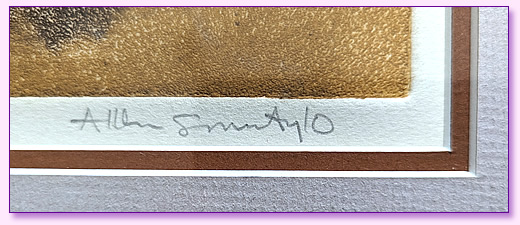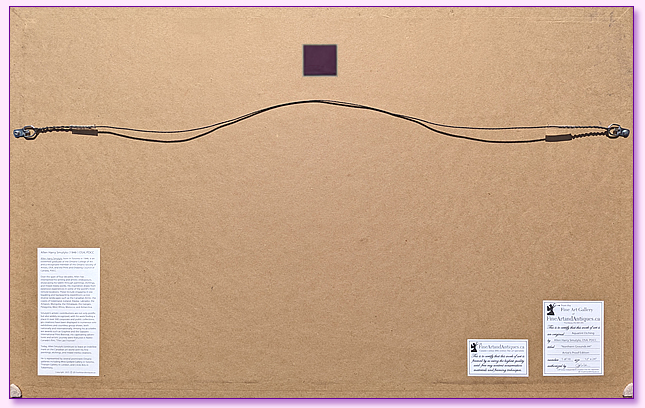 Edgar Lee Laur CPE, TASL, Canadian Artist Printmaker



Allen Harry Smutylo, born in Toronto in 1946, is an esteemed graduate of the Ontario College of Art and a recognized member of the Ontario Society of Artists, OSA, and the Print and Drawing Council of Canada, PDCC.

Over the span of four decades, Allen has intertwined his writing and artistic endeavours, showcasing his talent through paintings, etchings, and mixed media works. His inspiration draws from extensive experiences in some of the world's most remote locations. These include engaging in sea kayaking and backpacking expeditions across diverse landscapes such as the Canadian Arctic, the coasts of Greenland, Iceland, Alaska, Labrador, the Amazon, Mongolia, the Himalayas, the Ganges, Patagonia, West Africa, Morocco, and Antarctica.

Smutylo's artistic contributions are not only prolific but also widely recognized, with his work finding a place in over 300 corporate and public collections. His creations have been displayed in numerous solo exhibitions and countless group shows, both nationally and internationally. Among his accolades are awards such as The Graphic Excellence Competition at Graphex and the Sapporo International Print Biennial. His captivating adventures and artistic journey were featured in Radio-Canada's film, "The Last Frontier."

Today, Allen Smutylo continues to leave an indelible mark on the Canadian art world with his fine paintings, etchings, and mixed media creations.

Copyright 2023 © FineArtandAntiques.ca


Print Ref No: 10TO23COL-S/ROEX
Allen Harry Smutylo, Canadian artist, "Northern Grounds #4" aquatint etching.