Listed Australian Artist: (1924-1990)
Aquatint Etching: Signed and noted as an artist's proof by Clifton Pugh.
Untitled but known as: "Hawk nests in a desert landscape" or "Dead tree landscape"
Signed: "Clifton" lower right.
Print Paper: Arches watermarked wove paper with Kangaloon blind stamp.
Image Size: 17 cm. x 25 cm. Under mat margins are broad outside of the image.
Edition Number: 50 in the complete original series plus the Artist Proofs.
Condition: pristine with no condition issues whatsoever.
Provenance: Greenhill Galleries, 140 Barton Terrace, North Adelaide. Label attached verso.
Framed: 35 cm. x 43 cm. Archivally encased using acid-free, rag content throughtout.
Back of Frame: Tight flush paper cover back with inner foam core protection and felt bumpers.

Please enquire regarding price
Clifton Ernest Pugh AO, Australian Artist Printmaker
A Note of Interest: One of Australia's most renowned and successful painters, Clifton Pugh was strongly influenced by German Expressionism, and was known for his landscapes, his portraiture and his printmaking talents. It's known that Cliff created this aquatint etching in an edition of fifty prints.

This etching is initialed lower left A/P for 'Artist Proof' along with his classic signature. We are not sure of the exact number of artist proofs that Cliff pulled from this plate, but that number could be anywhere from 3 to 5 copies, as the standard practice is usually 10% of the print edition were created as artist proofs.

This is not a commonly found aquatint by Cliff, but as auction records indicate, one of the few prints from this edition to sell at a fine art auction was print no. 20/50 at Lawson's Art Auctions in Sydney, Australia on July 28, 1999, where the hammer price was $440. AU$.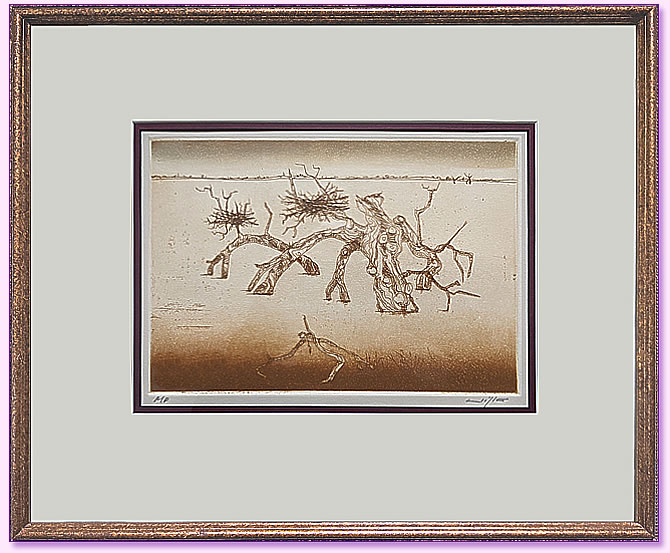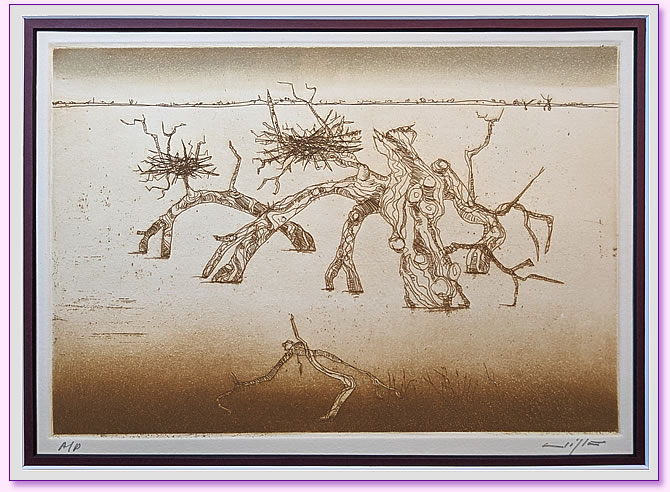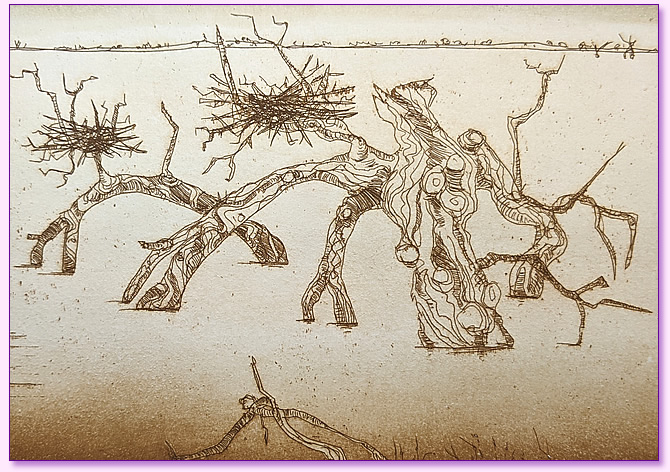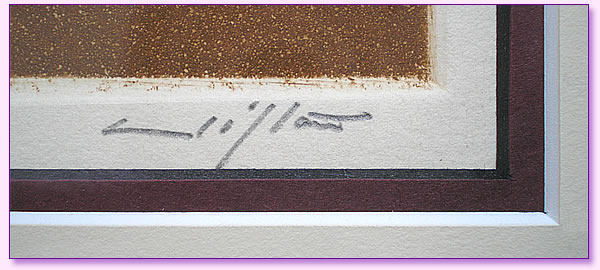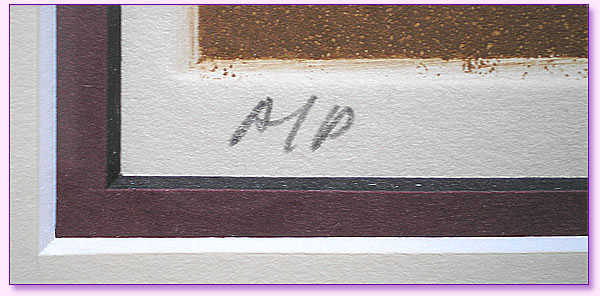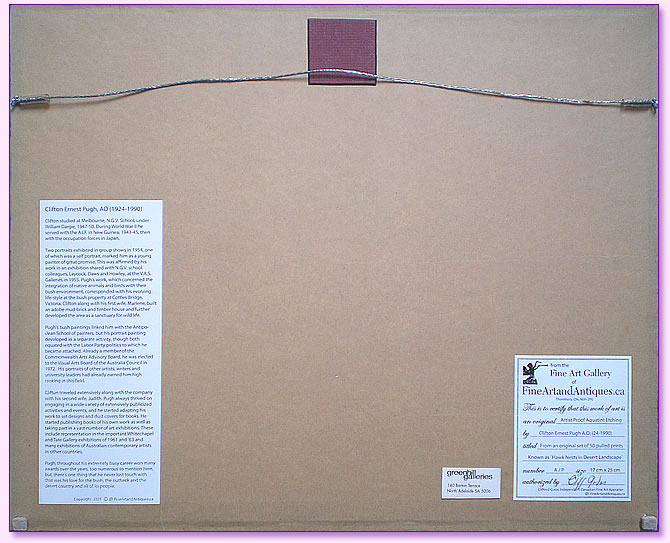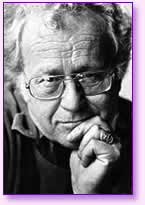 Clifton Ernest Pugh was born on 17 December 1924 in Richmond, Melbourne. He was the youngest of three sons of British-born Thomas Owen Pugh, assistant mechanical engineer, and his wife, Adelaide-born Violet Ogden, nee Cooke. His maternal grandfather was the noted astronomer W. E. Cooke. Cliff attended state schools at Frankston, Auburn, Briar Hill and Eltham in Victoria, Taringa in Queensland, and Ivanhoe Grammar School in Melbourne in 1939, leaving school at the young age of 14 shortly before the start of WWII. Cliff started his work career as a junior in a newspaper office and then at an aircraft factory, but with an interest in art and painting he took evening classes in cartoon drawing at Swinburne Technical College in 1940. In 1942 he continued to attend evening classes in life-drawing at the Australian School of Arts and Crafts in Adelaide, marking the start of a sustained interest in working with models and figure painting.

Pugh was conscripted into the Citizen Military Forces on February 10th, 1943 at the age of nineteen and was soon transferred to the Australian Imperial Force in April of that year. After training in New South Wales and Queensland, he served in New Guinea in 1944-45 with the 22nd Battalion and in Japan in 1946-47 at the headquarters of the 34th Brigade. He was finally discharged in May 1947. In September 1947 Pugh married June Heather Rogasch, a stenographer, in the Church of Christ, Camberwell, Melbourne, but the marriage was short lived and they separated within two years. He soon attended the National Gallery School of Victoria (1948-52) under the Commonwealth Reconstruction Training Scheme. The dark hue of Clifton's oeuvre in his works can be traced to the palette of his art teacher, the noted Meldrum School portrait artist Sir William Dargie.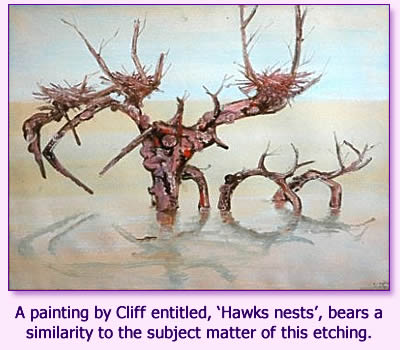 In the 1950s Pugh's paintings first came to notice with the depictions of indigenous flora and fauna in an interpretive, figurative style. His bush scenes struck a dramatic contrast for their denial of the sentimental in favour of harsh realism. His landscapes were innovative for their employment of a relatively loose brushstroke and layering of paint that imitated the disordered character of the Australian bush. A typical work is 'Meeting of the Apostle Birds' (1958), in which birds of the Cottles Bridge area, north-east of Melbourne, where he spent his adult life, are arranged in an artificial pattern over the detritus of the bush floor. In 'A Feral Cat' (1957) the introduced animal dominates the composition, emphasizing its threat to native fauna.

Pugh held his first major one-man show in March 1957 at the Victorian Artists' Society. He became a vocal member of the Antipodeans, a group established in 1959 to defend figurative art. Other members were his artist friends, John Brack, Bob Dickerson, Arthur Boyd, David Boyd, Charles Blackman, John Perceval, and the art historian, Bernard Smith. Their exhibition at the VAS in August 1959 inspired several later reconstructions of the original show. Pugh received leading coverage in British newspapers in an exhibition of prominent Australian artists at the Whitechapel Gallery in London in 1961. Cliff married once again, this time to Marlene Lorraine Harvey, ceramicist and naturalist, his de-facto wife of seventeen years and mother of his two sons, Shane and Dailan, at the Registrar-General's Office, Sydney on 23 June 1965. They were separated shortly afterwards.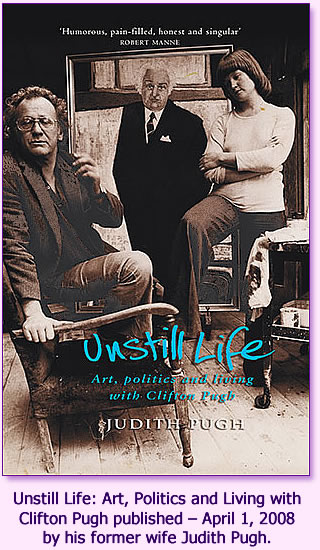 Cliff was a three-time Archibald prize winner: Rupert Henderson (1965), Sir John McEwen (1971) and Gough Whitlam (1972). Other portrait subjects ranged from his family to Australian political leaders and Prince Philip, the Duke of Edinburgh. He married his second de-facto wife (1970-80) Judith Ley, a writer who had changed her name to Pugh six years earlier, at the Kensington Registry Office, London, on 29 June 1976, with former Australian prime minister Gough Whitlam attending as a witness. Adriane Strampp, who was to become an artist in her own right, was his de-facto wife from 1980 to 1985.

Pugh was chairman in 1972 of the Victorian Australian Labor Party arts advisory committee and member in 1973 to 1974 of the Australian Council for the Arts. He attracted much media attention, for his outspoken comments on political issues, his bohemian lifestyle and unconventional bush home. The house he built of mud brick and recycled materials called Dunmoochin was notable for its quirky architecture, objets d'art and paintings by those he knew and admired. The Dunmoochin Artists' Society, a community comprising potters and painters, was established from the early 1950s to further conservation, as well as for issues on arts and crafts. He was appointed AO (Order of Australia) in 1985. The Dunmoochin house was destroyed by fire in 2001 and replaced under the auspices of the Dunmoochin Foundation by two studios providing temporary accommodation for those interested in art or environmental matters.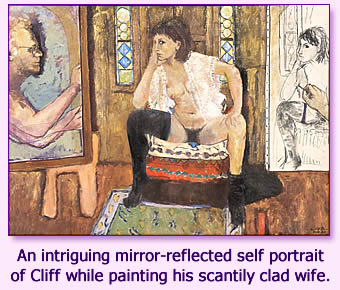 Clifton Pugh died of acute myocardial infarction at the age of sixty-six in October, 1990 at Prahran, Melbourne. Paintings and prints from this important Australian artist are found in most Australian public art galleries and in many overseas collections, both public and private. Clifton's former wife, writer and poet Judith Pugh, whose cover for her book 'Unstill Life', is shown above, passed away in January 2015.

Click this link to read about Clifton Pugh's theatrical farewell after his passing at Montsalvat in 1990, That'll be Cliff's touch," murmured a mourner, who knew Mr Pugh's affection for the theatrical..."https://www.theage.com.au/national/victoria/from-the-archives-1990-clifton-pugh-s-theatrical-farewell-at-montsalvat-20191013-p5308z.html.

Print Ref No: 11XIO20GAR-S/BOEX
Clifton Ernest Pugh AO, Australian Artist Printmaker, Order Of Australia