Listed Australian/British Artist: (1863-1930)
Mezzotint Etching: Signed by the artist.
Title: "the Old Curiosity Shop", etching created circa 1905.
Signed in pencil: Albert Henry Fullwood, monogramed within plate.
Image Size: w: 7.5 in. by h: 9.5 in. printed on wove paper.
Edition: Not noted, but Henry often pulled from 25 to 50 copies from a single plate.
Condition: recently cleaned, de-acidified and conserved with no condition issues.
Framed: Archivally encased using acid-free, rag content materials throughtout.

Please enquire regarding price
Australian artist Albert Henry Fullwood ASA, ASPE
A Note of Interest: Albert Henry Fullwood played an important roll in the formation of more than one Australian art society, including the noted New South Wales Society of Artists. Early on, Henry painted mainly in oils and was considered a leading Australian Impressionist painter. After living abroad for years he finally returned to Australia in 1920, where his main artistic focus became centered on the creation of watercolours and etchings. The etchings he created after 1920 were mostly labeled with a number and edition along with a title added. Prior to that time Henry usually signed his name in pencil along with his "AHF" monogram etched within the plate, and on occasion he would add a penciled title.

Since 1968 nealy 1200 of his works have crossed the art auction block, with over 60% of those works selling. Another night setting is displayed within the biography text below, it's entitled, the Queen Victoria Building, Sydney, "A Wet Friday Night". This 8" x 13" oil on board recently sold in August 2023 for a purchase price of just over $21,000. (AUS). The highest recorded selling price for a Henry Fullwood oil at art auction was in May 2023 at Deutscher & Hackett (AUS), when an oil by him sold for just shy of $160,000. (AUS). It surpassed the previous art auction record price of $144,000. (AUS) that sold in Feb. 2023, with that painting more than doubling its pre-auction high estimate.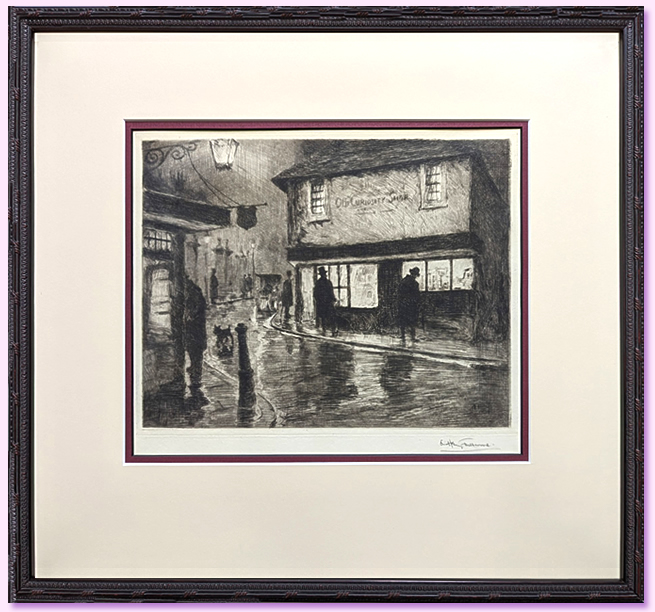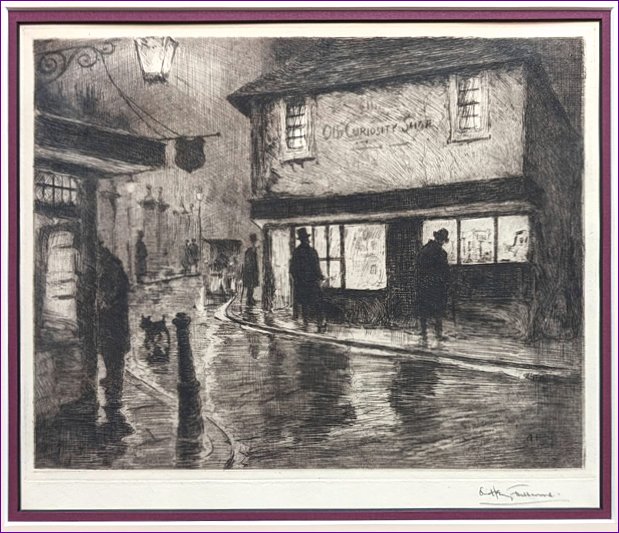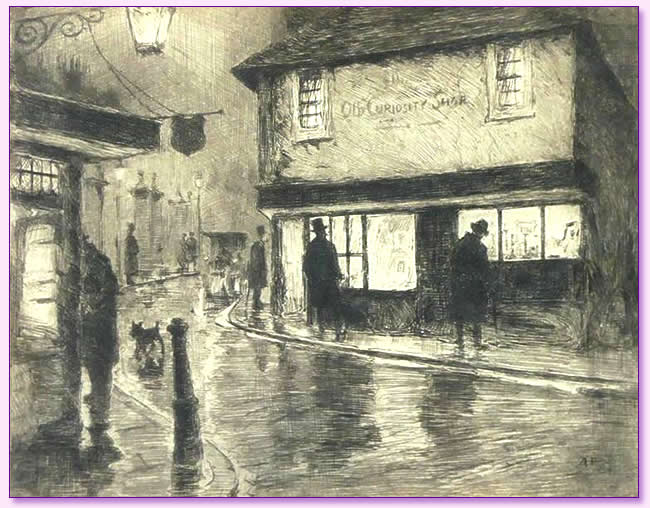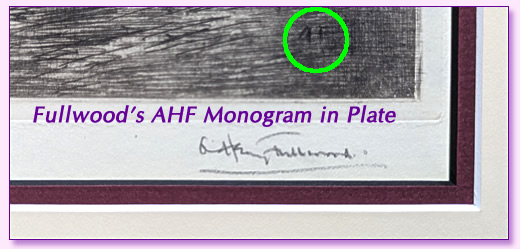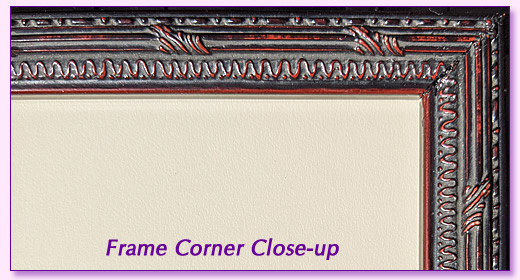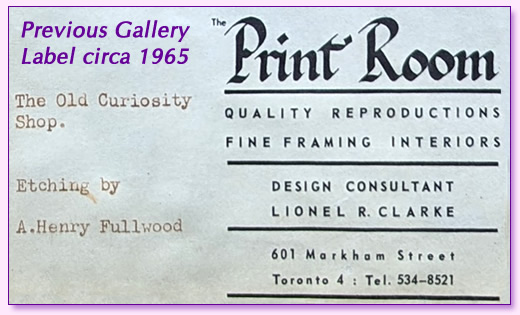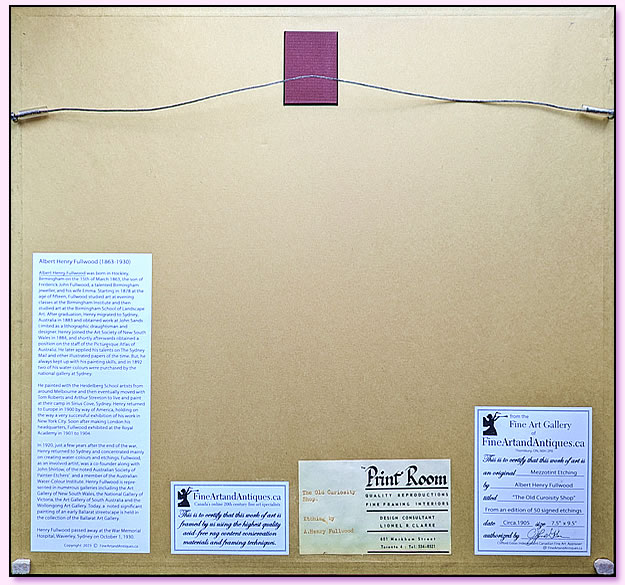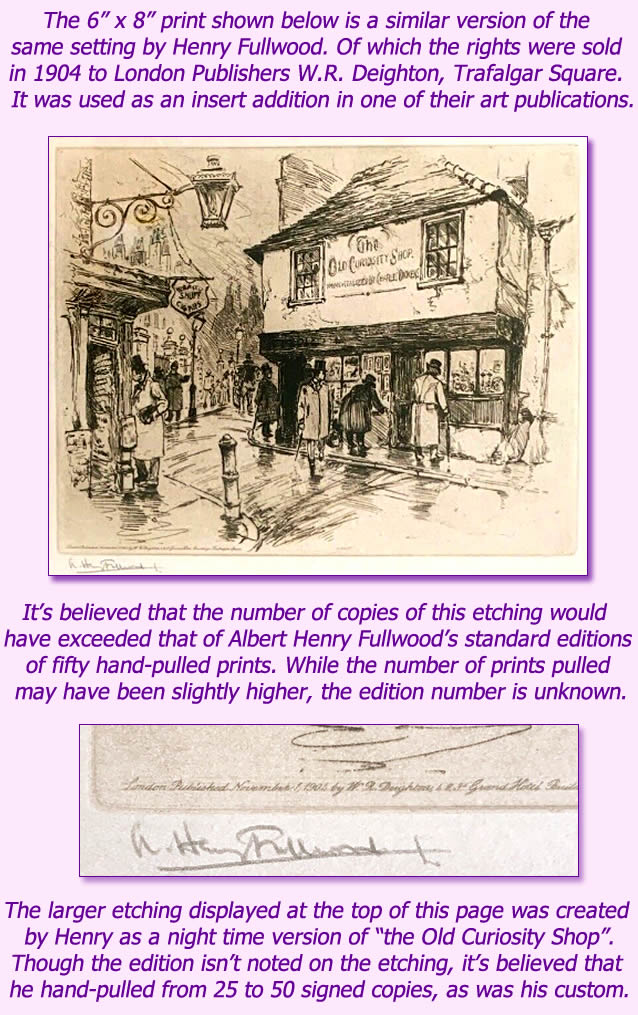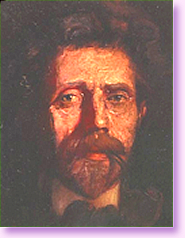 Albert Henry Fullwood was born in Hockley, Birmingham on the 15th of March 1863, the son of Frederick John Fullwood, a talented Birmingham jeweller, and his wife Emma. Starting in 1878 at the age of fifteen, Fullwood studied art at evening classes at the Birmingham Institute and then studied art at the Birmingham School of Landscape Art. After graduation, Henry migrated to Sydney, Australia in 1883 and obtained work at John Sands Limited as a lithographic draughtsman and designer. Henry joined the Art Society of New South Wales in 1884, and shortly afterwards obtained a position on the staff of the Picturesque Atlas of Australia, for which he traveled a good deal through Northern Australia and created many sketches and drawings. He later applied his talents on The Sydney Mail and other illustrated papers of the time. But, he always kept up with his painting skills, and in 1892 two of his water-colours were purchased by the national gallery at Sydney.

He painted with the Heidelberg School artists from around Melbourne and then eventually moved with Tom Roberts and Arthur Streeton to live and paint at their camp in Sirius Cove, Sydney. In 1895 Fullwood took a leading part in forming the Society of Artists in Sydney and was a member of its first council. Henry returned to Europe in 1900 by way of America, holding on the way a very successful exhibition of his work in New York City. Soon after making London his headquarters, Fullwood exhibited at the Royal Academy in 1901 to 1904, and later years at various exhibitions in Europe. After the outbreak of World War I, Fullwood joined the Allied Art Corps and later became a sergeant in the Royal Army Medical Corps based at the 3rd London General Hospital, Wandsworth. Henry also became the official Australian war artist to the 5th Division during the war.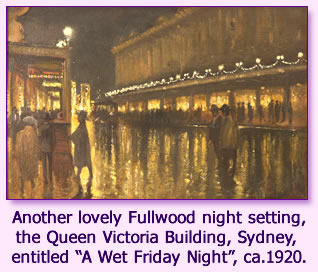 In 1920, just a few years after the end of the war, Henry returned to Sydney and concentrated mainly on creating water-colours and etchings. Fullwood, as an involved artist, was a co-founder along with John Shirlow, of the noted Australian Society of Painter-Etchers' and a member of the Australian Water-Colour Institute. Henry Fullwood is represented in numerous galleries including the Art Gallery of New South Wales, the National Gallery of Victoria, the Art Gallery of South Australia, the Wollongong Art Gallery, the Budapest Museum of Fine Arts, and also in the Australian War Memorial. A significant painting of the early Ballarat streetscape is held in the collection of the Ballarat Art Gallery.

Henry married Clyda Blanche Newman, daughter of photographer John Hubert Newman, on the 13th of October, 1896 in Sydney. Clyda and Henry had two sons, Philip L. Fullwood and Geoffrey Barr Fullwood, and a daughter Marjorie Clyda. Unfortunately, both Philip and Marjorie predeceased their father.
Henry Fullwood passed away at the War Memorial Hospital, Waverley, Sydney on October 1st, 1930 and was laid to rest in the Anglican section of Rookwood cemetery. He was survived by his son Geoffrey Barr Fullwood (1900-1973). Henry's works in oil, water-colour and etching can all be considered equally significant, as he was an Australian who made a significant contribution to the creation of fine art in Australia. Today, his works are found in numerous galleries and private collections throughout the Commonwealth.

Print Ref No: 7TER23GDN-S/ROEX

Copyright © 2023 FineArtandAntiques.ca
Australian Albert Henry Fullwood ASA, ASPE, Artist and Printmaker