Listed Canadian Artist: (1911-2002)
Mezzotint Etching: Signed by the artist in pencil
Sight size: w. 7 in. by h. 8 7/8 in.
Titled & Numbered: "News Stand", 4/20
Signed & Dated: Paul Goranson, dated '49
Print Condition: Pristine with no issues whatsoever
Recently Framed & Matted: with archival, rag content and acid-free materials throughout

Please enquire regarding price
Paul Alexander Goranson CPE, CSGA
A Note of Interest: This was the "News Stand" in 1949 leading to the subway in New York City, near where Paul worked after the war years. Paul produced only 20 hand-pulled copies of this rare fine etching. During the Depresssion era, Paul Goranson, along fellow Canadian artists Orville Fisher and E.J. Hughes, formed the artists group known as "The West Coast Brotherhood."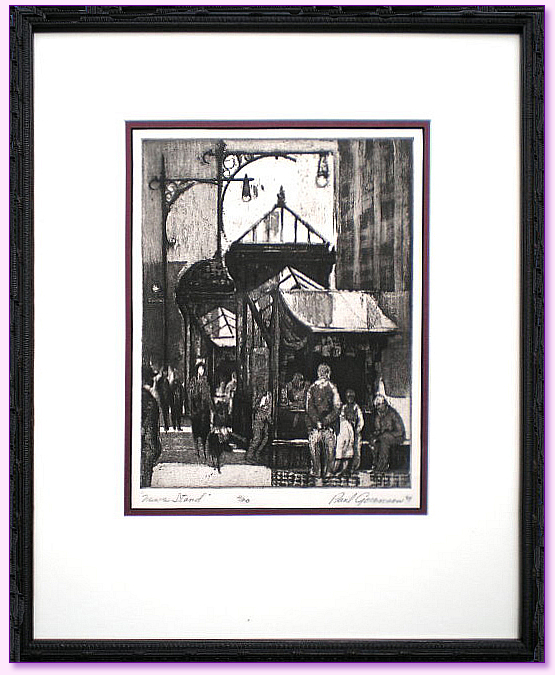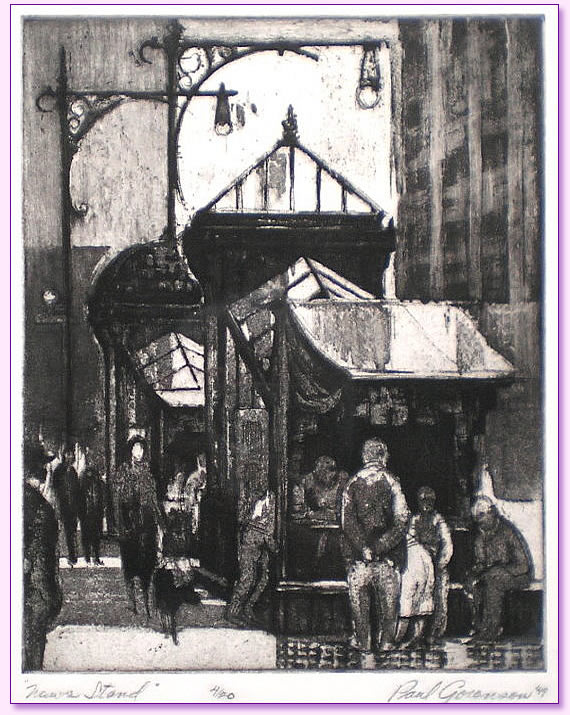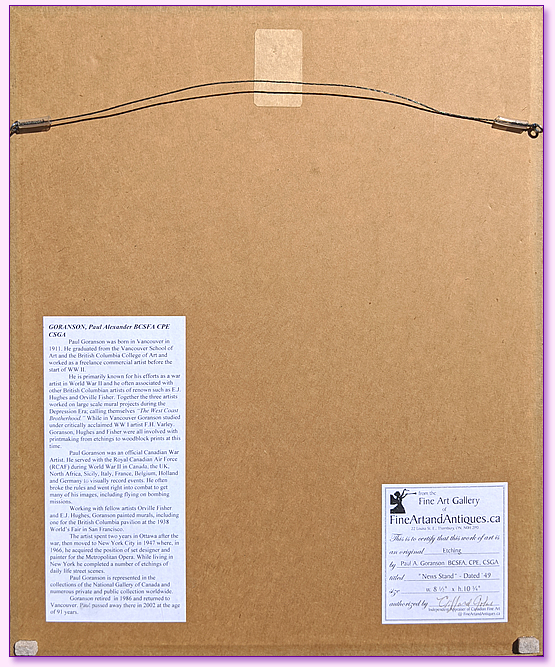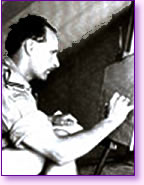 Paul Goranson was born in Vancouver in 1911. He graduated from the Vancouver School of Art and the British Columbia College of Art and worked as a freelance commercial artist before the start of WW II.

He is primarily known for his efforts as a war artist in World War II and he often associated with other British Columbian artists of renown such as E.J. Hughes and Orville Fisher. Together the three artists worked on large scale mural projects during the Depression Era; calling themselves "The West Coast Brotherhood." While in Vancouver Goranson studied under critically acclaimed WW I artist F.H. Varley. Goranson, Hughes and Fisher were all involved with printmaking from etchings to woodblock prints at this time.

Paul Goranson was an official Canadian War Artist. He served with the Royal Canadian Air Force (RCAF) during World War II in Canada, the UK, North Africa, Sicily, Italy, France, Belgium, Holland and Germany to visually record events. He often broke the rules and went right into combat to get many of his images, including flying on bombing missions.

Working with fellow artists Orville Fisher and E.J. Hughes, Goranson painted murals, including one for the British Columbia pavilion at the 1938 World's Fair in San Francisco.

The artist spent two years in Ottawa after the war, then moved to New York City in 1947 where, in 1966, he acquired the position of set designer and painter for the Metropolitan Opera. While living in New York he completed a number of etchings of daily life street scenes.

Paul Goranson is represented in the collections of the National Gallery of Canada and numerous private and public collection worldwide.

Goranson retired in 1986 and returned to Vancouver. Paul passed away there in 2002 at the age of 91 years.

Print Ref No: 3TBO14EB-S/TIOEX
Paul Alexander Goranson CPE, CSGA, Canadian Artist Printmaker