Listed Canadian Artist: (1867-1943)
Hand Pulled Mezzotint Etching: Printed on cream coloured wove paper.
Signed in Pencil: "E.L.Laur 34" in the lower right corner, with monogram on plate.
Sight size: w: 9 7/8 in. x h: 9 1/2in.
Edition Number: 49/50
Title Unknown: Winter forest setting with footprints in the snow.
Print Condition: Pristine with no condition issues.
Frame & Matted: In our studio with archival acid-free materials throughout.
Art Association Memberships: The Art Student League Toronto in 1895, The Mahlstick Club of Toronto and the Canadian Painters and Etchers Society.

Please enquire regarding price
Edgar Lee Laur CPE, TASL, Canadian Artist & Printmaker
A Note of Interest: This etching was created by Edgar late in his printmaking career when he was 67 years old and it can be considered a 'tour de force' for his mastery of the mezzotint etching process. Egdar Lee Laur had colour blindness, the decreased ability to see colour or differences in colour, but he turned that aspect of his life to an advantage. As an artist and printmaker he favoured using the mezzotint etching process to create his hand-pulled prints. The mezzotint displayed here by Edgar captures feelings of depth and perception that a photograph rarely could.

The mezzotint etching technique allowed him to work in shades and tones of just one colour ink, instead of using a varity of colours that would normally be used to produce a coloured aquatint etching. Edgar created a low number of prints in each edition, usually no more than 50 copies per run, plus a few artist's proofs, which was the norm for noted printmakers of this era. The printmaking societies of the day frowned upon larger print runs and felt that lower numbers were warranted to help maintain an artist's printmaking integrity and to also bolster an artwork's overall value.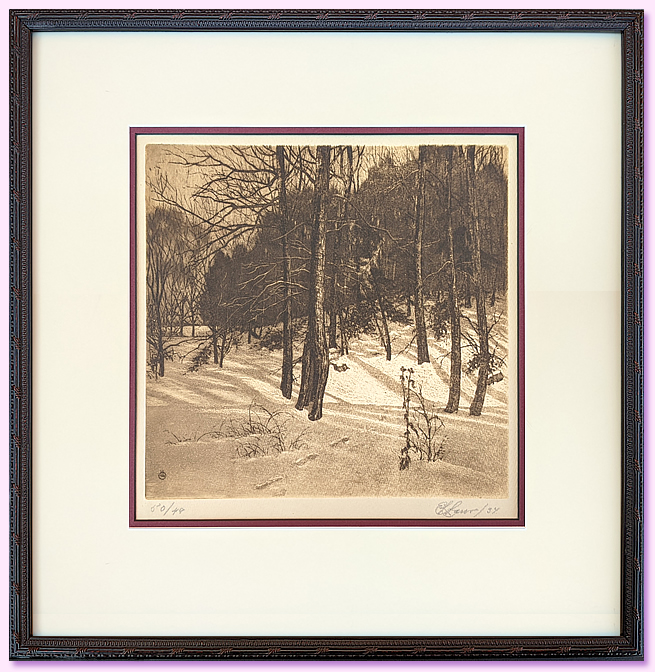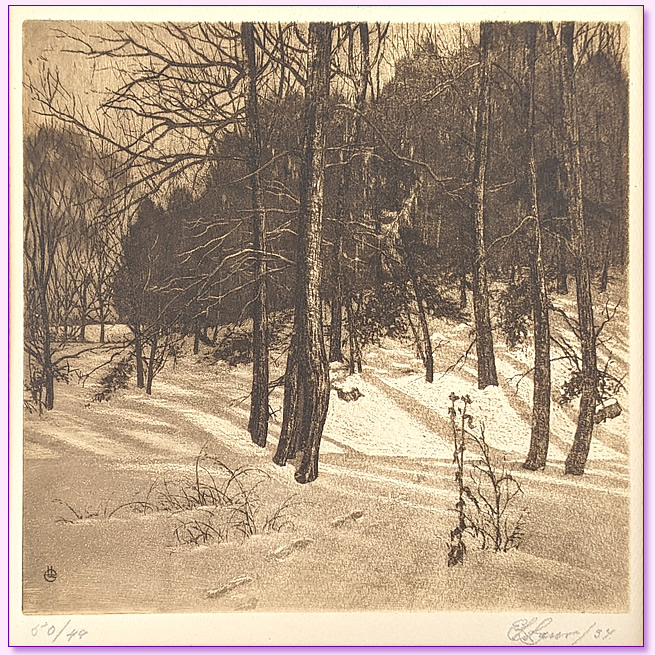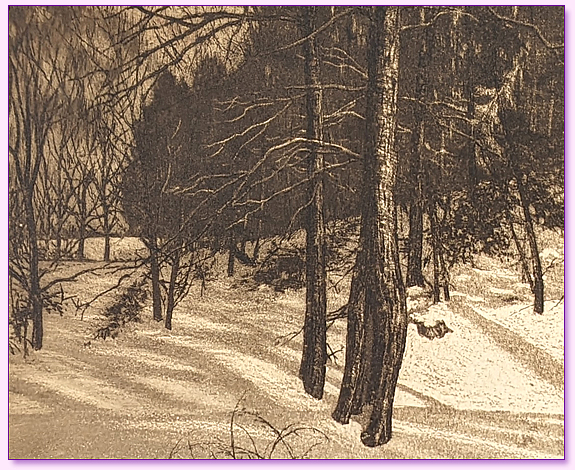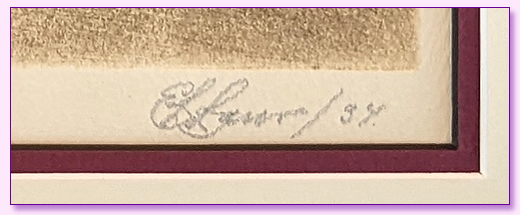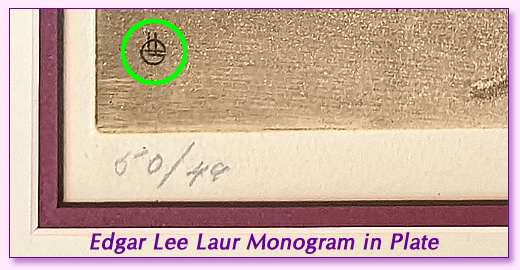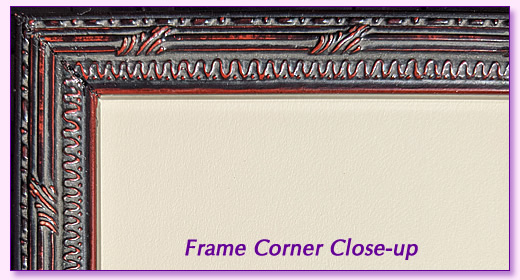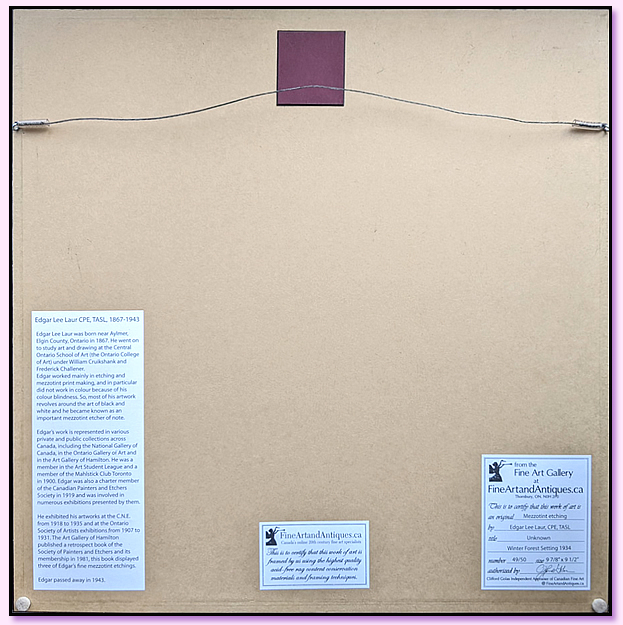 Edgar Lee Laur CPE, TASL, Canadian Artist Printmaker



Edgar Lee Laur was born near Aylmer, Elgin County, Ontario in 1867. He went on to study art and drawing at the Central Ontario School of Art (the Ontario College of Art) under William Cruikshank and Frederick Challener.

Edgar worked mainly in etching and mezzotint print making, and in particular did not work in colour because of his colour blindness. So, most of his artwork revolves around the art of black and white and he became known as an important mezzotint etcher of note. Edgar went on to marry Elizabeth Kick in 1896, but was soon devastated by her death and the death of their newborn daughter Vivian just one year later. Edgar found love once again and married Rena Belle Boughner on October 5th 1905 in Toronto.

Edgar Lee Laur's work is represented in various private and public collections across Canada, including the National Gallery of Canada, the Ontario Gallery of Art and the Art Gallery of Hamilton. He became a member in good standing in the Art Student League Toronto in 1895, and also a member of the Mahlstick Club Toronto and took classes there in 1900. Edgar was also a charter member of the Canadian Painters and Etchers Society in 1919 and was involved in numerous exhibitions over the years presented by them.

He exhibited his artworks at the C.N.E. From 1918 to 1935 and at the Ontario Society of Artists exhibitions from 1907 to 1931. The Art Gallery of Hamilton published a retrospect book of the Society of Painters and Etchers and its membership in 1981, this book displays three of Edgar's fine mezzotint etchings.

Edgar can be considered one of Canada's finest mezzotint etchers of the 20th century due to his mastery and control of tonal shading in his hand-pulled etchings.

Edgar passed away in 1943.

Print Ref No: 11TBE22GRD-S/NOEX
Edgar Lee Laur, CPE, TASL, Noted early 20th Century Canadian Printmaker