Canadian Listed Artist: 1896-1989
Woodcut: combined with Pochoir
Signed: by the Artist in pencil
Titled: "St. Francis L'île d'Orleans"
Size: h. 7 1/6 in. by w. 6 in.
Condition: Clean, bright and archivally framed and matted
André Biéler RCA, OSA
It should be noted: This 1930's print is from the original series of this woodcut-pochoir and not the subsequent reprint from the same woodcut blocks done by André in the 1970's. He also produced a hand-pulled serigraph of this scene on a slightly larger format around the same time as the second edition of this woodcut. The original series of this hand-pulled pochoir-woodcut maintains a higher value level than the second edition printed in the 1970's and should not be confused as being in the same value catagory.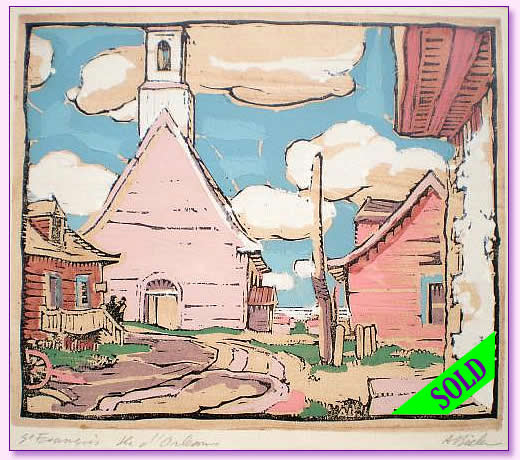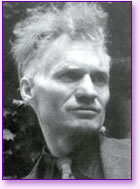 André was born in Switzerland and came to Montreal in 1908. He studied art in Paris in the 1920's for several years as well as at the Art Students' League in New York. He organized the first conference of Canadian Artist in 1941 for which he later received the Order of Canada. He taught at the Banff School of fine Arts and was also resident artist and teacher at Queens' University for many years. His landscapes and genre scenes of Quebec and Ontario were influenced by the French impressionists.

The artwork of this important and influential artist is represented in the National Gallery of Canada, the Art Gallery of Ontario, the Montreal Museum of Fine Arts and many other public and private galleries and collections around the world.

André settled in 1927 to 1930 at L' île d'Orléans where he experimented with various techniques of producing woodcuts eventually combining the woodblock for line and colour in pochoir. During this time he made seventeen woodcuts, the majority with pochoir. The editions of these prints were very small and are now considered quite rare and valuable.

André Biéler passed away in 1989.
André Bieler RCA, OSA, Master Printmaker Artist