Listed Canadian Artist: (1908-2002)
Aquatint Etching: Signed and numbered by the artist.
Title: "Pointe au Baril" Ontario, etched circa 1975.
Signed and Numbered: Isabel Cleland, numbered 9/30.
Image Size: w: 8 in. by h: 9.7/8 in. printed on wove paper.
Condition: clean with no condition issues.
Framed: Archivally encased using acid-free, rag content materials throughtout.

SOLD
A Note of Interest: Eastern Georgian Bay is part of the southern edge of the great Canadian Shield and the granite bedrock there had been exposed by the receeding glaciers at the end of the last ice age, about 11,000 years ago. The granite rock formations and windswept white pine are characteristic of the multitude of islands and much of the eastern shoreline of Georgian bay, a bay of Lake Huron, as depicted in this aquatint etching from the area of Pointe au Baril, Ontario.

Over Isabel Cleland's artistic career, she produced a number of fine limited edition drypoint etchings, but only a few coloured aquatint etchings using the mezzotint technique. This type of aquatint etching requires the creation of multiple etched plates, one for each colour and tone used and is quite a cumbersome task which incorporates artistic talent, a patient eye and lots of technical expertice.
Isabel Easton Cleland CPE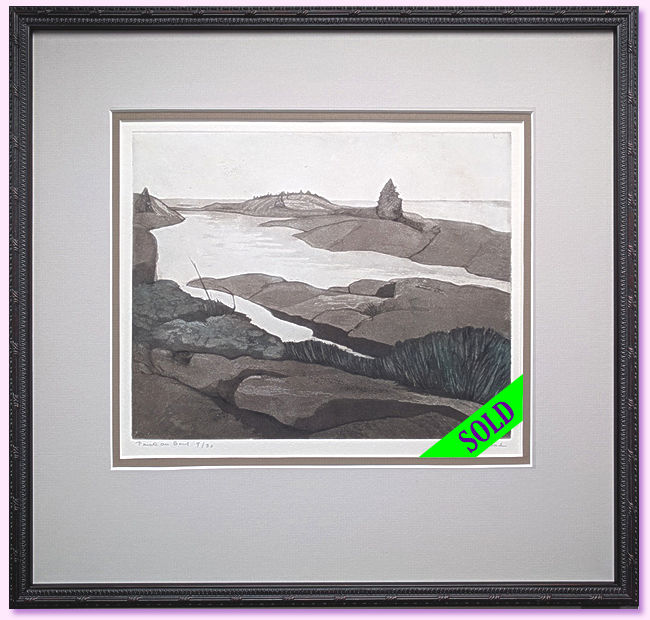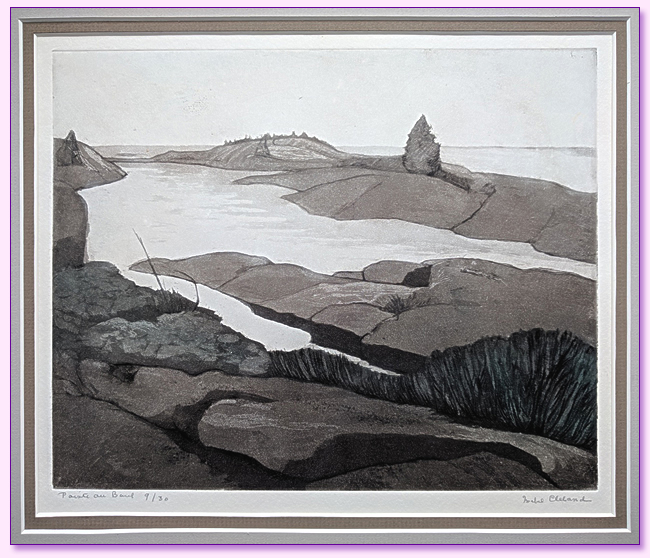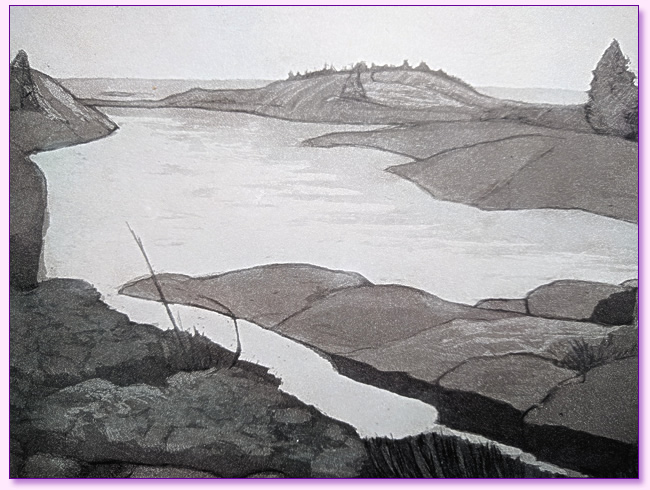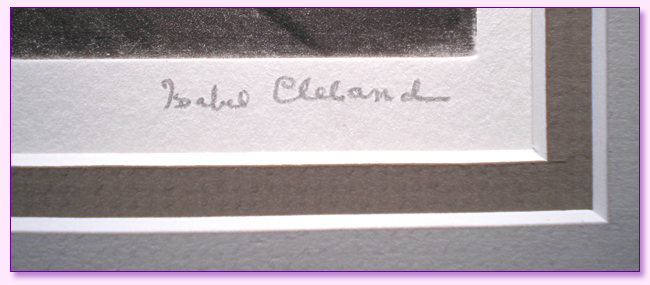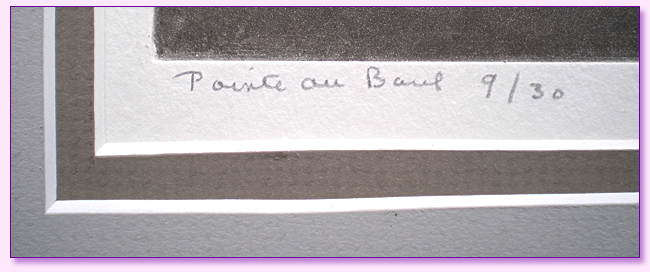 Isabel was born in New York City in 1908 and came to Canada in 1909. Her father, who was a doctor working in the United States at the time of her birth, was a Canadian citizen born in Meaford, Ontario in 1874, so, Isabel had definite Canadian roots. She won a scholarship to attend the Ontario College of Art in 1924, but did not attend the college at that time. Isabel, between 1931 and 1939, attended occasional art classes at the Ontario College of Art and studied at the Port Hope summer school for several summers under J. W. Beatty. She also studied at the Art Students' League in New York under Will Barnet and studied sculpture in St. Louis, Missouri.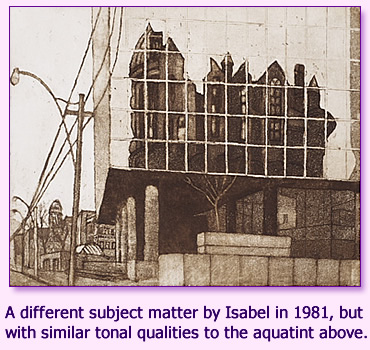 As a working artist in the mid 20th century her work was strongly influenced by J. W. Beatty, the Group of Seven and some of their noted contemporaries.

She became a member of the Society of Canadian Painters Etchers and Engravers in 1944 and served as secretary and President of this society in 1960-61. Isabel has worked in drypoint, line etching, aquatint, lithography, and favoured landscape subjects. As a sculptor, she produced a number of ceramic portrait heads. It is known that she was still producing her etchings and other artworks as late as 1987 at the age of 79.

Her work is represented in the Royal Ontario Museum, Hart House Toronto, The Toronto Reference Library Baldwin Collection, the University of Toronto and the London Public Library and Art Museum plus numerous private collections.
Isabel was a resident of Toronto until her passing on July 13th, 2002 at the age of 93.
The cityscape aquatint etching by Isabel displayed just above is courtesy of the Toronto Public Library Digital Archive. It depicts a setting looking southeast along College St. from west of University Ave., showing Toronto Athletic Club reflected in Hydro Place also known as Ontario Power Building.


Print Ref No: 1XBE20DOH-S/BOEX
Isabel Easton Cleland CPE, Canadian Artist Printmaker