Canadian listed artist
Etching - signed by the Artist in pencil
w. 7 in. by h. 8 in.
Titled: "On the Way to the Bridge"
Archivally Framed
Isabel Easton Cleland CPE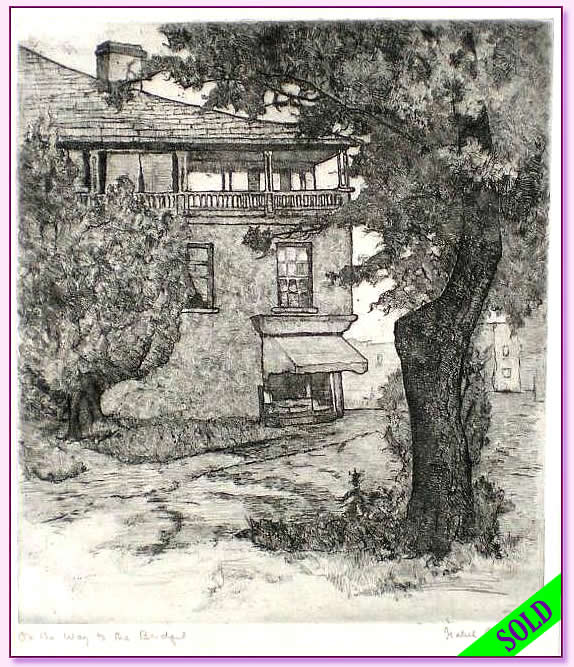 Isabel was born in New York City in 1908 and came to Canada in 1909. Her father, who was a doctor working in the United States at the time of her birth, was a Canadian citizen born in Meaford, Ontario in 1874, so, Isabel had definite Canadian roots. She won a scholarship to attend the Ontario College of Art in 1924, but did not attend the college at that time. Isabel, between 1931 and 1939, attended occasional art classes at the Ontario College of Art and studied at the Port Hope summer school for several summers under J. W. Beatty. She also studied at the Art Students' League in New York under Will Barnet and studied sculpture in St. Louis, Missouri. As a working artist in the mid 20th century her work was strongly influenced by J. W. Beatty, the Group of Seven and some of their noted contemporaries.

She became a member of the Society of Canadian Painters Etchers and Engravers in 1944 and served as secretary and President of this society in 1960-61. Isabel has worked in drypoint, line etching, aquatint, lithography, and favoured landscape subjects. As a sculptor, she produced a number of ceramic portrait heads. It is known that she was still producing her etchings and other artworks as late as 1987 at the age of 79.

Her work is represented in the Royal Ontario Museum, Hart House Toronto, The Toronto Reference Library Baldwin Collection, the University of Toronto and the London Public Library and Art Museum plus numerous private collections.
Isabel was a resident of Toronto until her passing on July 13th, 2002 at the age of 93.
Isabel Easton Cleland CPE, Canadian Artist Printmaker