Listed Canadian Artist: (1910-2010)
Mezzotint and Drypoint Etching: printed in warm black ink
Signed and Titled: by artist in pencil "Night"
Numbered & Dated: 6/10 and dated in pencil and on plate 1947
Image Size: w. 4 in. by h. 9 1/2 in.
Condition: Strong impression in pristine shape
Framed: Archivally matted with acid-free materials throughtout

Please enquire regarding price
Doris Jean McCarthy RCA, OSA
A Note of Interest: Doris McCarthy produced around two dozen or so different hand-pulled prints in very low numbers during her lifetime. Many of these original prints were serigraphs but she also produced a small number of etchings and aquatints. As such, these unique hand-pulled prints are to be considered rarities in their own right and should not be overlooked as being an unimportant aspect of Doris`s long and talented artistic career. The rare etching pictured here is considered by us to be one of her earliest ventures into the realm of drypoint and mezzotint etching and one with a particular tantalizing flair of urban intrigue. Doris produced only ten hand-pulled copies of this print.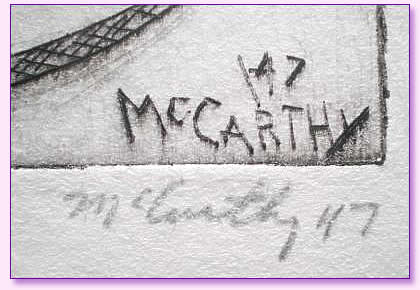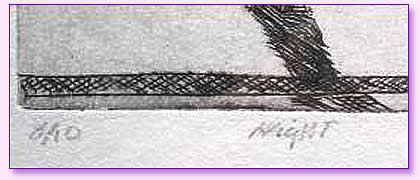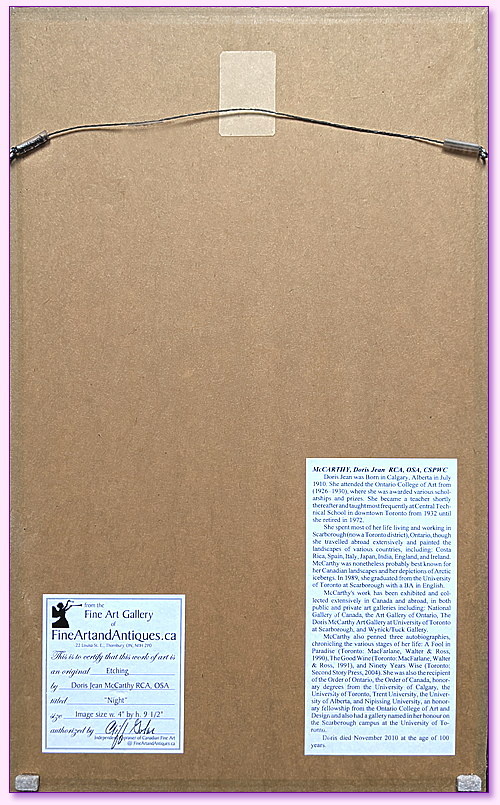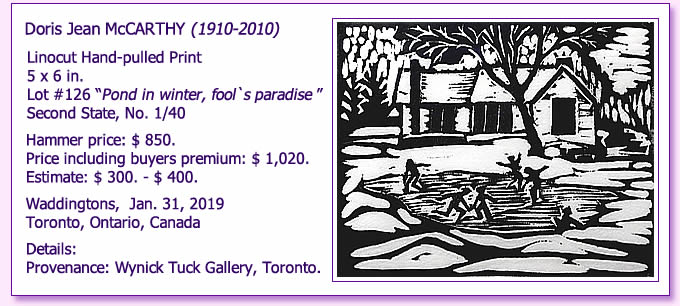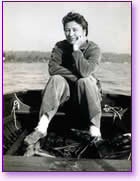 Doris Jean was Born in Calgary, Alberta in July 1910. She attended the Ontario College of Art from (1926–1930), where she was awarded various scholarships and prizes. She became an art teacher shortly after graduation and taught most frequently at Central Technical School in downtown Toronto from 1932 until her retirement in 1972.

She spent most of her life living and working in Scarborough (now a district of Toronto), Ontario, though she travelled abroad extensively and painted the landscapes of various countries, including: Costa Rica, Spain, Italy, Japan, India, England, and Ireland. McCarthy was nonetheless probably best known for her Canadian landscapes and her depictions of Arctic icebergs. In 1989, she graduated from the University of Toronto at Scarborough with a BA in English.

McCarthy's work has been exhibited and collected extensively in Canada and abroad, in both public and private art galleries including: National Gallery of Canada, the Art Gallery of Ontario, The Doris McCarthy Art Gallery at University of Toronto at Scarborough, and Wynick/Tuck Gallery.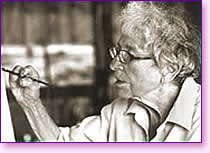 Doris penned three autobiographies, chronicling the various stages of her life: A Fool in Paradise (Toronto: MacFarlane, Walter & Ross, 1990), The Good Wine (Toronto: MacFarlane, Walter & Ross, 1991), and Ninety Years Wise (Toronto: Second Story Press, 2004).

She was also the recipient of the Order of Ontario, the Order of Canada, honorary degrees from the University of Calgary, the University of Toronto, Trent University, the University of Alberta, and Nipissing University, an honorary fellowship from the Ontario College of Art and Design and also had a gallery named in her honour on the Scarborough campus at the University of Toronto.

Doris passed away in November 2010 at the age of 100 years.


Print Ref No: 9AMI13EB-S/AAEX
Doris Jean McCarthy RCA, OSA, Canadian Artist Printmaker