Listed Canadian Artist: (1860-1945)
Drypoint Etching: Signed by the artist in pencil - also signed on the plate.
Signed & Titled in Pencil: Frederic Waistell Jopling 1925, "Saturday afternoon".
Number & Dated: Numbered 1, and 1925 on plate.
Sight Size: w. 9.5 in. by h. 5.75 in.
Print Condition: Printed in 'blue black' ink, pristine with no issues.
Recently Framed & Matted: with archival acid-free materials throughout.

Please enquire regarding price
Frederic Waistell Jopling CPE
A Note of Interest: The use of Hanlan's Point Beach on the Toronto islands as a nude beach in the late 19th and early 20th century is a documented historical fact. Fred Jopling, being a Toronto artist of note, is known to have created at least a few etchings during this time that relate to nude bathers sunning themselves on such a beach.

So, even though Fred did not title this etching, "Saturday Afternoon at Hanlan's Point" it can be assumed that this is one of his Canadian nude beach etchings. Fred had the habit of numbering his prints with one number, such as 1 or 23, which did not include the total number of prints in that series. But, it is known that he rarely ever produced over 25 prints in an edition. Jopling had been quoted as saying, "he was adament in his belief that artists should never mass produce their artworks just to please the masses".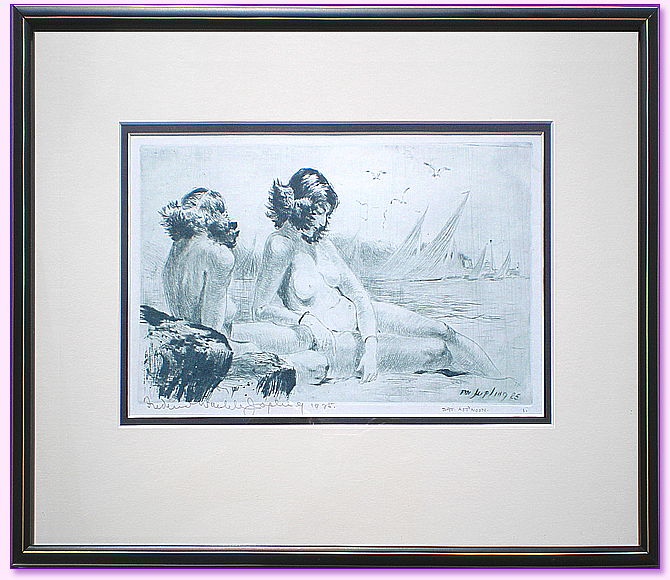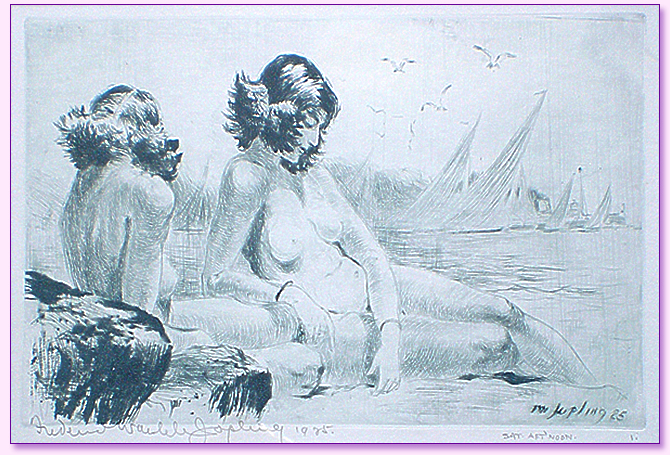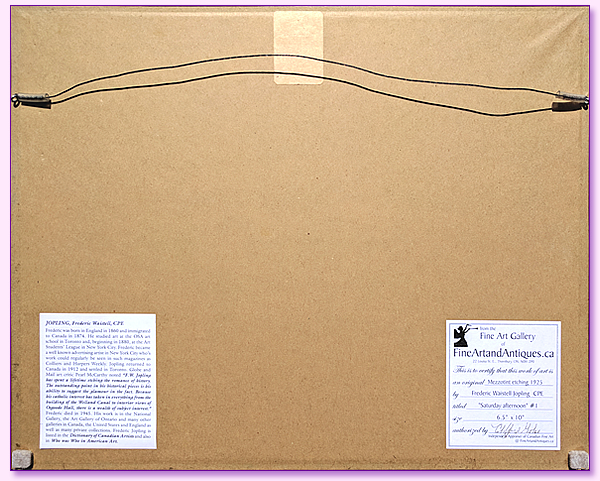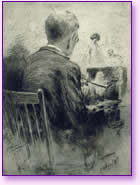 Frederic was born in England in 1860 and immigrated to Canada in 1874. He studied art at the OSA art school in Toronto and, beginning in 1880, at the Art Students' League in New York City. Frederic became a well known advertising artist in New York City who's work could regularly be seen in such magazines as Colliers and Harpers Weekly.

Jopling returned to Canada in 1912 and settled in Toronto. Globe and Mail art critic Pearl McCarthy noted "F.W. Jopling has spent a lifetime etching the romance of history. The outstanding point in his historical pieces is his ability to suggest the glamour in the fact. Because his historical interest has taken in everything from the building of the Welland Canal to interior views of Osgoode Hall, there is a wealth of subject interest to be found in his art.
His work can be found in the National Gallery, the Art Gallery of Ontario and many other galleries in Canada, the United States and England as well as in many private collections. Frederic Jopling is listed in the Dictionary of Canadian Artists and also in Who was Who in American Art.
Frederic Jopling passed away in 1945.
Print Ref No: 3OOX08SIM-S/TAOEX
Frederic Waistell Jopling CPE, Canadian Artist and Printmaker.