Etching - signed by the Artist in pencil - also signed in the plate
Dated 1921
Dominion Bank of Canada building - s/w corner King & Yonge in Toronto
This building is now known as One King Street West - an historic Toronto landmark now a hotel and residence. Take a look: https://www.onekingwest.com
w. 11 1/2 in. by h. 14 1/2 in. Archivally Matted and Framed
Frederic Waistell Jopling CPE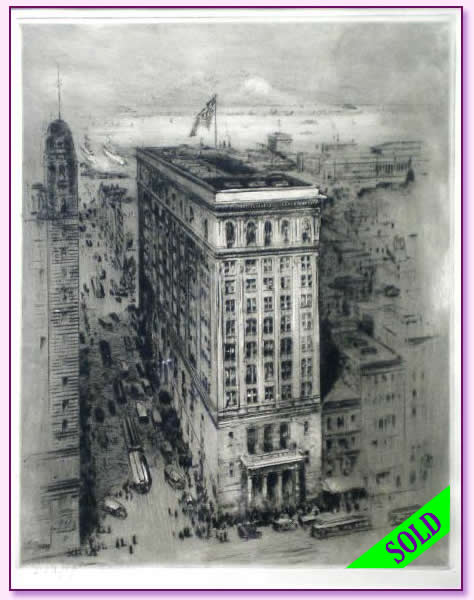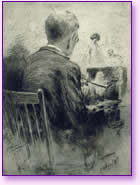 Frederic was born in England in 1860 and immigrated to Canada in 1874. He studied art at the OSA art school in Toronto and, beginning in 1880, at the Art Students' League in New York City. Frederic became a well known advertising artist in New York City who's work could regularly be seen in such magazines as Colliers and Harpers Weekly.

Jopling returned to Canada in 1912 and settled in Toronto. Globe and Mail art critic Pearl McCarthy noted "F.W. Jopling has spent a lifetime etching the romance of history. The outstanding point in his historical pieces is his ability to suggest the glamour in the fact. Because his catholic interest has taken in everything from the building of the Welland Canal to interior views of Osgoode Hall, there is a wealth of subject interest."

His work is in the National Gallery, the Art Gallery of Ontario and many other galleries in Canada, the United States and England as well as many private collections. Frederic Jopling is listed in the Dictionary of Canadian Artists and also in Who was Who in American Art.
Frederic Jopling passed away in 1945.
Frederic Waistell Jopling CPE, Canadian Artist Printmaker