Listed American Artist: (1885-1954) Also noted for her small bronzes of Scottie dogs
Drypoint Etching: Condition: mint original
Signed: in pencil by the Artist
Titled: "April Showers"
Breed of Dog: Sealyham Terriers
Sight Size: w. 8.25 in. by h. 10.25 in.
Recently Framed & Matted: with archival, rag content and acid-free materials throughout

Please enquire regarding price
Marguerite Kirmse, British American Artist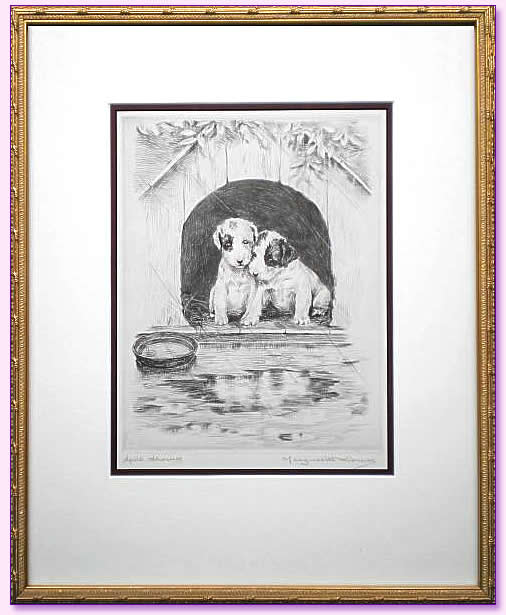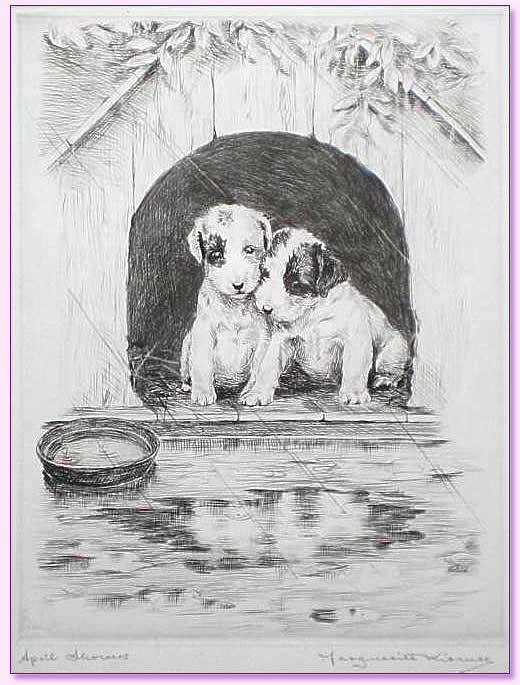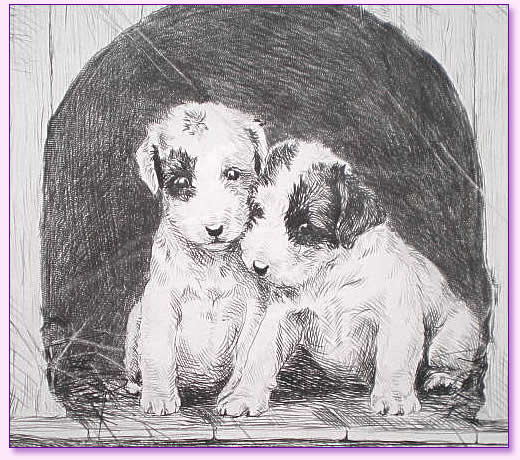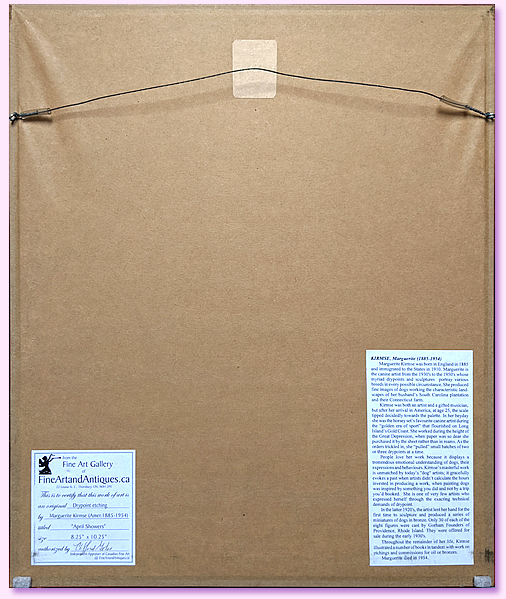 Marguerite Kirmse was born in England in 1885 and immigrated to the States in 1910. Marguerite is the canine artist from the 1930's to the 1950's whose myriad drypoints and sculptures portray various breeds in every possible circumstance. She produced fine images of dogs working the characteristic landscapes of her husband's South Carolina plantation and their Connecticut farm.

Kirmse was both an artist and a gifted musician, but after her arrival in America, at age 25, the scale tipped decidedly towards the palette. In her heyday she was the horsey set's favourite canine artist during the "golden era of sport" that flourished on Long Island's Gold Coast. She worked during the height of the Great Depression, when paper was so dear she purchased it by the sheet rather than in reams. As the orders trickled in, she "pulled" small batches of two or three drypoints at a time.

People love her work because it displays a tremendous emotional understanding of dogs, their expressions and behaviours. Kirmse's masterful work is unmatched by today's "dog" artists; it gracefully evokes a past when artists didn't calculate the hours invested in producing a work, when painting dogs was inspired by something you did and not by a trip you'd booked. She is one of very few artists who expressed herself through the exacting technical demands of drypoint. While it is standard practice today for a printmaking artist to number as well as sign etchings, not one of Kirmse's works was ever numbered. Signed, yes, numbered, no. We do know the she respectected the professional approach to print making and only ever produced a moderately low number of etchings in her artistic career.

In the latter 1920's, the artist lent her hand for the first time to sculpture and produced a series of miniatures of dogs in bronze. Only 30 of each of the eight figures were cast by Gorham Founders of Providence, Rhode Island. They were offered for sale during the early 1930's.

Throughout the remainder of her life, Kirmse illustrated a number of books in tandem with work on etchings and commissions for oil or bronzes.

Marguerite passed away in 1954.
Print Ref No: 2TIA12EB-S/UOEX
Marguerite Kirmse, British American Artist Printmaker