Listed Canadian Artist: 1915-1984
Titled: "Second Falls Johnson's Canyon"
Signed: Signed by the Artist in pencil, Numbered 127/200 - 1st Edition 1943
Image Size: h. 4 in. by w. 5 5/8 in.
Condition: pristine and original, with no condition issues.
Framed: Archivally encased using acid-free, rag content materials throughtout.
Margaret Shelton ASA, CPE, Canadian Printmaker
A Note of Interest: This print was featured on the front cover of Margaret Shelton's only catalogue raisonne. Author: Patricia Ainslie - Publisher: Glenbow Alberta Institute Published for the Exhibition at the Glenbow Museum in Calgary Alberta.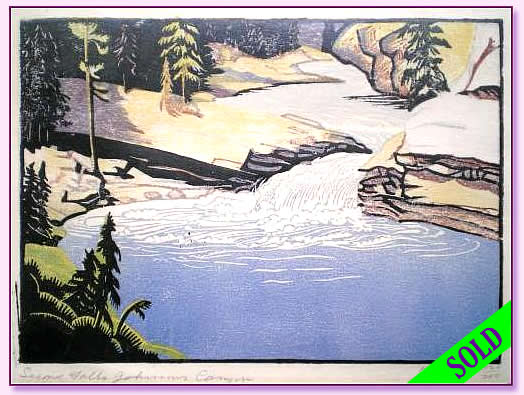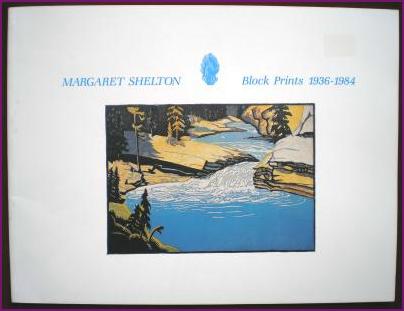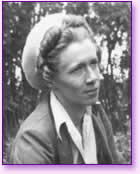 Margaret was born in Bruce, Alberta in 1915. She studied art at the Normal School in Calgary and also with H. G. Glyde and W. J. Phillips at the Alberta Provincial Institute of Technology and Art and under A. C. Leighton at the Banff School of Fine Arts. Although Margaret was very competent in all phases of painting, silkscreen and woodcuts, she became best known for her linocuts and block prints of mountain landscapes in the Banff and Lake Louise areas of Alberta and also scenes of the rural outback. She also painted in Yellowknife, the Northwest Territories, the Fraser Canyon and on the West Coast of British Columbia.

Solo retrospectives of Shelton's work were held at the Burnaby Art Gallery in 1981 and the Glenbow Museum in 1985. Her work is in the collections of the Alberta Art Foundation, Art Gallery of Hamilton, Edmonton Art Gallery, Glenbow Museum and the National Gallery of Canada. She was a member of the Alberta Society of Artists as well as The Society of Canadian Painter-Etchers and Engravers.

She is well represented in Patricia Ainslie's book "Images of the Land - Canadian Block Prints 1919-1945" and is listed in Westbridge's book "The Collector's Dictionary of Canadian Artists." She was also the subject of a book by Patricia Ainslie entitled "Margaret Shelton Block Prints 1936-1984" which was compiled for her retrospective at the Glenbow Museum in 1985.
Margaret passed away in 1984.
Margaret Shelton ASA, CPE, Canadian Printmaker